UNBORED CANON (3)
By: Joshua Glenn
February 18, 2020
One in a series of posts reprinting book and movie lists from three books co-authored by Josh Glenn: UNBORED: The Essential Field Guide to Serious Fun (2012), UNBORED Games (2014), and UNBORED Adventure (2015).
UNBORED CANON: DIY FICTION | GRAPHIC NOVELS | GROWNUP-FREE ADVENTURES | PUZZLER & MAKER FICTION | MOVIES FROM AROUND THE WORLD | CAR-FREE MOVIES | ANIMAL MOVIES | ADVENTURE MOVIES | DYSTOPIAN ADVENTURES | SPOOKY HOUSE ADVENTURES
*
BEST EVER GROWNUP-FREE ADVENTURES
Exploring the world — whether in the city or in the woods — without grownup supervision is an important part of growing up. You've already heard of Alice in Wonderland, Huckleberry Finn, and the Baudelaire family — so here are a few other fictional adventurers who'll inspire you. I have my Dad to thank for introducing me to all of them.
PS: In many novels published before the 1960s it's normal to find girls doing all the cooking and washing up, while the boys have adventures. This is slightly less true of the books included on this list.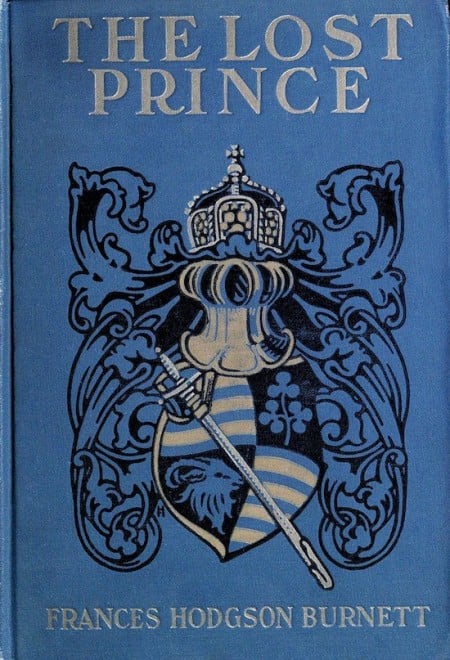 1915
THE LOST PRINCE
By Frances Hodgson Burnett
When Marco, whose father is an exiled patriot working to overthrow the cruel tyrant in his (fictional) homeland of Samavia, becomes best friends with a handicapped London street urchin known as The Rat, the two start an imaginary game in which they are undercover Samavian patriots. Caught up in the revolution, they journey together across Europe on a secret mission.
Frances Hodgson Burnett wrote some of the most popular children's fiction of her day, including A Little Princess (1905) and The Secret Garden (1911). Other terrific adventure novels from the same period include E. Nesbit's Psammead series (including 1902's Five Children and It and 1904's The Phoenix and the Carpet) and also Nesbit's The Railway Children (1906).
1929
EMIL AND THE DETECTIVES
By Erich Kästner
While en route to Berlin by train alone, young Emil Tischbein is robbed by a sinister stranger. Instead of turning to grownups for assistance, he crowd-sources a solution. He enlists his cousin, a bicycle-riding girl named Pony, a streetwise boy named Gustav, and 24 other kids. Together, Emil and "the detectives" set a trap for the thief.
Kästner's Emil books paved the way for later kids' detective novels, from Enid Blyton's Famous Five series and Hergé's Tintin comics, to Donald J. Sobol's Encyclopedia Brown and Eoin Colfer's Artemis Fowl series. Emil and the Three Twins (1933) is this book's sequel.
1930–47 series
SWALLOWS AND AMAZONS
Written and illustrated by Arthur Ransome
During holidays in northwestern England, nine friends aged seven to 13 — the Walker siblings (called the Swallows); tomboys Nancy and Peggy Blackett (called the Amazons); and Dick and Dorothea Callum — camp out, on an island, sail around in dinghies, prospect for gold, and explore lakes, rivers, and forests… all the while gloriously free from grownup supervision. A version of the author appears in the form of Uncle Jim ("Captain Flint"), who participates in — but never directs — their imaginative adventures, which take place between the two world wars, and which are influenced by the characters' love of Robert Louis Stevenson's Treasure Island.
In 1990, The Arthur Ransome Society was formed in England in order to "encourage children and others to engage, with due regard to safety, in adventurous pursuits."
1942–63 series
FAMOUS FIVE
By Enid Blyton
This series of 21 books, which was hugely popular, stars four school-age kids and a dog named Timmy. Each school holiday, the siblings Julian, Dick, and Anne visit their cousin, Georgina, a tomboy who only answers to the name George. Tramping around the English and Welsh countryside, the five go adventuring, run away, get into trouble and various fixes, solve mysteries, and otherwise have a wonderful time.
PS: The original editions of these books featured characters whose non-English ethnicity was supposed to make them villainous; these passages were altered in later editions.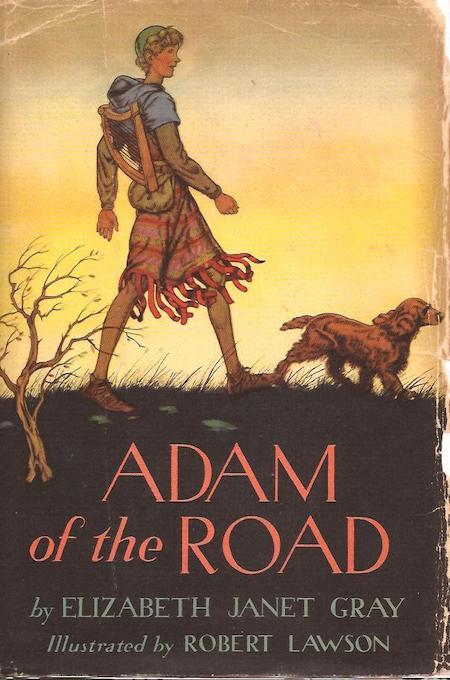 1943
ADAM OF THE ROAD
By Elizabeth Janet Gray
Adam, the 11-year-old son of a famous minstrel, pursues the scoundrel who stole his dog across medieval England. Along the way, he becomes self-reliant, and he learns to think for himself about his society: Why are all the members of Parliament wealthy, while the people they rule are poor? Why don't women have the same rights as men? Good questions in the medieval era, the 1940s, and today.
If you like historical fiction, Marguerite De Angeli's The Door in the Wall (1949) is a great read about a medieval boy's adventures; and Rosemary Sutcliff's The Eagle of the Ninth (1954) and The Lantern Bearers (1959) are set in Roman-occupied Britain in the 2nd century AD.
1943–66 series
DONALD DUCK COMICS
Written and illustrated by Carl Barks
In the mid-1950s, Walt Disney's Comics and Stories was the best-selling comic book in the United States. The most popular issues featured Carl Barks' 10-page stories about Donald Duck and his nephews, Huey, Dewey and Louie — not to mention Uncle Scrooge and the thieving Beagle Boys. The triplets are members of the Junior Woodchucks, a Boy Scouts- like organization whose guidebook
contains valuable information on every possible topic. Though brave, Donald is a foolhardy and accident-prone grownup; his intrepid neph-ews keep saving the day.
In the 1980s–90s, Carl Barks' duck stories were reissued by several different publishers. They're being reissued again now — in beautiful archival editions — by Fantagraphics.
1949
THE FABULOUS FLIGHT
Written and illustrated by Robert Lawson
At the age of seven, Peter P. Pepperell III, whose father works in the State Department and designs model rail- roads as a hobby, begins to shrink — until he's pocket-sized. By the age of 12, Peter has learned to communicate with animals; he rides around on a rabbit and befriends a slang-talking seagull named Gus. When a reclusive middle-European scientist invents a tiny but super-powerful explosive, Peter and Gus volunteer to steal it away from him. Peter's father designs a nifty compartment in which Peter can ride while on Gus's back, and away they go!
Lawson is best remembered for his illustrations for other authors' classics, such as The Story of Ferdinand, Mr. Popper's Penguins, and Adam of the Road. But he wrote several great kids' books — including Ben and Me (1939), Rabbit Hill (1944), and Mr. Revere and I (1953).
1959
MY SIDE OF THE MOUNTAIN
By Jean Craighead George
With his understanding family's permission, 13-year-old Sam Gribley runs away from New York City to the Catskill Mountains, where he lives off the land using nothing but a penknife, a ball of cord, and some flint and steel. He learns to catch fish with hooks made from twigs, builds a shelter, makes his own clothing, forages for edible plants, and trains a falcon. You'll want to run away, too.
This novel's sequel, On the Far Side of the Mountain (1990), is also an exciting read. So is Julie of the Wolves (1972), George's prize-winning novel about an Alaskan Indian girl who runs away and lives with a wolf pack. Also: Check out the author's 1995 cookbook, Acorn Pancakes, Dandelion Salad, and 38 Other Wild Recipes.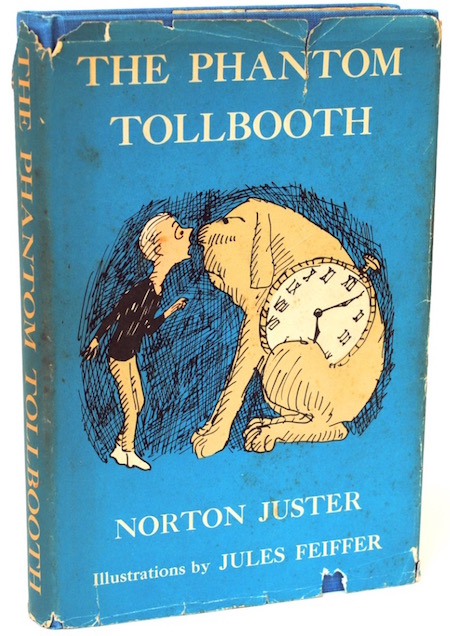 1961
THE PHANTOM TOLLBOOTH
By Norton Juster
Milo, a bored school-age boy, is given a miniature tollbooth and a map
of "The Lands Beyond." He drives through the tollbooth in his toy car and is transported to the Kingdom of Wisdom — where King Azaz the Unabridged (who insists that letters and words are more important than mathematics and science) is at war with his brother, the Mathemagician (who champions math and science). Accompanied by the "watchdog" Tock, Milo sets out to rescue Princesses Rhyme and Reason — a quest which will demand both logic and imagination.
In 1970, The Phantom Tollbooth was adapted by Chuck Jones into a very smart, stylish animated film.
1963
THE WOLVES OF WILLOUGHBY CHASE
By Joan Aiken
After her parents are lost in a shipwreck, Bonnie Green escapes from the orphanage where she was sent by Miss Slighcarp, a sinister con-artist masquerading as her governess, and embarks on a long journey by foot
to London. Accompanied by her orphaned cousin and Sylvie, and aided by Simon, a young goose-herder and beekeeper, Bonnie eventually triumphs.
The novel is the first in Aiken's 12-part Wolves Chronicles series, which is set in an alternate 19th-century England plagued by hungry wolves and dangerous political plots. The first four sequels to Willoughby Chase are the most fun: Black Hearts in Battersea (1964), Nightbirds on Nantucket (1966), The Whispering Mountain (1968), and The Cuckoo Tree (1971). Also well worth your time: Aiken's novel Midnight is a Place (1974), and her many short stories.
1963
BY THE GREAT HORN SPOON!
By Sid Fleischman
During the California Gold Rush of 1848–55, 12-year-old Jack runs away to seek his fortune, because his once- wealthy family has fallen on hard times; his butler, Praiseworthy, tags along. Together, the partners stow away aboard a steam packet, foil the plots of con artists and highwaymen, prove their worthiness to the grizzled miners of California, and prospect for gold.
Among Fleischman's many other books for kids, we strongly recommend these: Mr. Mysterious & Company (1962), The Ghost in the Noonday Sun (1965), Chancy and the Grand Rascal (1966), and Jingo Django (1971). Fleischman also wrote about magic and magicians.
1965–1977 series
THE DARK IS RISING
By Susan Cooper
Simon, Jane, and Barney Drew are ordinary kids who get caught up in a battle between the Light, a magical force which seeks to set humankind free, and the Dark, which brings chaos to human affairs. While helping the Light search for its lost Things of Power (including a grail, a harp, and a sword) which will be crucial in winning the final battle, they befriend Will, an 11-year-old boy who learns that he is an Old One — a magical being who serves the Light.
The Light's greatest champions are the legendary King Arthur and his wizard Merlin. Forget the Avalon High series — if you enjoy contemporary Arthurian fantasy, try Mark Twain's A Connecticut Yankee in King Arthur's Court (1889); Rosemary Sutcliff's Sword at Sunset (1963), and her King Arthur trio The Light Beyond the Forest (1979), The Sword and the Circle (1979), and The Road to Camlann (1981). Also: T.A. Barron's Lost Years of Merlin series (1996–2006).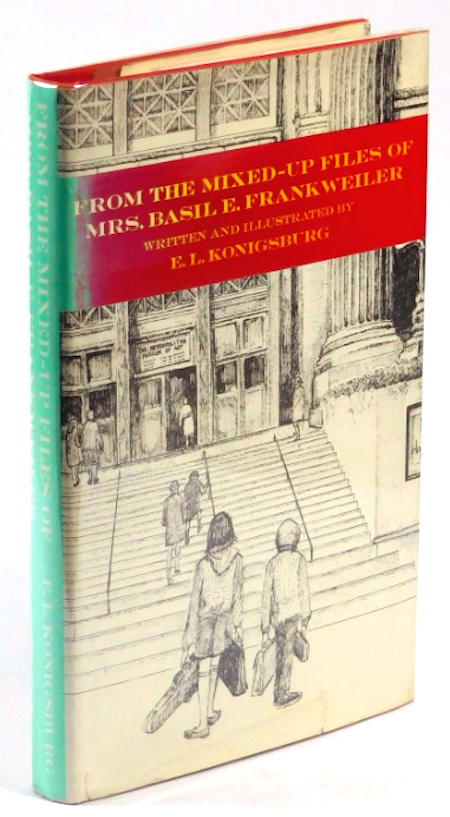 1967
FROM THE MIXED-UP FILES OF MRS. BASIL E. FRANKWEILER
By E. L. Konigsburg
Claudia, an 11-year-old brainiac, takes her nine-year-old brother along when she runs away to live at New York's Metropolitan Museum of Art. It's impossible to read about how Claudia and Jamie survive by their wits without feeling a little jealous.
Konigsburg is the only author to win a Newbery Medal (for Mixed-Up Files) and a runner-up Newbery Honor in the same year. She won the Honor for Jennifer, Hecate, Macbeth, William McKinley, and Me, Elizabeth, a novel about 10-year-old goth girls — which was written before the phrase "goth girls" existed.
1967
THE GREAT BRAIN
By John D. Fitzgerald
Half the stories told here — by the Great Brain's younger brother, J.D. — concern the Great Brain's brilliant schemes to swindle J.D. and other kids living in a small Utah town in the early 20th century out of their prized possessions. The other stories recount how the Great Brain uses his keen mind to help unfortunate kids (including those facing discrimination) out of a jam.
The characters in Fitzgerald's Great Brain series (1967–76) are based on his own family (he's J.D.). The first three sequels after The Great Brain are the best: More Adventures of the Great Brain (1969), Me and My Little Brain (1971), and The Great Brain at the Academy (1972).
1968–70 series
THE CHANGES
By Peter Dickinson
Set in an England which has mysteriously reverted to a medieval way of life, this exciting fantasy trilogy was written and published in reverse order. In The Weathermonger (1968), a boy who can control the weather and his sister are sent on a mission to discover why England has fallen under the "Changes" enchantment — which causes people to fear modern technology, among other things.
In Heartsease (1969), a gang of kids gets an old tugboat running and — pursued by machinery-smashing adults — attempts to flee England, rescuing a "witch" in the process. And in The Devil's Children (1970), a young English girl survives the beginning of the Changes by joining a nomadic, resourceful band of Sikh immigrants who have not been affected by the enchantment.
Dickinson's YA novels Emma Tupper's Diary (1970), The Dancing Bear (1972), The Blue Hawk (1975), and AK (1990) are also thrilling, and mostly grownup-free, adventures.
1983
THE SIGN OF THE BEAVER
By Elizabeth George Speare
Left alone in a remote part of Maine in 1769, 13-year-old Matt is instructed to guard his family's cabin and crops — and to beware of Native Americans. When he nearly dies during the severe winter that follows, Matt is rescued by a Native American tribe. In exchange for teaching his new friend, a Penobscot boy named Attean, to read, Matt is taught how to survive in the wild.
Speare also wrote the classic grownup-free historical adventures Calico Captive (1957), The Witch of Blackbird Pond (1958), and The Bronze Bow (1961). Another wilderness survival classic that you might enjoy is Gary Paulsen's Hatchet (1987), which has four sequels.
— Originally published in UNBORED: The Essential Field Guide to Serious Fun (2012).
***
CURATED SERIES at HILOBROW: UNBORED CANON by Josh Glenn | CARPE PHALLUM by Patrick Cates | MS. K by Heather Kasunick | HERE BE MONSTERS by Mister Reusch | DOWNTOWNE by Bradley Peterson | #FX by Michael Lewy | PINNED PANELS by Zack Smith | TANK UP by Tony Leone | OUTBOUND TO MONTEVIDEO by Mimi Lipson | TAKING LIBERTIES by Douglas Wolk | STERANKOISMS by Douglas Wolk | MARVEL vs. MUSEUM by Douglas Wolk | NEVER BEGIN TO SING by Damon Krukowski | WTC WTF by Douglas Wolk | COOLING OFF THE COMMOTION by Chenjerai Kumanyika | THAT'S GREAT MARVEL by Douglas Wolk | LAWS OF THE UNIVERSE by Chris Spurgeon | IMAGINARY FRIENDS by Alexandra Molotkow | UNFLOWN by Jacob Covey | ADEQUATED by Franklin Bruno | QUALITY JOE by Joe Alterio | CHICKEN LIT by Lisa Jane Persky | PINAKOTHEK by Luc Sante | ALL MY STARS by Joanne McNeil | BIGFOOT ISLAND by Michael Lewy | NOT OF THIS EARTH by Michael Lewy | ANIMAL MAGNETISM by Colin Dickey | KEEPERS by Steph Burt | AMERICA OBSCURA by Andrew Hultkrans | HEATHCLIFF, FOR WHY? by Brandi Brown | DAILY DRUMPF by Rick Pinchera | BEDROOM AIRPORT by "Parson Edwards" | INTO THE VOID by Charlie Jane Anders | WE REABSORB & ENLIVEN by Matthew Battles | BRAINIAC by Joshua Glenn | COMICALLY VINTAGE by Comically Vintage | BLDGBLOG by Geoff Manaugh | WINDS OF MAGIC by James Parker | MUSEUM OF FEMORIBILIA by Lynn Peril | ROBOTS + MONSTERS by Joe Alterio | MONSTOBER by Rick Pinchera | POP WITH A SHOTGUN by Devin McKinney | FEEDBACK by Joshua Glenn | 4CP FTW by John Hilgart | ANNOTATED GIF by Kerry Callen | FANCHILD by Adam McGovern | BOOKFUTURISM by James Bridle | NOMADBROW by Erik Davis | SCREEN TIME by Jacob Mikanowski | FALSE MACHINE by Patrick Stuart | 12 DAYS OF SIGNIFICANCE | 12 MORE DAYS OF SIGNIFICANCE | 12 DAYS OF SIGNIFICANCE (AGAIN) | ANOTHER 12 DAYS OF SIGNIFICANCE | UNBORED MANIFESTO by Joshua Glenn and Elizabeth Foy Larsen | H IS FOR HOBO by Joshua Glenn | 4CP FRIDAY by guest curators