Diamond Age 75 (38)
By: Joshua Glenn
December 1, 2019
One in a series of posts about the 75 best science fiction novels published during the genre's Diamond Age era (from 1984–2003, according to HILOBROW's periodization schema). For Josh Glenn's complete Diamond Age Sci-Fi 75 list, click here.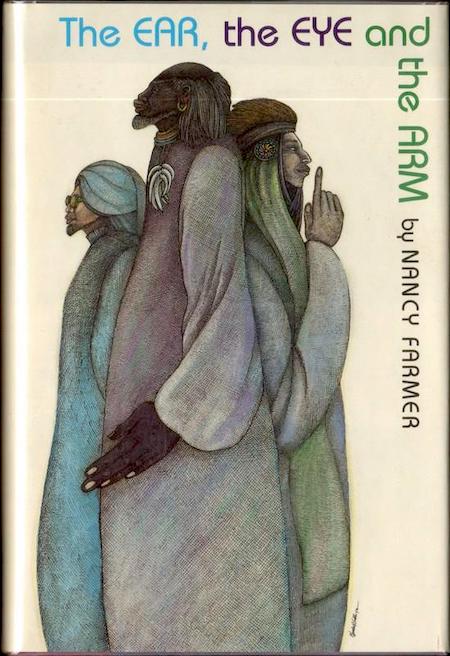 Nancy Farmer's children's cyberpunk adventure The Ear, the Eye and the Arm (1994).
In the year 2194, Africa is the world's dominant continent. Zimbabwe, a rising African power, plays host to communities including the African Shona and Xhosa tribes, and the English and Portuguese tribes — which are segregated not so much by race as by wealth and culture. While Chief of Security General Matsika leads the country's fight against the Masks, a criminal gang, his three children sneak out of their fortified mansion in Harare, to explore the bustling marketplace of Mbare Musika. Kidnapped, Tendai, Rita, and Kuda undergo a series of unfortunate events — from being forced to mine reusable plastic from a massive dump, to an unpleasant stay in Resthaven, an independent country within Zimbabwe that aims to retain traditional African culture, to a climactic encounter with the Big-Head Mask in the Masks' mile-high-skyscraper secret lair. (Because this is a children's book, we never get the sense that they're actually in mortal danger, except perhaps for the final scene.) Meanwhile, the children are sought by the titular detectives, a bumbling, argumentative, multicultural trio of mutants, each of whom possesses a unique ability: the Ear has super-sensitive hearing, the Eye has hawk-like vision, and the Arm is an empath. Critics at the time admired the fact that Farmer, a white author, normalized the characters' Zimbabwean perspective, and honored the culture's myths and religious beliefs.
Fun facts: Farmer enlisted in the Peace Corps, and subsequently worked in Mozambique and Rhodesia (present-day Zimbabwe), where from 1975–1978 she studied biological methods of controlling the tsetse fly. The Ear, the Eye and the Arm was a Newbery Honor Book, an ALA Notable Book, and an ALA Best Book for Young Adults.
***
DIAMOND AGE SCI-FI at HILOBROW: William Gibson | Bruce Sterling | Margaret Atwood | Ann Nocenti | Frank Miller | Alan Moore | Octavia E. Butler | Iain M. Banks | Grant Morrison | Neal Stephenson | Jonathan Lethem | Charles Burns | China Miéville.
JOSH GLENN'S *BEST ADVENTURES* LISTS: BEST 250 ADVENTURES OF THE 20TH CENTURY | 100 BEST OUGHTS ADVENTURES | 100 BEST RADIUM AGE (PROTO-)SCI-FI ADVENTURES | 100 BEST TEENS ADVENTURES | 100 BEST TWENTIES ADVENTURES | 100 BEST THIRTIES ADVENTURES | 75 BEST GOLDEN AGE SCI-FI ADVENTURES | 100 BEST FORTIES ADVENTURES | 100 BEST FIFTIES ADVENTURES | 100 BEST SIXTIES ADVENTURES | 75 BEST NEW WAVE SCI FI ADVENTURES | 100 BEST SEVENTIES ADVENTURES | 100 BEST EIGHTIES ADVENTURES | 75 BEST DIAMOND AGE SCI-FI ADVENTURES | 100 BEST NINETIES ADVENTURES (in progress) | 1994 | 1995 | 1996 | 1997 | 1998 | 1999 | 2000 | 2001 | 2002 | 2003 | NOTES ON 21st-CENTURY ADVENTURES.