Diamond Age 75 (28)
By: Joshua Glenn
September 22, 2019
One in a series of posts about the 75 best science fiction novels published during the genre's Diamond Age era (from 1984–2003, according to HILOBROW's periodization schema). For Josh Glenn's complete Diamond Age Sci-Fi 75 list, click here.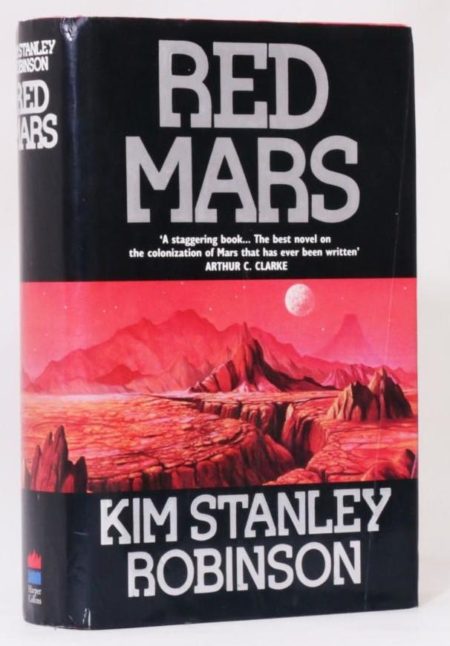 Kim Stanley Robinson's Mars Trilogy adventure Red Mars (1992).
This is the first installment in a trilogy — with Green Mars (1993) and Blue Mars (1996) — that collectively won the Nebula Award, and the Hugo and Locus Awards twice. The story explores egalitarian, sociological, and scientific advances made on Mars, while retrograde Earth suffers from overpopulation and ecological disaster. Red Mars is set (at first) in what was then the not-too-distant future of the 2020s; a group of 100 American and Russian colonists — including John Boone, Maya Toitavna, Frank Chalmers, and Arkady Bogdanov — are leading a terraforming mission on Mars, the red planet. Robinson writes "hard" sci-fi, so we get a lot of info about domes made of piezoelectric plastic, genetic experimentation, giant satellite mirrors reflecting light to the surface of the planet, and Symmes Hole-like "moholes" drilled to create planetary vents of hot gases. (None of this literally world-building tech is particularly woo-woo; it's all reasonable.) At the same time, this is an epic tale about a grand social experimentation — and, at an individual level, it's a story of romance, rivalries, friendships, ambition. Red Mars has its adventurous aspects, but somehow the most adventure-like moments — interminable treks across barren wastes — are the least engaging. More fun is watching the "First Hundred" split into factions: they don't leave behind their old national, social class, religious, and cultural identities and worldviews, nor their neuroses and bad habits; and they can't (ever) agree on the best way to help humankind flourish. Things fall apart: Characters of whom we've become fond are killed, systems we've watched form are shattered. Earth, meanwhile, falls under the control of transnational corporations that come to dominate its governments — who show an increasing interest in meddling in Martian affairs!
Fun facts: In a 2005 interview I conducted with Fredric Jameson, he suggested that Kim Stanley Robinson's Mars Trilogy offers the best example of post-Cold War utopianism, because instead of asking the reader to decide on any one of the colonists' competing ideologies, the author "goes back and forth between these various visions, [allowing us to see] it's not a matter of choosing between them but of using them to destabilize our own existence, our own social life at present."
***
DIAMOND AGE SCI-FI at HILOBROW: William Gibson | Bruce Sterling | Margaret Atwood | Ann Nocenti | Frank Miller | Alan Moore | Octavia E. Butler | Iain M. Banks | Grant Morrison | Neal Stephenson | Jonathan Lethem | Charles Burns | China Miéville.
JOSH GLENN'S *BEST ADVENTURES* LISTS: BEST 250 ADVENTURES OF THE 20TH CENTURY | 100 BEST OUGHTS ADVENTURES | 100 BEST RADIUM AGE (PROTO-)SCI-FI ADVENTURES | 100 BEST TEENS ADVENTURES | 100 BEST TWENTIES ADVENTURES | 100 BEST THIRTIES ADVENTURES | 75 BEST GOLDEN AGE SCI-FI ADVENTURES | 100 BEST FORTIES ADVENTURES | 100 BEST FIFTIES ADVENTURES | 100 BEST SIXTIES ADVENTURES | 75 BEST NEW WAVE SCI FI ADVENTURES | 100 BEST SEVENTIES ADVENTURES | 100 BEST EIGHTIES ADVENTURES | 75 BEST DIAMOND AGE SCI-FI ADVENTURES | 100 BEST NINETIES ADVENTURES (in progress) | 1994 | 1995 | 1996 | 1997 | 1998 | 1999 | 2000 | 2001 | 2002 | 2003 | NOTES ON 21st-CENTURY ADVENTURES.