New Wave Sci-Fi 75 (60)
By: Joshua Glenn
November 25, 2018
One in a series of posts about the 75 best science fiction novels published during the genre's New Wave era (from 1964–1983, according to HILOBROW's periodization schema). For Josh Glenn's complete New Wave Sci-Fi 75 list, click here.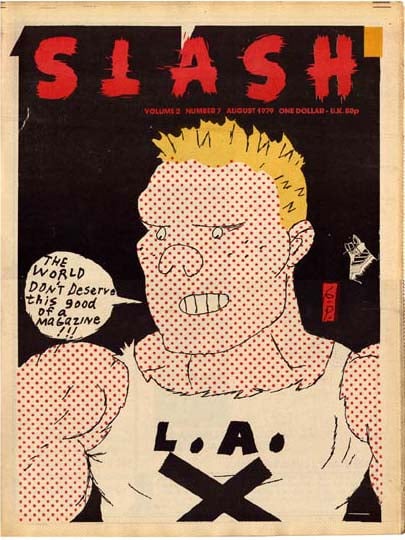 Gary Panter's New Wave sci-fi comic Jimbo (serialized 1977–present).
Panter's "ratty line" illustrations helped define the style of L.A. punk. But the appeal of Jimbo — an all-American, snub-nosed, freckle-faced punkoid wandering through Dal Tokyo, a planet-wide sprawl of a city founded on Mars by Japanese and Texans — is timeless. Jimbo is a high-lowbrow antihero, equally at home in the pages of the L.A. music zine Slash, where he first appeared, and in the artsy RAW. The early post-apocalyptic/surrealist comics (has Jimbo's girlfriend been kidnapped by giant cockroaches?) have since given way to elaborate graphic novels that employ the character as an Everyman puzzling his way through religious/pop culture allegorical landscapes. But don't try to understand the plot of Panter's stories; the medium is the message. Panter's protean style — which changes from page to page, sometimes exploding into sheer abstraction — demands that the reader participate actively in making sense of Jimbo's… mission?
Fun facts: Jimbo comics have been collected in Jimbo (1982), Invasion of the Elvis Zombies (1984), Jimbo: Adventures in Paradise (1988), and Jimbo's Inferno (2006). Panter is now working on a collection of his Jimbo mini-comics.
***
NEW WAVE SCI-FI at HILOBROW: 75 Best New Wave (1964–1983) Sci-Fi Novels | Back to Utopia: Fredric Jameson's theorizing about New Wave sci-fi | Douglas Adams | Poul Anderson | J.G. Ballard | John Brunner | William Burroughs | Octavia E. Butler | Samuel R. Delany | Philip K. Dick | Frank Herbert | Ursula K. Le Guin | Barry N. Malzberg | Moebius (Jean Giraud) | Michael Moorcock | Alan Moore | Gary Panter | Walker Percy | Thomas Pynchon | Joanna Russ | James Tiptree Jr. (Alice Sheldon) | Kurt Vonnegut | PLUS: Jack Kirby's Golden Age and New Wave science fiction comics.
JOSH GLENN'S *BEST ADVENTURES* LISTS: BEST 250 ADVENTURES OF THE 20TH CENTURY | 100 BEST OUGHTS ADVENTURES | 100 BEST RADIUM AGE (PROTO-)SCI-FI ADVENTURES | 100 BEST TEENS ADVENTURES | 100 BEST TWENTIES ADVENTURES | 100 BEST THIRTIES ADVENTURES | 75 BEST GOLDEN AGE SCI-FI ADVENTURES | 100 BEST FORTIES ADVENTURES | 100 BEST FIFTIES ADVENTURES | 100 BEST SIXTIES ADVENTURES | 75 BEST NEW WAVE SCI FI ADVENTURES | 100 BEST SEVENTIES ADVENTURES | 100 BEST EIGHTIES ADVENTURES | 75 BEST DIAMOND AGE SCI-FI ADVENTURES | 100 BEST NINETIES ADVENTURES (in progress) | 1994 | 1995 | 1996 | 1997 | 1998 | 1999 | 2000 | 2001 | 2002 | 2003 | NOTES ON 21st-CENTURY ADVENTURES.