New Wave Sci-Fi 75 (59)
By: Joshua Glenn
November 18, 2018
One in a series of posts about the 75 best science fiction novels published during the genre's New Wave era (from 1964–1983, according to HILOBROW's periodization schema). For Josh Glenn's complete New Wave Sci-Fi 75 list, click here.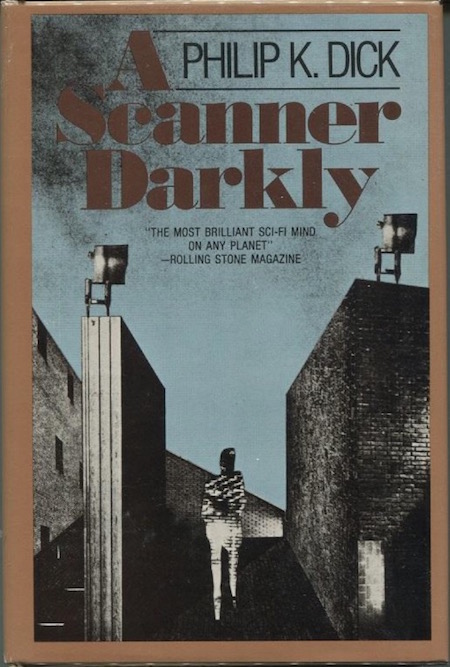 Philip K. Dick's A Scanner Darkly (1977).
Set in a barely futuristic Los Angeles of 1994, Scanner tells the story of "Fred," an undercover narc who gets a kick out of the counter-cultural addicts with whom — as "Bob" — he dwells. Fred's abuse of Substance D (street name: "Death") contributes to a brain psychosis complicated by his latest assignment… spying on Bob! Whose motivations Fred finds opaque. Dick mines humor and pathos out of the druggies' lifestyle: paranoid conversations among low-lifes who actually are being spied on; crack-ups that feel like break-throughs. Also, this is a neo-noir crime novel — one in which we sympathize with the criminals, who are spirited free-thinkers, and despise the manipulative, cold-hearted cops. When Fred is sent to a detox facility, he cracks the secret of Substance D… too late? The book ends with a dramatic dedication to Dick's many friends who'd been killed or permanently damaged by drug abuse; the author's own name is on the list.
Fun facts: In 2006, I wrote a Slate essay about the novel and Richard Linklater's adaptation. Which I still haven't seen.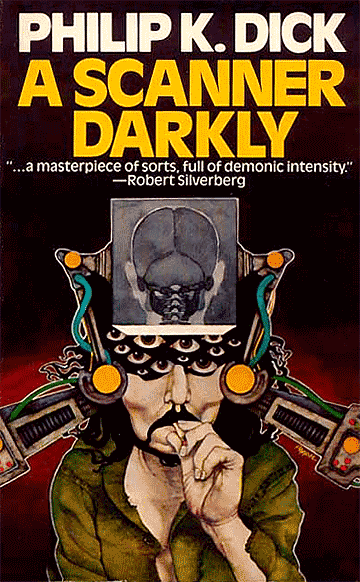 ***
NEW WAVE SCI-FI at HILOBROW: 75 Best New Wave (1964–1983) Sci-Fi Novels | Back to Utopia: Fredric Jameson's theorizing about New Wave sci-fi | Douglas Adams | Poul Anderson | J.G. Ballard | John Brunner | William Burroughs | Octavia E. Butler | Samuel R. Delany | Philip K. Dick | Frank Herbert | Ursula K. Le Guin | Barry N. Malzberg | Moebius (Jean Giraud) | Michael Moorcock | Alan Moore | Gary Panter | Walker Percy | Thomas Pynchon | Joanna Russ | James Tiptree Jr. (Alice Sheldon) | Kurt Vonnegut | PLUS: Jack Kirby's Golden Age and New Wave science fiction comics.
JOSH GLENN'S *BEST ADVENTURES* LISTS: BEST 250 ADVENTURES OF THE 20TH CENTURY | 100 BEST OUGHTS ADVENTURES | 100 BEST RADIUM AGE (PROTO-)SCI-FI ADVENTURES | 100 BEST TEENS ADVENTURES | 100 BEST TWENTIES ADVENTURES | 100 BEST THIRTIES ADVENTURES | 75 BEST GOLDEN AGE SCI-FI ADVENTURES | 100 BEST FORTIES ADVENTURES | 100 BEST FIFTIES ADVENTURES | 100 BEST SIXTIES ADVENTURES | 75 BEST NEW WAVE SCI FI ADVENTURES | 100 BEST SEVENTIES ADVENTURES | 100 BEST EIGHTIES ADVENTURES | 75 BEST DIAMOND AGE SCI-FI ADVENTURES | 100 BEST NINETIES ADVENTURES (in progress) | 1994 | 1995 | 1996 | 1997 | 1998 | 1999 | 2000 | 2001 | 2002 | 2003 | NOTES ON 21st-CENTURY ADVENTURES.