New Wave Sci-Fi 75 (55)
By: Joshua Glenn
October 21, 2018
One in a series of posts about the 75 best science fiction novels published during the genre's New Wave era (from 1964–1983, according to HILOBROW's periodization schema). For Josh Glenn's complete New Wave Sci-Fi 75 list, click here.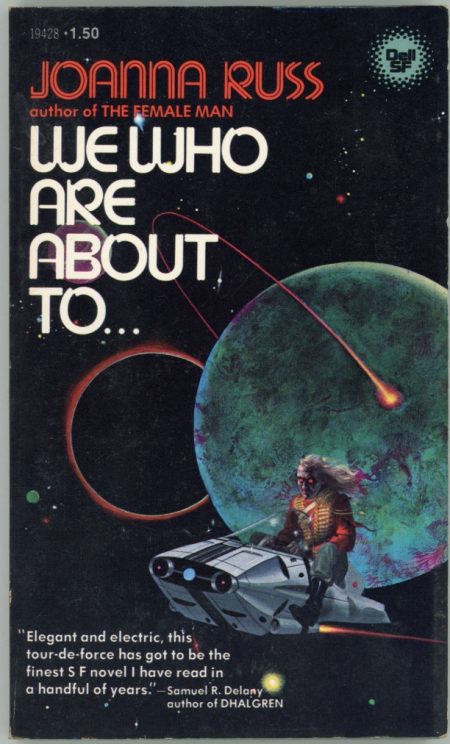 Joanna Russ's We Who Are About To… (seriaized 1976; in book form, 1977)..
A brutal, nihilistic — but beautifully written — novella that might perhaps best be categorized as an anti-Robinsonade. When a spaceship crash-lands on an uninhabitable and uncharted planet, the crash survivors rally and begin to make plans for starting an impromptu colony; even if they aren't rescued, perhaps their descendants will be. Our unnamed protagonist, however, refuses to buy into this nonsense. Not only will the group not survive, she realizes, but — as a fertile woman — she will essentially become a breeding slave. In fact, the others do beat her, tie her up, and make plans to forcibly impregnate her via rape if she doesn't come around to their way of thinking. What the would-be colonists fail to realize is that our protagonist is a bad-ass who cannot be controlled. She escapes — taking less than her fair share of rations and supplies with her, because she doesn't intend to prolong the agony of her own inevitable death by starvation. When the others pursue her, she opens up a can of whoop-ass. Finally, she records recollections of her life — and feminist musings on the nature of subjectivity — among other things, as she wastes away.
Fun fact: Samuel R. Delany has described this novella as "a damningly fine analysis of the mechanics of political and social decay," and a refutation of the notion that reproduction — as opposed to the quality of your life — is the point of living.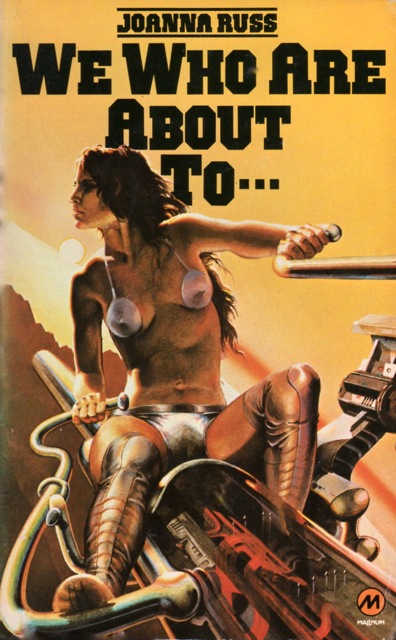 ***
NEW WAVE SCI-FI at HILOBROW: 75 Best New Wave (1964–1983) Sci-Fi Novels | Back to Utopia: Fredric Jameson's theorizing about New Wave sci-fi | Douglas Adams | Poul Anderson | J.G. Ballard | John Brunner | William Burroughs | Octavia E. Butler | Samuel R. Delany | Philip K. Dick | Frank Herbert | Ursula K. Le Guin | Barry N. Malzberg | Moebius (Jean Giraud) | Michael Moorcock | Alan Moore | Gary Panter | Walker Percy | Thomas Pynchon | Joanna Russ | James Tiptree Jr. (Alice Sheldon) | Kurt Vonnegut | PLUS: Jack Kirby's Golden Age and New Wave science fiction comics.
JOSH GLENN'S *BEST ADVENTURES* LISTS: BEST 250 ADVENTURES OF THE 20TH CENTURY | 100 BEST OUGHTS ADVENTURES | 100 BEST RADIUM AGE (PROTO-)SCI-FI ADVENTURES | 100 BEST TEENS ADVENTURES | 100 BEST TWENTIES ADVENTURES | 100 BEST THIRTIES ADVENTURES | 75 BEST GOLDEN AGE SCI-FI ADVENTURES | 100 BEST FORTIES ADVENTURES | 100 BEST FIFTIES ADVENTURES | 100 BEST SIXTIES ADVENTURES | 75 BEST NEW WAVE SCI FI ADVENTURES | 100 BEST SEVENTIES ADVENTURES | 100 BEST EIGHTIES ADVENTURES | 75 BEST DIAMOND AGE SCI-FI ADVENTURES | 100 BEST NINETIES ADVENTURES (in progress) | 1994 | 1995 | 1996 | 1997 | 1998 | 1999 | 2000 | 2001 | 2002 | 2003 | NOTES ON 21st-CENTURY ADVENTURES.