New Wave Sci-Fi 75 (53)
By: Joshua Glenn
October 7, 2018
One in a series of posts about the 75 best science fiction novels published during the genre's New Wave era (from 1964–1983, according to HILOBROW's periodization schema). For Josh Glenn's complete New Wave Sci-Fi 75 list, click here.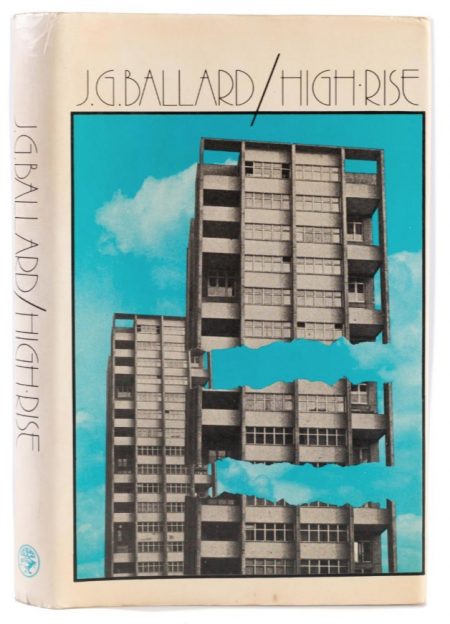 J.G. Ballard's High-Rise (1975).
Philip K. Dick's notion of a "conapt" — a densely populated, self-sufficient human habitat, isolated and isolating — was already a dystopian one, when he introduced it in The Three Stigmata of Palmer Eldritch in 1965. Here, Ballard offers a kind of blood-spattered parable built around a pun: When the social order of his high-rise London apartment complex becomes violently dysfunctional, Richard Wilder, a documentary film-maker who lives on one of the building's lower floors, literally becomes a social climber — scaling his way upward, to the luxurious penthouse suite. Anthony Royal, the building's architect, perches there, awaiting his fate with a certain oblivious detachment. Our protagonist, Robert Laing, lives in-between these two characters; although he aspires to be as coolly uninvolved as Royal, Laing gets caught up in and enjoys the regressive mayhem: fighting in gangs, raiding and vandalizing other floors, killing pets, taking women. (It's all straight out of David Bowie's 1974 song "Diamond Dogs.") As in Crash (1973) and Concrete Island (1974), Ballard is concerned about the deleterious effects of our advanced mode of life; note that life outside the titular high-rise goes on as usual.
Fun fact: High-Rise was one of Joy Division singer Ian Curtis's favorite books. It was adapted into a 2015 film of the same name, starring Tom Hiddleston, Jeremy Irons, and Sienna Miller, by director Ben Wheatley.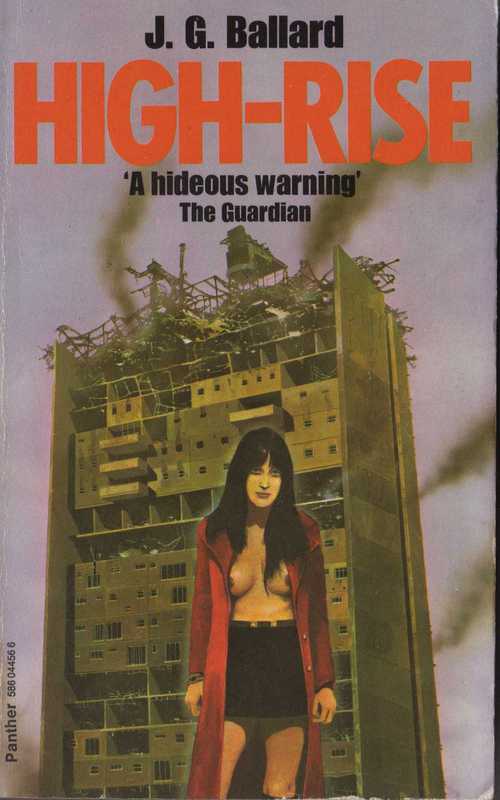 ***
NEW WAVE SCI-FI at HILOBROW: 75 Best New Wave (1964–1983) Sci-Fi Novels | Back to Utopia: Fredric Jameson's theorizing about New Wave sci-fi | Douglas Adams | Poul Anderson | J.G. Ballard | John Brunner | William Burroughs | Octavia E. Butler | Samuel R. Delany | Philip K. Dick | Frank Herbert | Ursula K. Le Guin | Barry N. Malzberg | Moebius (Jean Giraud) | Michael Moorcock | Alan Moore | Gary Panter | Walker Percy | Thomas Pynchon | Joanna Russ | James Tiptree Jr. (Alice Sheldon) | Kurt Vonnegut | PLUS: Jack Kirby's Golden Age and New Wave science fiction comics.
JOSH GLENN'S *BEST ADVENTURES* LISTS: BEST 250 ADVENTURES OF THE 20TH CENTURY | 100 BEST OUGHTS ADVENTURES | 100 BEST RADIUM AGE (PROTO-)SCI-FI ADVENTURES | 100 BEST TEENS ADVENTURES | 100 BEST TWENTIES ADVENTURES | 100 BEST THIRTIES ADVENTURES | 75 BEST GOLDEN AGE SCI-FI ADVENTURES | 100 BEST FORTIES ADVENTURES | 100 BEST FIFTIES ADVENTURES | 100 BEST SIXTIES ADVENTURES | 75 BEST NEW WAVE SCI FI ADVENTURES | 100 BEST SEVENTIES ADVENTURES | 100 BEST EIGHTIES ADVENTURES | 75 BEST DIAMOND AGE SCI-FI ADVENTURES | 100 BEST NINETIES ADVENTURES (in progress) | 1994 | 1995 | 1996 | 1997 | 1998 | 1999 | 2000 | 2001 | 2002 | 2003 | NOTES ON 21st-CENTURY ADVENTURES.