New Wave Sci-Fi 75 (52)
By: Joshua Glenn
September 30, 2018
One in a series of posts about the 75 best science fiction novels published during the genre's New Wave era (from 1964–1983, according to HILOBROW's periodization schema). For Josh Glenn's complete New Wave Sci-Fi 75 list, click here.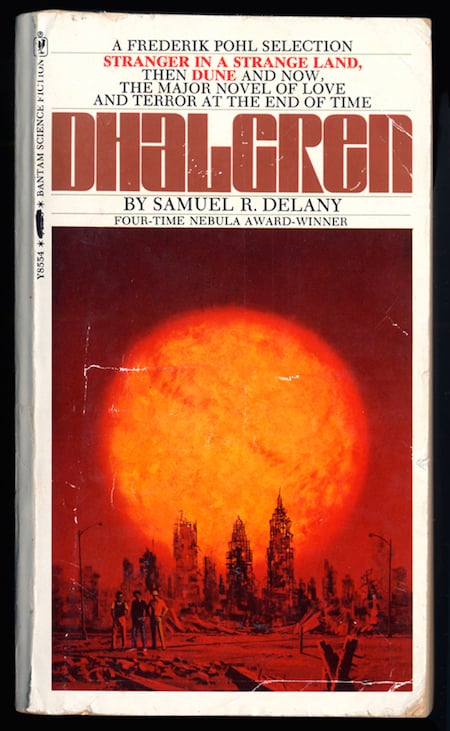 Samuel R. Delany's Dhalgren (1975).
Dhalgren is set in Bellona, somewhere in the American Midwest (Kansas?) — where a very local, very strange catastrophe has happened. A city block burns down, but a week later it's intact again; time passes differently for different people; there seem to be two moons in the night sky. Although most of Bellona's inhabitants have abandoned the bewildering, surreal city, various marginalized Americans — including the Kid, a multiracial, bisexual, possibly schizophrenic drifter — find themselves drawn to it. Some readers (including Philip K. Dick, who threw it away) have found Dhalgren's meandering, apophenic, and epic plot boring or maddening; if you hated Richard Linklater's 2001 movie Waking Life, in which a man discusses the meaning of the universe as he shuffles through a hallucinatory landscape, then you'll hate this book. Other readers have enjoyed the text's postmodernist twists and turns, its digressions on the nature of poetry and art, and its pursuit of wonder and beauty in the face of disaster, even if they find the foul language and explicit sex scenes distasteful or (at this point) dated. Note that the Kid — an Orpheus-like figure, whose only hope of making sense of his experiences is to become an author of the book we're reading, or at least a version of it — would most likely agree with both sorts of readers.
Fun fact: Dhalgren is Delany's most popular book. William Gibson has referred to it as "A riddle that was never meant to be solved"; other commentators have noted the book's debt — cf., mythological resonances, Moebius-strip plot form — to James Joyce's Ulysses. Someone should make a movie!
***
NEW WAVE SCI-FI at HILOBROW: 75 Best New Wave (1964–1983) Sci-Fi Novels | Back to Utopia: Fredric Jameson's theorizing about New Wave sci-fi | Douglas Adams | Poul Anderson | J.G. Ballard | John Brunner | William Burroughs | Octavia E. Butler | Samuel R. Delany | Philip K. Dick | Frank Herbert | Ursula K. Le Guin | Barry N. Malzberg | Moebius (Jean Giraud) | Michael Moorcock | Alan Moore | Gary Panter | Walker Percy | Thomas Pynchon | Joanna Russ | James Tiptree Jr. (Alice Sheldon) | Kurt Vonnegut | PLUS: Jack Kirby's Golden Age and New Wave science fiction comics.
JOSH GLENN'S *BEST ADVENTURES* LISTS: BEST 250 ADVENTURES OF THE 20TH CENTURY | 100 BEST OUGHTS ADVENTURES | 100 BEST RADIUM AGE (PROTO-)SCI-FI ADVENTURES | 100 BEST TEENS ADVENTURES | 100 BEST TWENTIES ADVENTURES | 100 BEST THIRTIES ADVENTURES | 75 BEST GOLDEN AGE SCI-FI ADVENTURES | 100 BEST FORTIES ADVENTURES | 100 BEST FIFTIES ADVENTURES | 100 BEST SIXTIES ADVENTURES | 75 BEST NEW WAVE SCI FI ADVENTURES | 100 BEST SEVENTIES ADVENTURES | 100 BEST EIGHTIES ADVENTURES | 75 BEST DIAMOND AGE SCI-FI ADVENTURES | 100 BEST NINETIES ADVENTURES (in progress) | 1994 | 1995 | 1996 | 1997 | 1998 | 1999 | 2000 | 2001 | 2002 | 2003 | NOTES ON 21st-CENTURY ADVENTURES.