New Wave Sci-Fi 75 (48)
By: Joshua Glenn
September 2, 2018
One in a series of posts about the 75 best science fiction novels published during the genre's New Wave era (from 1964–1983, according to HILOBROW's periodization schema). For Josh Glenn's complete New Wave Sci-Fi 75 list, click here.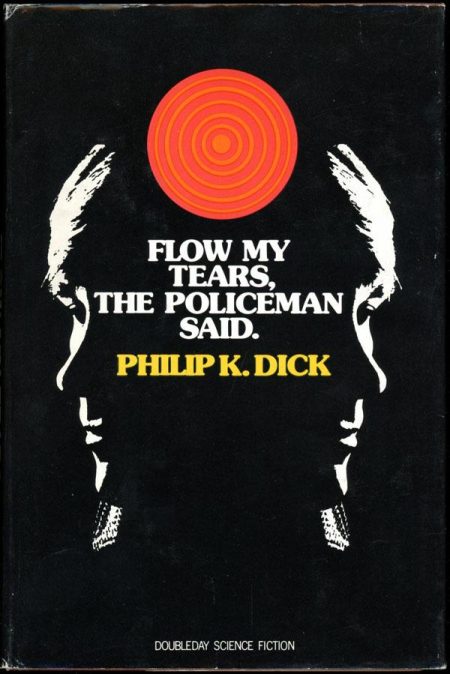 Philip K. Dick's Flow My Tears, the Policeman Said (1974).
A typically dystopian, disorienting, and dashed-off Philip K. Dick joint — but one which is more emotionally resonant, more compassionate than his Fifties (Golden Age SF) and Sixties (early New Wave SF) oeuvre; in this sense, Flow My Tears, for all its flaws, points the way forward to Dick's late masterpieces, A Scanner Darkly (1977) and VALIS (1978). The year is 1988; in the aftermath of a Civil War, the USA has become a police state; African-Americans have been all but exterminated; college students have become underground guerrillas; people use their smartphones to seek hook-ups (via the Phone-Grid Transex Network) and advice (via Cheerful Charlie, an app); and recreational drug use has been normalized. When a crazed ex-lover sics a "gelatinlike Callisto cuddle sponge" on Jason Taverner, the famous pop star ("Nowhere Nuthin' Fuck-up" is his latest hit) and TV host wakes up in a motel to discover that… no one knows who he is. Taverner takes drugs, seeks assistance from a series of women — an unstable old flame; a leather-clad lesbian; a sweet-tempered potter — and desperately attempts to figure out what might have caused him to become a non-person. The titular policeman? He's the twin brother and lover of the leather-clad lesbian, and a powerful authority figure who learns an important lesson in humility and empathy for others.
Fun fact: Winner of the John W. Campbell Memorial Award for Best Science Fiction Novel in 1975. Dick parodies this novel, in VALIS, as The Android Cried Me a River.
***
NEW WAVE SCI-FI at HILOBROW: 75 Best New Wave (1964–1983) Sci-Fi Novels | Back to Utopia: Fredric Jameson's theorizing about New Wave sci-fi | Douglas Adams | Poul Anderson | J.G. Ballard | John Brunner | William Burroughs | Octavia E. Butler | Samuel R. Delany | Philip K. Dick | Frank Herbert | Ursula K. Le Guin | Barry N. Malzberg | Moebius (Jean Giraud) | Michael Moorcock | Alan Moore | Gary Panter | Walker Percy | Thomas Pynchon | Joanna Russ | James Tiptree Jr. (Alice Sheldon) | Kurt Vonnegut | PLUS: Jack Kirby's Golden Age and New Wave science fiction comics.
JOSH GLENN'S *BEST ADVENTURES* LISTS: BEST 250 ADVENTURES OF THE 20TH CENTURY | 100 BEST OUGHTS ADVENTURES | 100 BEST RADIUM AGE (PROTO-)SCI-FI ADVENTURES | 100 BEST TEENS ADVENTURES | 100 BEST TWENTIES ADVENTURES | 100 BEST THIRTIES ADVENTURES | 75 BEST GOLDEN AGE SCI-FI ADVENTURES | 100 BEST FORTIES ADVENTURES | 100 BEST FIFTIES ADVENTURES | 100 BEST SIXTIES ADVENTURES | 75 BEST NEW WAVE SCI FI ADVENTURES | 100 BEST SEVENTIES ADVENTURES | 100 BEST EIGHTIES ADVENTURES | 75 BEST DIAMOND AGE SCI-FI ADVENTURES | 100 BEST NINETIES ADVENTURES (in progress) | 1994 | 1995 | 1996 | 1997 | 1998 | 1999 | 2000 | 2001 | 2002 | 2003 | NOTES ON 21st-CENTURY ADVENTURES.