New Wave Sci-Fi 75 (45)
By: Joshua Glenn
August 12, 2018
One in a series of posts about the 75 best science fiction novels published during the genre's New Wave era (from 1964–1983, according to HILOBROW's periodization schema). For Josh Glenn's complete New Wave Sci-Fi 75 list, click here.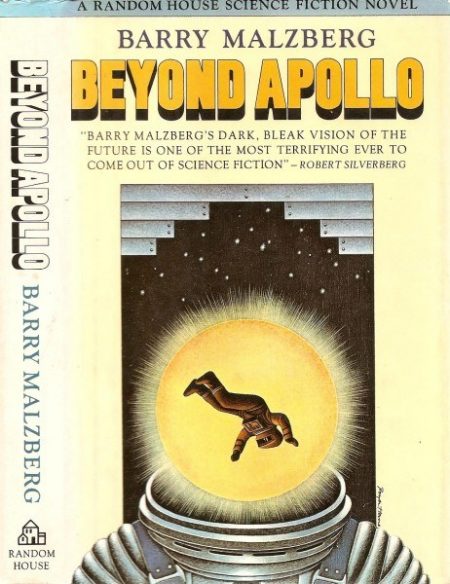 Barry N. Malzberg's Beyond Apollo (1972).
A two-man mission to Venus fails, and its captain is killed; NASA inters Harry M. Evans, the surviving astronaut, in an insane asylum — and interrogates him. What went wrong? We'll never know: Evans's story shifts constantly. He killed the Captain; the Captain tried to kill him; Venusians killed the Captain; he is the Captain, disguised as Evans. (Was there a Captain, in the first place)? Humankind, the reader begins to infer, isn't mentally equipped to cope with the claustrophobia and dislocation of space exploration. Evans, or "Evans," who confesses to wanting to write a novel, has become a story-generating machine, recounting memories (or fabricated memories), dream conversations, possible explanations and endings, sexual fantasies (or realities), and cryptograms. Is Evans's approach to truth/reality — playful, evasive, inconclusive, a thousand flashes of illumination rather than a reliable source of light — a step forward in human evolution? Or is he just insane? Don't read this book for the plot; read it for the exercise.
Fun facts: Beyond Apollo won the inaugural John W. Campbell Memorial Award for Best Science Fiction Novel. Detractors claimed that this was an insult to the memory of Campbell, the Golden Age sci-fi author and editor whose name was synonymous with the wonder of space exploration.
***
NEW WAVE SCI-FI at HILOBROW: 75 Best New Wave (1964–1983) Sci-Fi Novels | Back to Utopia: Fredric Jameson's theorizing about New Wave sci-fi | Douglas Adams | Poul Anderson | J.G. Ballard | John Brunner | William Burroughs | Octavia E. Butler | Samuel R. Delany | Philip K. Dick | Frank Herbert | Ursula K. Le Guin | Barry N. Malzberg | Moebius (Jean Giraud) | Michael Moorcock | Alan Moore | Gary Panter | Walker Percy | Thomas Pynchon | Joanna Russ | James Tiptree Jr. (Alice Sheldon) | Kurt Vonnegut | PLUS: Jack Kirby's Golden Age and New Wave science fiction comics.
JOSH GLENN'S *BEST ADVENTURES* LISTS: BEST 250 ADVENTURES OF THE 20TH CENTURY | 100 BEST OUGHTS ADVENTURES | 100 BEST RADIUM AGE (PROTO-)SCI-FI ADVENTURES | 100 BEST TEENS ADVENTURES | 100 BEST TWENTIES ADVENTURES | 100 BEST THIRTIES ADVENTURES | 75 BEST GOLDEN AGE SCI-FI ADVENTURES | 100 BEST FORTIES ADVENTURES | 100 BEST FIFTIES ADVENTURES | 100 BEST SIXTIES ADVENTURES | 75 BEST NEW WAVE SCI FI ADVENTURES | 100 BEST SEVENTIES ADVENTURES | 100 BEST EIGHTIES ADVENTURES | 75 BEST DIAMOND AGE SCI-FI ADVENTURES | 100 BEST NINETIES ADVENTURES (in progress) | 1994 | 1995 | 1996 | 1997 | 1998 | 1999 | 2000 | 2001 | 2002 | 2003 | NOTES ON 21st-CENTURY ADVENTURES.