New Wave Sci-Fi 75 (43)
By: Joshua Glenn
July 29, 2018
One in a series of posts about the 75 best science fiction novels published during the genre's New Wave era (from 1964–1983, according to HILOBROW's periodization schema). For Josh Glenn's complete New Wave Sci-Fi 75 list, click here.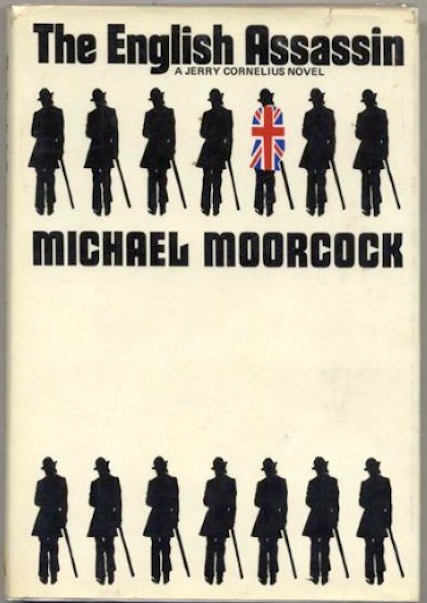 Michael Moorcock's Cornelius Chronicles adventure The English Assassin (1972).
The third of Moorcock's four novels featuring dandy, scientist, rock star, and adventurer (Buckaroo Banzai, eat your heart out) Jerry Cornelius is subtitled A Romance of Entropy. This is true in two senses: Cornelius is an agent of the cosmic force that opposes culture, civilisation, empire, religion, and other manifestations of order; and the book itself is entropic — a pastiche of stories working at cross-purposes. Cause and effect are out of whack, here; ambiguity is the whole point. Unlike running, jumping, shooting action heroes, Jerry Cornelius is an idler; at the beginning of The English Assassin, he is fished out of the ocean — dead (eat your heart out, Jason Bourne) — and he can barely be bothered to get out of bed, despite such goings-on as a nuclear attack on India and a Scottish war of independence fought with zeppelins… each apocalyptic scenario set on a different version of the Earth. He does stop a peace conference — violently — though. We spend a lot of time with Cornelius's coterie, including the titular assassin (IMHO) Una Persson. The book's message, if any, is delivered by Catherine: "Goodbye, England."
Fun fact: The Cornelius Quartet includes The Final Programme (1968), A Cure for Cancer (1971), and The Condition of Muzak (1977). There are other Cornelius stories, too.
***
NEW WAVE SCI-FI at HILOBROW: 75 Best New Wave (1964–1983) Sci-Fi Novels | Back to Utopia: Fredric Jameson's theorizing about New Wave sci-fi | Douglas Adams | Poul Anderson | J.G. Ballard | John Brunner | William Burroughs | Octavia E. Butler | Samuel R. Delany | Philip K. Dick | Frank Herbert | Ursula K. Le Guin | Barry N. Malzberg | Moebius (Jean Giraud) | Michael Moorcock | Alan Moore | Gary Panter | Walker Percy | Thomas Pynchon | Joanna Russ | James Tiptree Jr. (Alice Sheldon) | Kurt Vonnegut | PLUS: Jack Kirby's Golden Age and New Wave science fiction comics.
JOSH GLENN'S *BEST ADVENTURES* LISTS: BEST 250 ADVENTURES OF THE 20TH CENTURY | 100 BEST OUGHTS ADVENTURES | 100 BEST RADIUM AGE (PROTO-)SCI-FI ADVENTURES | 100 BEST TEENS ADVENTURES | 100 BEST TWENTIES ADVENTURES | 100 BEST THIRTIES ADVENTURES | 75 BEST GOLDEN AGE SCI-FI ADVENTURES | 100 BEST FORTIES ADVENTURES | 100 BEST FIFTIES ADVENTURES | 100 BEST SIXTIES ADVENTURES | 75 BEST NEW WAVE SCI FI ADVENTURES | 100 BEST SEVENTIES ADVENTURES | 100 BEST EIGHTIES ADVENTURES | 75 BEST DIAMOND AGE SCI-FI ADVENTURES | 100 BEST NINETIES ADVENTURES (in progress) | 1994 | 1995 | 1996 | 1997 | 1998 | 1999 | 2000 | 2001 | 2002 | 2003 | NOTES ON 21st-CENTURY ADVENTURES.