New Wave Sci-Fi 75 (38)
By: Joshua Glenn
June 24, 2018
One in a series of posts about the 75 best science fiction novels published during the genre's New Wave era (from 1964–1983, according to HILOBROW's periodization schema). For Josh Glenn's complete New Wave Sci-Fi 75 list, click here.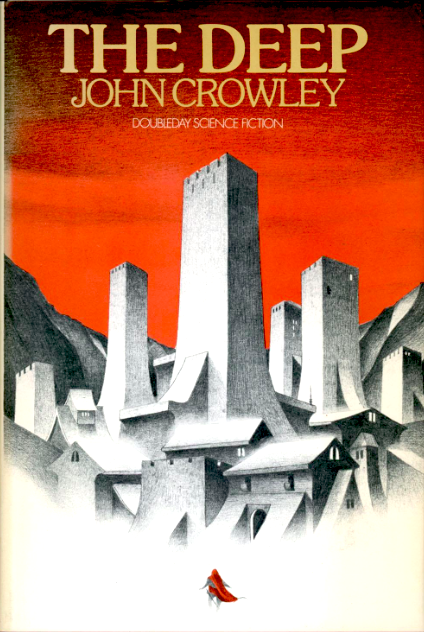 John Crowley's The Deep (1975).
A checkerboard-like medieval kingdom is housed on a circular plane balanced atop a pillar that emerges from The Deep, an abyss inhabited by an entity known as The Leviathan. Although Crowley's first novel is not a particularly long one, its scope is truly epic. Through the eyes of a strange visitor from off-world, a genderless android who immediately loses its memory, we witness a complex War of the Roses-esque struggle between "Red" and "Black" factions, not to mention musket-wielding rebels (The Just) and a fractured nobility (The Protectors); there are many characters, each of whom will interact with every other character before all is said and done. The Visitor is a kind of recording angel; was it sent here by Leviathan (God)? If not, what is its purpose? What's outside this world? Is this all some kind of puppet show or game? One is reminded not only of George R.R. Martin's Westeros series, but of the recent Westworld remake. Crowley's writing is lyrical, and there are thrills and chills galore: swords and sorcery, a rooftop escape, a journey through a marsh, a climb towards the edge of the world!
Fun fact: Crowley is best known for his amazing 1981 novel Little, Big, which has been called "a neglected masterpiece" by Harold Bloom, and other works of fantasy. His earliest novels, however, including Beasts (1976) and Engine Summer (1979), were science fictions.
***
NEW WAVE SCI-FI at HILOBROW: 75 Best New Wave (1964–1983) Sci-Fi Novels | Back to Utopia: Fredric Jameson's theorizing about New Wave sci-fi | Douglas Adams | Poul Anderson | J.G. Ballard | John Brunner | William Burroughs | Octavia E. Butler | Samuel R. Delany | Philip K. Dick | Frank Herbert | Ursula K. Le Guin | Barry N. Malzberg | Moebius (Jean Giraud) | Michael Moorcock | Alan Moore | Gary Panter | Walker Percy | Thomas Pynchon | Joanna Russ | James Tiptree Jr. (Alice Sheldon) | Kurt Vonnegut | PLUS: Jack Kirby's Golden Age and New Wave science fiction comics.
JOSH GLENN'S *BEST ADVENTURES* LISTS: BEST 250 ADVENTURES OF THE 20TH CENTURY | 100 BEST OUGHTS ADVENTURES | 100 BEST RADIUM AGE (PROTO-)SCI-FI ADVENTURES | 100 BEST TEENS ADVENTURES | 100 BEST TWENTIES ADVENTURES | 100 BEST THIRTIES ADVENTURES | 75 BEST GOLDEN AGE SCI-FI ADVENTURES | 100 BEST FORTIES ADVENTURES | 100 BEST FIFTIES ADVENTURES | 100 BEST SIXTIES ADVENTURES | 75 BEST NEW WAVE SCI FI ADVENTURES | 100 BEST SEVENTIES ADVENTURES | 100 BEST EIGHTIES ADVENTURES | 75 BEST DIAMOND AGE SCI-FI ADVENTURES | 100 BEST NINETIES ADVENTURES (in progress) | 1994 | 1995 | 1996 | 1997 | 1998 | 1999 | 2000 | 2001 | 2002 | 2003 | NOTES ON 21st-CENTURY ADVENTURES.