New Wave Sci-Fi 75 (33)
By: Joshua Glenn
May 20, 2018
One in a series of posts about the 75 best science fiction novels published during the genre's New Wave era (from 1964–1983, according to HILOBROW's periodization schema). For Josh Glenn's complete New Wave Sci-Fi 75 list, click here.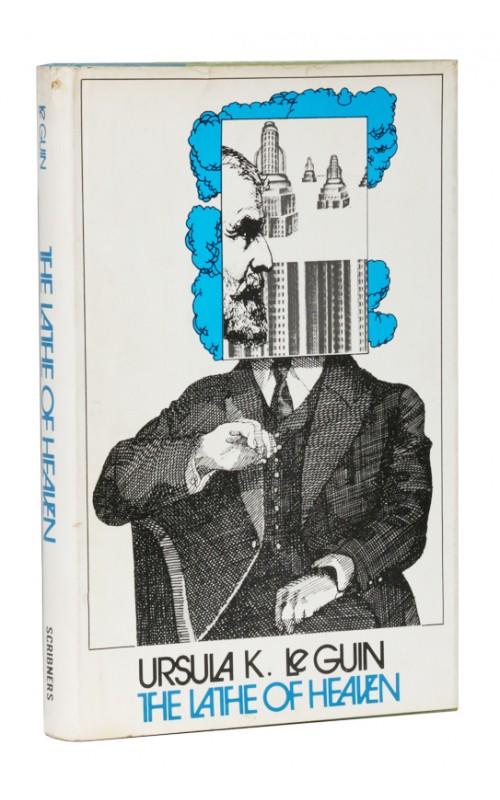 Ursula K. LeGuin's The Lathe of Heaven (1971).
Operating under the influence of Philip K. Dick, LeGuin wrote an uncanny, thought-provoking novella about George Orr, a Portland, Oregon man who has begun self-medicating in an attempt to prevent himself from dreaming. Why? Because some of his dreams have been altering reality — and George is the only one who notices. (For everyone else, things have always been the way they are now.) Visiting the well-meaning psychologist and sleep researcher Dr. Huber, George is persuaded to embark on a program of "effective dreaming" aimed at improving the state of the world. Unforeseen consequences ensue. (This will not surprise fans of LeGuin's fantasy and science fiction, which stresses the ambiguity of every utopian ideal, and the dark forces at work within even the noblest soul.) For example, in an effort to dream about peace on Earth, Orr conjures up a fleet of invading alien spacecraft… which does unite humankind, but at what cost? Also — does the "real world" exist at all, or did Orr dream it up after a 1998 nuclear war?
Fun fact: First serialized in Amazing Science Fiction Stories, March 1971 and May 1971. The book has sci-fi elements — it's set in 2002, Dr. Huber employs a device called the Augmentor — but it's fantastical. The 1980 PBS production of The Lathe of Heaven was well-regarded; LeGuin was closely involved.
***
NEW WAVE SCI-FI at HILOBROW: 75 Best New Wave (1964–1983) Sci-Fi Novels | Back to Utopia: Fredric Jameson's theorizing about New Wave sci-fi | Douglas Adams | Poul Anderson | J.G. Ballard | John Brunner | William Burroughs | Octavia E. Butler | Samuel R. Delany | Philip K. Dick | Frank Herbert | Ursula K. Le Guin | Barry N. Malzberg | Moebius (Jean Giraud) | Michael Moorcock | Alan Moore | Gary Panter | Walker Percy | Thomas Pynchon | Joanna Russ | James Tiptree Jr. (Alice Sheldon) | Kurt Vonnegut | PLUS: Jack Kirby's Golden Age and New Wave science fiction comics.
JOSH GLENN'S *BEST ADVENTURES* LISTS: BEST 250 ADVENTURES OF THE 20TH CENTURY | 100 BEST OUGHTS ADVENTURES | 100 BEST RADIUM AGE (PROTO-)SCI-FI ADVENTURES | 100 BEST TEENS ADVENTURES | 100 BEST TWENTIES ADVENTURES | 100 BEST THIRTIES ADVENTURES | 75 BEST GOLDEN AGE SCI-FI ADVENTURES | 100 BEST FORTIES ADVENTURES | 100 BEST FIFTIES ADVENTURES | 100 BEST SIXTIES ADVENTURES | 75 BEST NEW WAVE SCI FI ADVENTURES | 100 BEST SEVENTIES ADVENTURES | 100 BEST EIGHTIES ADVENTURES | 75 BEST DIAMOND AGE SCI-FI ADVENTURES | 100 BEST NINETIES ADVENTURES (in progress) | 1994 | 1995 | 1996 | 1997 | 1998 | 1999 | 2000 | 2001 | 2002 | 2003 | NOTES ON 21st-CENTURY ADVENTURES.