New Wave Sci-Fi 75 (32)
By: Joshua Glenn
May 6, 2018
One in a series of posts about the 75 best science fiction novels published during the genre's New Wave era (from 1964–1983, according to HILOBROW's periodization schema). For Josh Glenn's complete New Wave Sci-Fi 75 list, click here.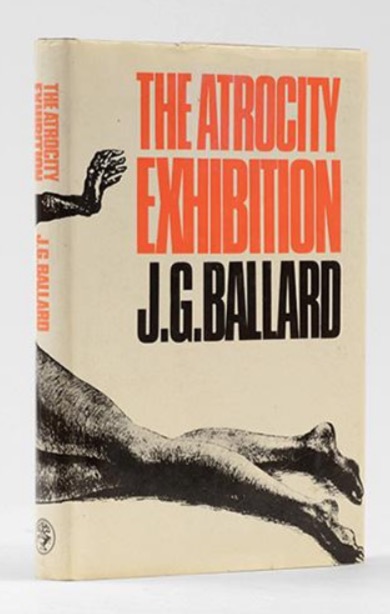 J.G. Ballard's The Atrocity Exhibition (written 1967, published 1970).
Less a novel than a collection of linked stories or novellas, The Atrocity Exhibition confronts us with surreal fantasies, absurdities, and grotesqueries — "Plans for the Assassination of Jacqueline Kennedy," "Love and Napalm: Export USA," "Why I Want to Fuck Ronald Reagan" — recounted by an unstable narrator, a mental-hospital psychiatrist whose name keeps changing (Talbert, Traven, Travis, Talbot, etc.). Like the French philosopher and theorist Jean Baudrillard, who started publishing in the late Sixties, and who can himself be considered a New Wave sci-fi author manqué, in The Atrocity Exhibition we find Ballard writing proleptically. That is to say, the book represents future social and cultural developments — for instance, the death of affect (because of prolonged exposure to sex and violence via pop culture and advertising); the triumph of kitsch culture; the banalization of celebrity; disaster porn; endless movies about the Vietnam War — as if they've happening now (in the late Sixties). The protagonist's ultimate goal? To start a World War III… of the mind!
Fun fact: The pieces collected here had appeared elsewhere, in various forms, previously. William Burroughs, a writer whom Ballard admired and emulated, wrote the book's introduction. The first US edition was published in 1972 by Grove Press, after an earlier edition was cancelled because the publisher feared lawsuits. The book inspired the Joy Division song of the same name from their 1980 album Closer.
***
NEW WAVE SCI-FI at HILOBROW: 75 Best New Wave (1964–1983) Sci-Fi Novels | Back to Utopia: Fredric Jameson's theorizing about New Wave sci-fi | Douglas Adams | Poul Anderson | J.G. Ballard | John Brunner | William Burroughs | Octavia E. Butler | Samuel R. Delany | Philip K. Dick | Frank Herbert | Ursula K. Le Guin | Barry N. Malzberg | Moebius (Jean Giraud) | Michael Moorcock | Alan Moore | Gary Panter | Walker Percy | Thomas Pynchon | Joanna Russ | James Tiptree Jr. (Alice Sheldon) | Kurt Vonnegut | PLUS: Jack Kirby's Golden Age and New Wave science fiction comics.
JOSH GLENN'S *BEST ADVENTURES* LISTS: BEST 250 ADVENTURES OF THE 20TH CENTURY | 100 BEST OUGHTS ADVENTURES | 100 BEST RADIUM AGE (PROTO-)SCI-FI ADVENTURES | 100 BEST TEENS ADVENTURES | 100 BEST TWENTIES ADVENTURES | 100 BEST THIRTIES ADVENTURES | 75 BEST GOLDEN AGE SCI-FI ADVENTURES | 100 BEST FORTIES ADVENTURES | 100 BEST FIFTIES ADVENTURES | 100 BEST SIXTIES ADVENTURES | 75 BEST NEW WAVE SCI FI ADVENTURES | 100 BEST SEVENTIES ADVENTURES | 100 BEST EIGHTIES ADVENTURES | 75 BEST DIAMOND AGE SCI-FI ADVENTURES | 100 BEST NINETIES ADVENTURES (in progress) | 1994 | 1995 | 1996 | 1997 | 1998 | 1999 | 2000 | 2001 | 2002 | 2003 | NOTES ON 21st-CENTURY ADVENTURES.