New Wave Sci-Fi 75 (26)
By: Joshua Glenn
March 25, 2018
One in a series of posts about the 75 best science fiction novels published during the genre's New Wave era (from 1964–1983, according to HILOBROW's periodization schema). For Josh Glenn's complete New Wave Sci-Fi 75 list, click here.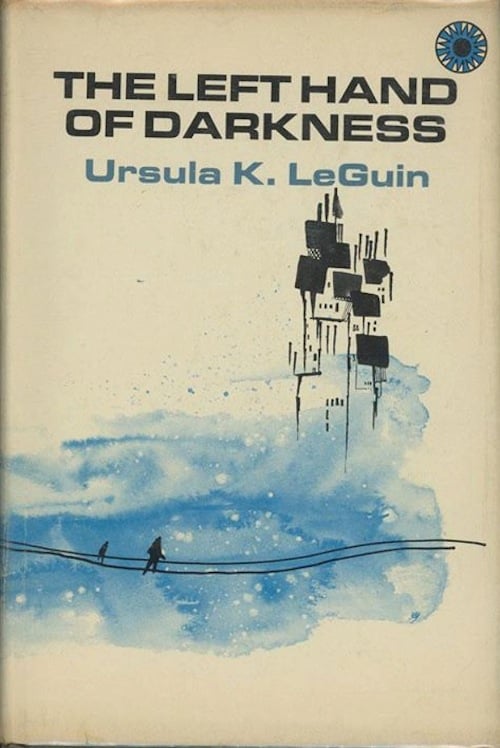 Ursula K. Le Guin's The Left Hand of Darkness (1969).
This is the second of the author's so-called Hainish Cycle, set in a galaxy whose human population evolved on Hain, then spread outwards to many other planets (including Earth) before, at some distant point in the past, losing contact. Efforts have been mounted to re-establish a galactic civilization; some eighty planets have organized themselves into a union called the Ekumen. In this novel, Genly Ai, an agent of The Ekumen, has spent a frustrating couple of years as an envoy to the frozen planet Gethen. Ai's efforts to recruit Gethen into the Ekumen have failed… because his supposedly enlightened worldview is structured by binary oppositions. Gethenians, because they are ambisexual — they only adopt sexual attributes once a month, during a period of sexual receptiveness and high fertility — see the world in an entirely different way. Ai only begins to empathize with the Gethenian worldview once he escapes from prison with Estraven, an exiled Gethenian politician, who not only helps Ai survive a trek across the planet's wintry wilderness, but helps him understand his own deep-seated prejudices and assumptions about gender and gender roles.
Fun facts: The Left Hand of Darkness is one of the first feminist sci-fi novels, though some feminists have argued that it does not go far enough in critiquing gender stereotypes. Harold Bloom said, of this book, which won both the Hugo and Nebula Awards: "Le Guin, more than Tolkien, has raised fantasy into high literature, for our time."
***
NEW WAVE SCI-FI at HILOBROW: 75 Best New Wave (1964–1983) Sci-Fi Novels | Back to Utopia: Fredric Jameson's theorizing about New Wave sci-fi | Douglas Adams | Poul Anderson | J.G. Ballard | John Brunner | William Burroughs | Octavia E. Butler | Samuel R. Delany | Philip K. Dick | Frank Herbert | Ursula K. Le Guin | Barry N. Malzberg | Moebius (Jean Giraud) | Michael Moorcock | Alan Moore | Gary Panter | Walker Percy | Thomas Pynchon | Joanna Russ | James Tiptree Jr. (Alice Sheldon) | Kurt Vonnegut | PLUS: Jack Kirby's Golden Age and New Wave science fiction comics.
JOSH GLENN'S *BEST ADVENTURES* LISTS: BEST 250 ADVENTURES OF THE 20TH CENTURY | 100 BEST OUGHTS ADVENTURES | 100 BEST RADIUM AGE (PROTO-)SCI-FI ADVENTURES | 100 BEST TEENS ADVENTURES | 100 BEST TWENTIES ADVENTURES | 100 BEST THIRTIES ADVENTURES | 75 BEST GOLDEN AGE SCI-FI ADVENTURES | 100 BEST FORTIES ADVENTURES | 100 BEST FIFTIES ADVENTURES | 100 BEST SIXTIES ADVENTURES | 75 BEST NEW WAVE SCI FI ADVENTURES | 100 BEST SEVENTIES ADVENTURES | 100 BEST EIGHTIES ADVENTURES | 75 BEST DIAMOND AGE SCI-FI ADVENTURES | 100 BEST NINETIES ADVENTURES (in progress) | 1994 | 1995 | 1996 | 1997 | 1998 | 1999 | 2000 | 2001 | 2002 | 2003 | NOTES ON 21st-CENTURY ADVENTURES.