New Wave Sci-Fi 75 (24)
By: Joshua Glenn
March 10, 2018
One in a series of posts about the 75 best science fiction novels published during the genre's New Wave era (from 1964–1983, according to HILOBROW's periodization schema). For Josh Glenn's complete New Wave Sci-Fi 75 list, click here.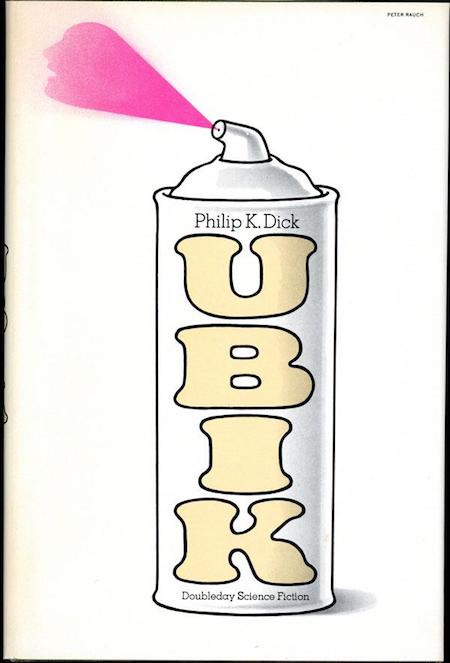 Philip K. Dick's Ubik (1969).
Joe Chip works for Runciter Associates, which employs "inertials" — telepaths and precogs with the ability to block the powers of other, less scrupulous telepaths and precogs — to protect the privacy of their clients. He's one of Dick's "minor men," unable to manage his own life; in fact, he owes money to his own front door! Joe has a thing for his new colleague, Pat, who can change the past in such a way that people don't realize it. Sent to Luna in search of criminal telepaths, Joe and Pat and the rest of their team is caught in an explosion… after which nothing is ever the same again. Are they moving backwards in time? Are they in some other reality? Are they caught up in a cosmic battle between the forces of light and the forces of darkness — and if so, what is the ultimate source of these forces? Every interpretation that they posit is frustrated; meaning remains elusive. Each chapter is prefaced with an advertisement for Ubik, salvation in a spray can. This is, perhaps, the ultimate example of one of Dick's apophenic sci-fi potboilers.
Fun fact: Ubik inspired France's Alfred Jarry-inspired Collège du Pataphysique to elect Dick as an honorary member. John Lennon, at one point, was interested in adapting the film version.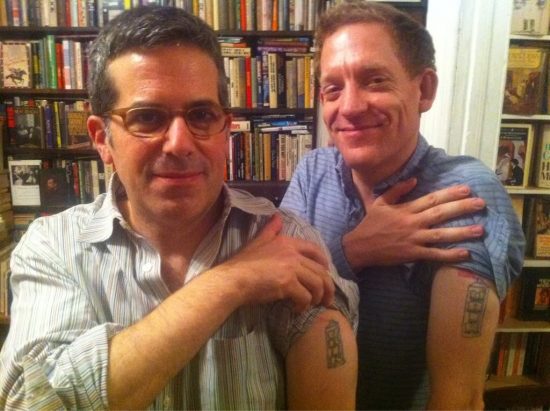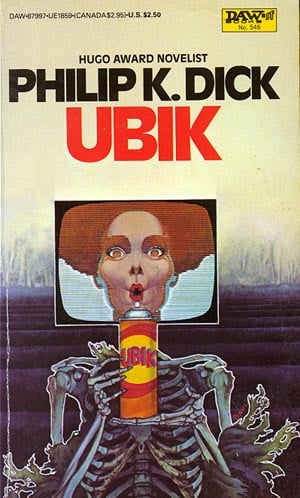 ***
NEW WAVE SCI-FI at HILOBROW: 75 Best New Wave (1964–1983) Sci-Fi Novels | Back to Utopia: Fredric Jameson's theorizing about New Wave sci-fi | Douglas Adams | Poul Anderson | J.G. Ballard | John Brunner | William Burroughs | Octavia E. Butler | Samuel R. Delany | Philip K. Dick | Frank Herbert | Ursula K. Le Guin | Barry N. Malzberg | Moebius (Jean Giraud) | Michael Moorcock | Alan Moore | Gary Panter | Walker Percy | Thomas Pynchon | Joanna Russ | James Tiptree Jr. (Alice Sheldon) | Kurt Vonnegut | PLUS: Jack Kirby's Golden Age and New Wave science fiction comics.
JOSH GLENN'S *BEST ADVENTURES* LISTS: BEST 250 ADVENTURES OF THE 20TH CENTURY | 100 BEST OUGHTS ADVENTURES | 100 BEST RADIUM AGE (PROTO-)SCI-FI ADVENTURES | 100 BEST TEENS ADVENTURES | 100 BEST TWENTIES ADVENTURES | 100 BEST THIRTIES ADVENTURES | 75 BEST GOLDEN AGE SCI-FI ADVENTURES | 100 BEST FORTIES ADVENTURES | 100 BEST FIFTIES ADVENTURES | 100 BEST SIXTIES ADVENTURES | 75 BEST NEW WAVE SCI FI ADVENTURES | 100 BEST SEVENTIES ADVENTURES | 100 BEST EIGHTIES ADVENTURES | 75 BEST DIAMOND AGE SCI-FI ADVENTURES | 100 BEST NINETIES ADVENTURES (in progress) | 1994 | 1995 | 1996 | 1997 | 1998 | 1999 | 2000 | 2001 | 2002 | 2003 | NOTES ON 21st-CENTURY ADVENTURES.