New Wave Sci-Fi 75 (23)
By: Joshua Glenn
March 4, 2018
One in a series of posts about the 75 best science fiction novels published during the genre's New Wave era (from 1964–1983, according to HILOBROW's periodization schema). For Josh Glenn's complete New Wave Sci-Fi 75 list, click here.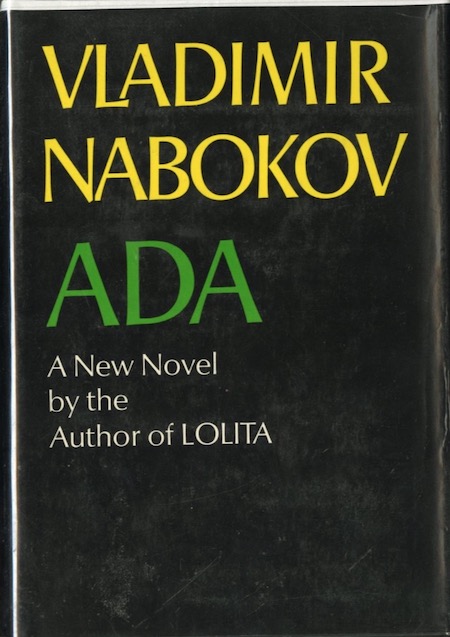 Vladimir Nabokov's Ada, or Ardor (1969).
When he is fourteen, Van Veen, who will grow up to be a psychologist and renegade scholar, falls in love with his eleven-year-old cousin, Ada; they begin a life-long sexual affair, despite later discovering that they are half-siblings. The story begins in the early 19th century, though characters discuss airplanes, motion pictures, and other anachronistic technologies; everything is powered by water, and it is forbidden to mention electricity. Reference is made to an historical catastrophe referred to as "the L disaster," which has somehow "everted" (I borrow the term from a 1975 essay about this novel in Science Fiction Studies) time, earth, and sexual gender. Van and Ada — who are maybe somehow, respectively, Eve and Adam — live on a planet known as Antiterra, which is geographically similar to Earth, although politically England has conquered most of it, and American culture is influenced by Russia. Nineteen-Sixties culture is, somehow, a myth from the past. Trippy!
Fun facts: Ted Gioia has compared Ada to Philip K. Dick's The Man in the High Castle and other alternate-history works of science fiction. I might include works by Samuel R. Delany and Michael Moorcock in which the Beatles become mythical figures.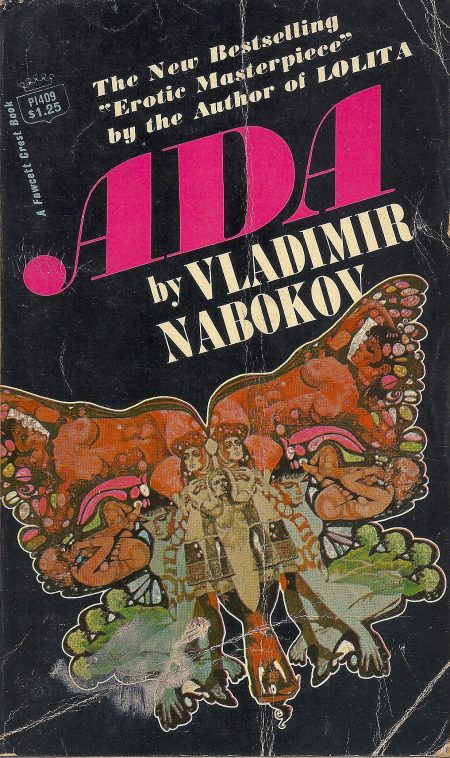 ***
NEW WAVE SCI-FI at HILOBROW: 75 Best New Wave (1964–1983) Sci-Fi Novels | Back to Utopia: Fredric Jameson's theorizing about New Wave sci-fi | Douglas Adams | Poul Anderson | J.G. Ballard | John Brunner | William Burroughs | Octavia E. Butler | Samuel R. Delany | Philip K. Dick | Frank Herbert | Ursula K. Le Guin | Barry N. Malzberg | Moebius (Jean Giraud) | Michael Moorcock | Alan Moore | Gary Panter | Walker Percy | Thomas Pynchon | Joanna Russ | James Tiptree Jr. (Alice Sheldon) | Kurt Vonnegut | PLUS: Jack Kirby's Golden Age and New Wave science fiction comics.
JOSH GLENN'S *BEST ADVENTURES* LISTS: BEST 250 ADVENTURES OF THE 20TH CENTURY | 100 BEST OUGHTS ADVENTURES | 100 BEST RADIUM AGE (PROTO-)SCI-FI ADVENTURES | 100 BEST TEENS ADVENTURES | 100 BEST TWENTIES ADVENTURES | 100 BEST THIRTIES ADVENTURES | 75 BEST GOLDEN AGE SCI-FI ADVENTURES | 100 BEST FORTIES ADVENTURES | 100 BEST FIFTIES ADVENTURES | 100 BEST SIXTIES ADVENTURES | 75 BEST NEW WAVE SCI FI ADVENTURES | 100 BEST SEVENTIES ADVENTURES | 100 BEST EIGHTIES ADVENTURES | 75 BEST DIAMOND AGE SCI-FI ADVENTURES | 100 BEST NINETIES ADVENTURES (in progress) | 1994 | 1995 | 1996 | 1997 | 1998 | 1999 | 2000 | 2001 | 2002 | 2003 | NOTES ON 21st-CENTURY ADVENTURES.