New Wave Sci-Fi 75 (11)
By: Joshua Glenn
December 10, 2017
One in a series of posts about the 75 best science fiction novels published during the genre's New Wave era (from 1964–1983, according to HILOBROW's periodization schema). For Josh Glenn's complete New Wave Sci-Fi 75 list, click here.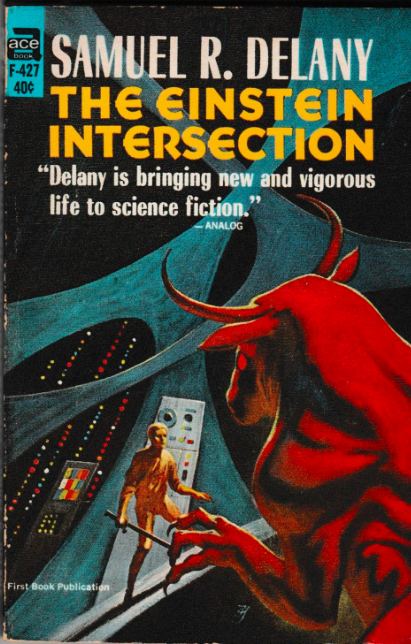 Samuel R. Delany's The Einstein Intersection (1967)
Love it or hate it (Delany's eighth novel has zealous fans and detractors), The Einstein Intersection is fascinating. Forty thousand years in the future, Lobey, a village herder and musician, goes on an Orpheus-like quest into the underworld — in search of his slain lover, Friza. As it turns out, this is a puppet-show of sorts: Lobey is a member of a (three-gendered) alien race who've taken on (two-gendered) human forms, and inherited human cultural myths as well. Of the latter, the aliens have made a hodge-podge: the stories of Orpheus, the Minotaur, Billy the Kid, Jean Harlow, Ringo Starr, Jesus Christ — these and other traditions of all dead generations weigh like a nightmare on the brains of the living. This conceit alone might have made for a terrific mythopoetic sci-fi novel; however, Delaney introduces myriad other issues: genetics, radiation, identity and difference, rural and urban ways of life, perception and reality, life and death, dragons… too much, perhaps, for a relatively short novel. Delany's prose style, too, confounds: sometimes improvisational and snappy, sometimes ham-fisted pulp fiction. The Einstein Intersection is pretentious — but in the best possible way. Don't give up on it! Once you encounter Kid Death, you'll be hooked.
Fun fact: Winner of the 1967 Nebula Award for Best Science Fiction Book.
***
NEW WAVE SCI-FI at HILOBROW: 75 Best New Wave (1964–1983) Sci-Fi Novels | Back to Utopia: Fredric Jameson's theorizing about New Wave sci-fi | Douglas Adams | Poul Anderson | J.G. Ballard | John Brunner | William Burroughs | Octavia E. Butler | Samuel R. Delany | Philip K. Dick | Frank Herbert | Ursula K. Le Guin | Barry N. Malzberg | Moebius (Jean Giraud) | Michael Moorcock | Alan Moore | Gary Panter | Walker Percy | Thomas Pynchon | Joanna Russ | James Tiptree Jr. (Alice Sheldon) | Kurt Vonnegut | PLUS: Jack Kirby's Golden Age and New Wave science fiction comics.
JOSH GLENN'S *BEST ADVENTURES* LISTS: BEST 250 ADVENTURES OF THE 20TH CENTURY | 100 BEST OUGHTS ADVENTURES | 100 BEST RADIUM AGE (PROTO-)SCI-FI ADVENTURES | 100 BEST TEENS ADVENTURES | 100 BEST TWENTIES ADVENTURES | 100 BEST THIRTIES ADVENTURES | 75 BEST GOLDEN AGE SCI-FI ADVENTURES | 100 BEST FORTIES ADVENTURES | 100 BEST FIFTIES ADVENTURES | 100 BEST SIXTIES ADVENTURES | 75 BEST NEW WAVE SCI FI ADVENTURES | 100 BEST SEVENTIES ADVENTURES | 100 BEST EIGHTIES ADVENTURES | 75 BEST DIAMOND AGE SCI-FI ADVENTURES | 100 BEST NINETIES ADVENTURES (in progress) | 1994 | 1995 | 1996 | 1997 | 1998 | 1999 | 2000 | 2001 | 2002 | 2003 | NOTES ON 21st-CENTURY ADVENTURES.