New Wave Sci-Fi 75 (10)
By: Joshua Glenn
December 3, 2017
One in a series of posts about the 75 best science fiction novels published during the genre's New Wave era (from 1964–1983, according to HILOBROW's periodization schema). For Josh Glenn's complete New Wave Sci-Fi 75 list, click here.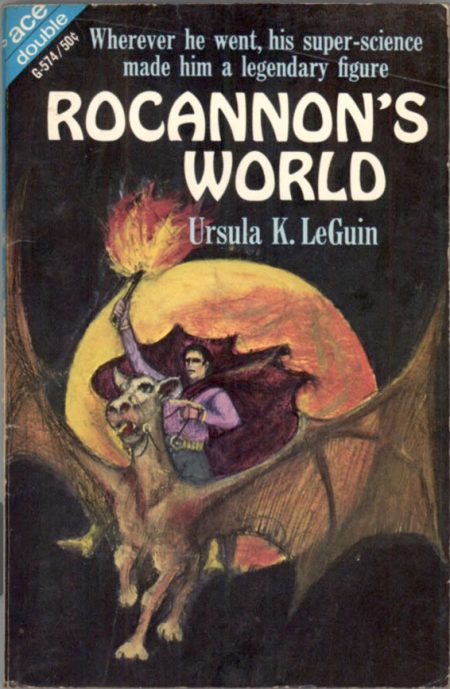 Ursula K. Le Guin's Rocannon's World (1966).
When ethnologist Gaveral Rocannon visits the primitive planet Fomalhaut II, his ship is destroyed by agents of Faraday, an upstart planet threatening the peaceful galaxy. Rocannon sets out to find the enemy's secret base on the planet — so he can infiltrate it, and use their "ansible" to communicate with galactic authorities. As he journeys across the planet, he encounters various Tolkien-esque species, including the dwarfish Gdemiar, the elven Fiia, and the nightmarish Winged Ones; his advanced technology makes him a Connecticut Yankee in King Arthur's Court-type wizard. As he travels, and engages in various battles, Rocannon becomes a figure of legend. However, when he reaches the enemy base he must revert to a sophisticated interstellar op. Fans of Iain M. Banks: the Culture begins here. A fun foray into Three Hearts and Three Lions-esque science-fantasy, for Le Guin.
Fun facts: This is the debut installment in Le Guin's Hainish Cycle. Other authors, including Orson Scott Card, Vernor Vinge, and Kim Stanley Robinson, would borrow the "ansible" tech from this book.
***
NEW WAVE SCI-FI at HILOBROW: 75 Best New Wave (1964–1983) Sci-Fi Novels | Back to Utopia: Fredric Jameson's theorizing about New Wave sci-fi | Douglas Adams | Poul Anderson | J.G. Ballard | John Brunner | William Burroughs | Octavia E. Butler | Samuel R. Delany | Philip K. Dick | Frank Herbert | Ursula K. Le Guin | Barry N. Malzberg | Moebius (Jean Giraud) | Michael Moorcock | Alan Moore | Gary Panter | Walker Percy | Thomas Pynchon | Joanna Russ | James Tiptree Jr. (Alice Sheldon) | Kurt Vonnegut | PLUS: Jack Kirby's Golden Age and New Wave science fiction comics.
JOSH GLENN'S *BEST ADVENTURES* LISTS: BEST 250 ADVENTURES OF THE 20TH CENTURY | 100 BEST OUGHTS ADVENTURES | 100 BEST RADIUM AGE (PROTO-)SCI-FI ADVENTURES | 100 BEST TEENS ADVENTURES | 100 BEST TWENTIES ADVENTURES | 100 BEST THIRTIES ADVENTURES | 75 BEST GOLDEN AGE SCI-FI ADVENTURES | 100 BEST FORTIES ADVENTURES | 100 BEST FIFTIES ADVENTURES | 100 BEST SIXTIES ADVENTURES | 75 BEST NEW WAVE SCI FI ADVENTURES | 100 BEST SEVENTIES ADVENTURES | 100 BEST EIGHTIES ADVENTURES | 75 BEST DIAMOND AGE SCI-FI ADVENTURES | 100 BEST NINETIES ADVENTURES (in progress) | 1994 | 1995 | 1996 | 1997 | 1998 | 1999 | 2000 | 2001 | 2002 | 2003 | NOTES ON 21st-CENTURY ADVENTURES.