New Wave Sci-Fi 75 (9)
By: Joshua Glenn
November 26, 2017
One in a series of posts about the 75 best science fiction novels published during the genre's New Wave era (from 1964–1983, according to HILOBROW's periodization schema). For Josh Glenn's complete New Wave Sci-Fi 75 list, click here.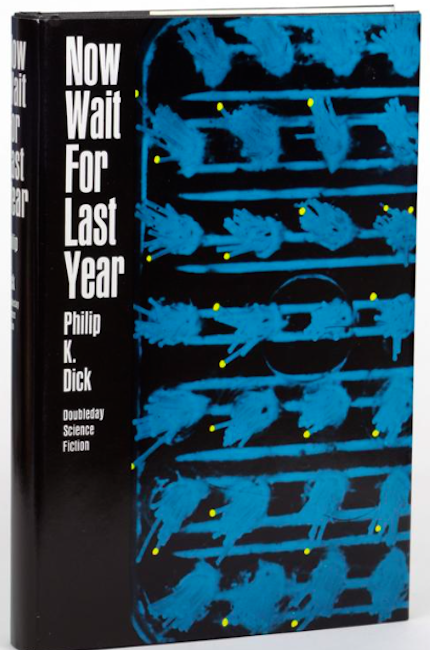 Philip K. Dick's Now Wait for Last Year (1966).
In the near future, Terra — a unified Earth, the elected dictator of which is UN Secretary General Gino "the Mole" Molinari — has become entangled in a war between an insect race (the reegs) and a humanoid race (the 'Starmen, from the planet Lilistar). Terra is on the wrong side of the war; their allies, the fascistic 'Starmen, may be out to exploit Terra's natural resources. Dr. Eric Sweetscent, an organ-transplant surgeon asked to secretly tend to Molanari, who has developed a psychosomatic ailment in which he suffers along with anyone near who him who is in any kind of pain, gets involved in Terra-Lilistar politics. His wife Kathy, meanwhile, becomes addicted to JJ-180, a new hallucinogen (which may have been invented by the reegs as a chemical weapon) that causes her to move forwards, backwards, and sideways through time… and she is forced to spy on Sweetscent — by the 'Starmen. Sweetscent and Molinari time-travel, as well… leading them to wonder how valuable the intel they're picking up from alternative past and present histories is for their current situation.
Fun fact: Dick was very fond of his Molinari character, whom he described as a blend of Christ, Lincoln, and… Mussolini, for whom he harbored a certain (non-fascist) sympathy.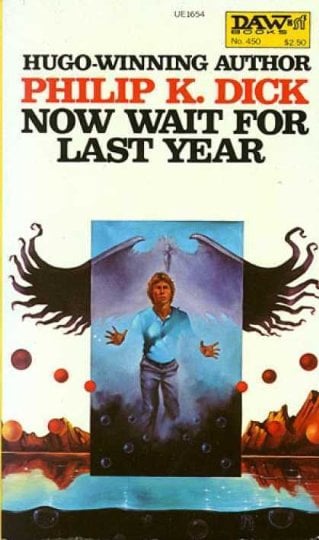 ***
NEW WAVE SCI-FI at HILOBROW: 75 Best New Wave (1964–1983) Sci-Fi Novels | Back to Utopia: Fredric Jameson's theorizing about New Wave sci-fi | Douglas Adams | Poul Anderson | J.G. Ballard | John Brunner | William Burroughs | Octavia E. Butler | Samuel R. Delany | Philip K. Dick | Frank Herbert | Ursula K. Le Guin | Barry N. Malzberg | Moebius (Jean Giraud) | Michael Moorcock | Alan Moore | Gary Panter | Walker Percy | Thomas Pynchon | Joanna Russ | James Tiptree Jr. (Alice Sheldon) | Kurt Vonnegut | PLUS: Jack Kirby's Golden Age and New Wave science fiction comics.
JOSH GLENN'S *BEST ADVENTURES* LISTS: BEST 250 ADVENTURES OF THE 20TH CENTURY | 100 BEST OUGHTS ADVENTURES | 100 BEST RADIUM AGE (PROTO-)SCI-FI ADVENTURES | 100 BEST TEENS ADVENTURES | 100 BEST TWENTIES ADVENTURES | 100 BEST THIRTIES ADVENTURES | 75 BEST GOLDEN AGE SCI-FI ADVENTURES | 100 BEST FORTIES ADVENTURES | 100 BEST FIFTIES ADVENTURES | 100 BEST SIXTIES ADVENTURES | 75 BEST NEW WAVE SCI FI ADVENTURES | 100 BEST SEVENTIES ADVENTURES | 100 BEST EIGHTIES ADVENTURES | 75 BEST DIAMOND AGE SCI-FI ADVENTURES | 100 BEST NINETIES ADVENTURES (in progress) | 1994 | 1995 | 1996 | 1997 | 1998 | 1999 | 2000 | 2001 | 2002 | 2003 | NOTES ON 21st-CENTURY ADVENTURES.