New Wave Sci-Fi 75 (8)
By: Joshua Glenn
November 19, 2017
One in a series of posts about the 75 best science fiction novels published during the genre's New Wave era (from 1964–1983, according to HILOBROW's periodization schema). For Josh Glenn's complete New Wave Sci-Fi 75 list, click here.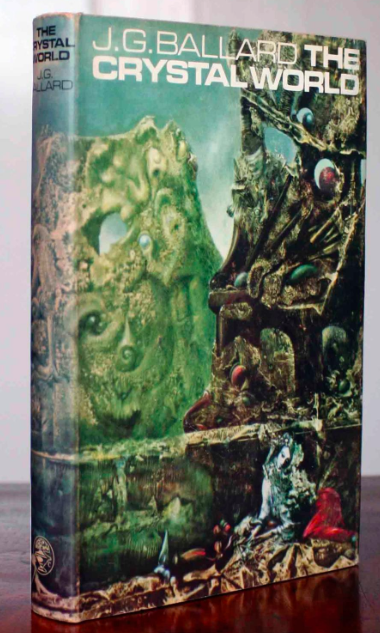 J.G. Ballard's The Crystal World (1966).
Some readers find this novel too "action-adventurey" for their liking, others find it too surgical and psychological; I think it strikes a provocative balance between these tendencies. In an African colony, Sanders, a British doctor, discovers that entrance to the forest is being discouraged. Seeking his friends, who run a leper colony (to which he is strangely attracted), he travels upriver — echoes of Heart of Darkness are intentional — and discovers that trees, grass, water, animals and men are slowly being encased in glittering crystals. The universe, its myriad of possibilities, is crystallizing into sameness! Which, in a way, is just a literalization of a process already underway — the separation of alienated individuals from one another, industrial capitalism forcing everything and everyone to become the same. If leprosy is about entropy and decay, this crystallization is a kind of antidote… right? Ballard's descriptions are eerily beautiful.
Fun fact: Serialized in the first Moorcock-edited issue of New Worlds. This is Ballard's third psychedelic-apocalyptic work, the first two being The Drowned World (1962) and The Burning World (1964).
***
NEW WAVE SCI-FI at HILOBROW: 75 Best New Wave (1964–1983) Sci-Fi Novels | Back to Utopia: Fredric Jameson's theorizing about New Wave sci-fi | Douglas Adams | Poul Anderson | J.G. Ballard | John Brunner | William Burroughs | Octavia E. Butler | Samuel R. Delany | Philip K. Dick | Frank Herbert | Ursula K. Le Guin | Barry N. Malzberg | Moebius (Jean Giraud) | Michael Moorcock | Alan Moore | Gary Panter | Walker Percy | Thomas Pynchon | Joanna Russ | James Tiptree Jr. (Alice Sheldon) | Kurt Vonnegut | PLUS: Jack Kirby's Golden Age and New Wave science fiction comics.
JOSH GLENN'S *BEST ADVENTURES* LISTS: BEST 250 ADVENTURES OF THE 20TH CENTURY | 100 BEST OUGHTS ADVENTURES | 100 BEST RADIUM AGE (PROTO-)SCI-FI ADVENTURES | 100 BEST TEENS ADVENTURES | 100 BEST TWENTIES ADVENTURES | 100 BEST THIRTIES ADVENTURES | 75 BEST GOLDEN AGE SCI-FI ADVENTURES | 100 BEST FORTIES ADVENTURES | 100 BEST FIFTIES ADVENTURES | 100 BEST SIXTIES ADVENTURES | 75 BEST NEW WAVE SCI FI ADVENTURES | 100 BEST SEVENTIES ADVENTURES | 100 BEST EIGHTIES ADVENTURES | 75 BEST DIAMOND AGE SCI-FI ADVENTURES | 100 BEST NINETIES ADVENTURES (in progress) | 1994 | 1995 | 1996 | 1997 | 1998 | 1999 | 2000 | 2001 | 2002 | 2003 | NOTES ON 21st-CENTURY ADVENTURES.