New Wave Sci-Fi 75 (6)
By: Joshua Glenn
November 5, 2017
One in a series of posts about the 75 best science fiction novels published during the genre's New Wave era (from 1964–1983, according to HILOBROW's periodization schema). For Josh Glenn's complete New Wave Sci-Fi 75 list, click here.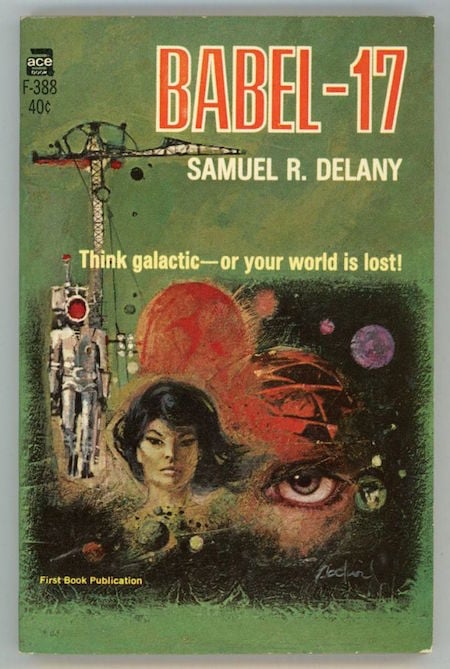 Samuel R. Delany's Babel-17 (1966).
This short, psychedelic, linguistics-inspired space opera describes a distant future in which humanity has spread itself — for better and worse — throughout the galaxy. An alien culture called The Invaders is up to something that could prove potentially catastrophic to the (human) Alliance… but what? Starship captain, codebreaker and telepath Rydra Wong discovers that a software code used by the Invaders' hackers is actually a language… one which alters perception and thought, enhancing your abilities but turning you into a traitor! Wong is assisted by a kick-ass crew of genetically modified adventurers — including some who are essentially ghosts in the machine. Babel-17 is an adventure yarn — including everything from hand-to-hand combat to full-scale spaceship battles — but at the same time it's a philosophical novel challenging the reader to imagine what kind of culture might speak a language lacking a pronoun for "I."
Fun fact: Babel-17 was joint winner of the Nebula Award in 1966 — along with Flowers for Algernon.
***
NEW WAVE SCI-FI at HILOBROW: 75 Best New Wave (1964–1983) Sci-Fi Novels | Back to Utopia: Fredric Jameson's theorizing about New Wave sci-fi | Douglas Adams | Poul Anderson | J.G. Ballard | John Brunner | William Burroughs | Octavia E. Butler | Samuel R. Delany | Philip K. Dick | Frank Herbert | Ursula K. Le Guin | Barry N. Malzberg | Moebius (Jean Giraud) | Michael Moorcock | Alan Moore | Gary Panter | Walker Percy | Thomas Pynchon | Joanna Russ | James Tiptree Jr. (Alice Sheldon) | Kurt Vonnegut | PLUS: Jack Kirby's Golden Age and New Wave science fiction comics.
JOSH GLENN'S *BEST ADVENTURES* LISTS: BEST 250 ADVENTURES OF THE 20TH CENTURY | 100 BEST OUGHTS ADVENTURES | 100 BEST RADIUM AGE (PROTO-)SCI-FI ADVENTURES | 100 BEST TEENS ADVENTURES | 100 BEST TWENTIES ADVENTURES | 100 BEST THIRTIES ADVENTURES | 75 BEST GOLDEN AGE SCI-FI ADVENTURES | 100 BEST FORTIES ADVENTURES | 100 BEST FIFTIES ADVENTURES | 100 BEST SIXTIES ADVENTURES | 75 BEST NEW WAVE SCI FI ADVENTURES | 100 BEST SEVENTIES ADVENTURES | 100 BEST EIGHTIES ADVENTURES | 75 BEST DIAMOND AGE SCI-FI ADVENTURES | 100 BEST NINETIES ADVENTURES (in progress) | 1994 | 1995 | 1996 | 1997 | 1998 | 1999 | 2000 | 2001 | 2002 | 2003 | NOTES ON 21st-CENTURY ADVENTURES.