New Wave Sci-Fi 75 (5)
By: Joshua Glenn
October 29, 2017
One in a series of posts about the 75 best science fiction novels published during the genre's New Wave era (from 1964–1983, according to HILOBROW's periodization schema). For Josh Glenn's complete New Wave Sci-Fi 75 list, click here.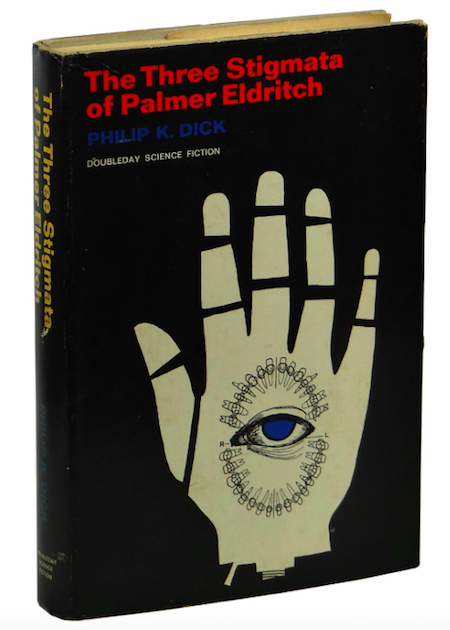 Philip K. Dick's The Three Stigmata of Palmer Eldritch (1965).
The Earth is badly over-heated, and the UN — the global governing body — is conscripting settlers to colonize unpleasant nearby planets. Mars's settlers have become addicted to Can-D, a drug that allows them to escape into a collective Barbie-and-Ken-esque hallucination, the contours of which are shaped by figures and "layouts" they purchase… from Perky Pat, a corporate empire run by the ruthless Leo Bulero (who also secretly manufactures Can-D). Bulero's hired telepaths discover that merchant adventurer Palmer Eldritch has returned from a crash on Pluto with Chew-Z, a superior drug, one which can put Perky Pat out of business. However, when Bulero attempts to assassinate Eldritch, he is plunged into a nightmarish odyssey of nested hallucations… which causes him to question the very nature of reality itself. What's up with Eldritch's three "stigmata" — and where did he get Chew-Z? Plus: double agents, time travel, devolution, alien possession, and Gnostic musings about the notion of an evil demiurge!
Fun fact: A freaky classic of psychedelic literature. Considered one of Dick's most important books.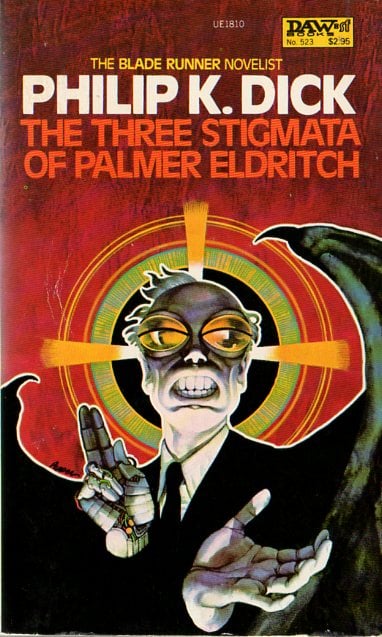 ***
NEW WAVE SCI-FI at HILOBROW: 75 Best New Wave (1964–1983) Sci-Fi Novels | Back to Utopia: Fredric Jameson's theorizing about New Wave sci-fi | Douglas Adams | Poul Anderson | J.G. Ballard | John Brunner | William Burroughs | Octavia E. Butler | Samuel R. Delany | Philip K. Dick | Frank Herbert | Ursula K. Le Guin | Barry N. Malzberg | Moebius (Jean Giraud) | Michael Moorcock | Alan Moore | Gary Panter | Walker Percy | Thomas Pynchon | Joanna Russ | James Tiptree Jr. (Alice Sheldon) | Kurt Vonnegut | PLUS: Jack Kirby's Golden Age and New Wave science fiction comics.
JOSH GLENN'S *BEST ADVENTURES* LISTS: BEST 250 ADVENTURES OF THE 20TH CENTURY | 100 BEST OUGHTS ADVENTURES | 100 BEST RADIUM AGE (PROTO-)SCI-FI ADVENTURES | 100 BEST TEENS ADVENTURES | 100 BEST TWENTIES ADVENTURES | 100 BEST THIRTIES ADVENTURES | 75 BEST GOLDEN AGE SCI-FI ADVENTURES | 100 BEST FORTIES ADVENTURES | 100 BEST FIFTIES ADVENTURES | 100 BEST SIXTIES ADVENTURES | 75 BEST NEW WAVE SCI FI ADVENTURES | 100 BEST SEVENTIES ADVENTURES | 100 BEST EIGHTIES ADVENTURES | 75 BEST DIAMOND AGE SCI-FI ADVENTURES | 100 BEST NINETIES ADVENTURES (in progress) | 1994 | 1995 | 1996 | 1997 | 1998 | 1999 | 2000 | 2001 | 2002 | 2003 | NOTES ON 21st-CENTURY ADVENTURES.