New Wave Sci-Fi 75 (3)
By: Joshua Glenn
October 15, 2017
One in a series of posts about the 75 best science fiction novels published during the genre's New Wave era (from 1964–1983, according to HILOBROW's periodization schema). For Josh Glenn's complete New Wave Sci-Fi 75 list, click here.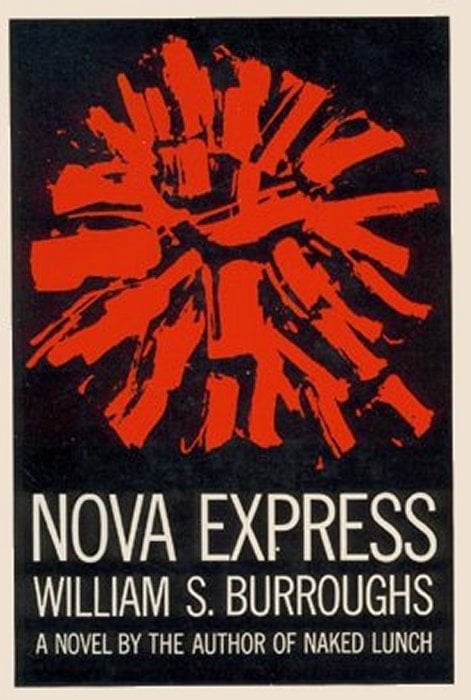 William Burroughs's Nova Express (1964).
Beginning in 1961, William Burroughs and Brion Gysin experimented with a "dreamachine" producing complex patterns of color behind one's eyelids. As the user entered something like a hypnagogic state, the patterns would "read" as intensely meaningful — even if that meaning was inarticulable. The effect of Burroughs's Nova Trilogy (1961's The Soft Machine, 1962's The Ticket That Exploded, and Nova Express) on readers is dreamachine-like; you don't read it so much as soak in it. Even if you could un-do the "fold-in" technique that Burroughs employed, you wouldn't discover a coherent plot: Instead, there are characters (Sammy The Butcher, The Brown Artist, Izzy The Push, and other members of the viral Nova Mob; Inspector Lee of the Nova Police), comedy bits, drug-induced hallucinations, and language experiments. All wired together by an overarching paranoia regarding the cultural, social, biological, and neurological mechanisms via which the many are conditioned and controlled by the few. The Nova Mob are "control addicts"; can Inspector Lee — who sees conspiracies everywhere — dismantle their diabolical word-and-imagery machine, aka culture itself?
Fun fact: Together with The Soft Machine (1961) and The Ticket That Exploded (1962), this novel is part of The Nova Trilogy. Luc Sante sums up the message of the trilogy like so: "You are the host of a virus; the virus is life; you are fucked."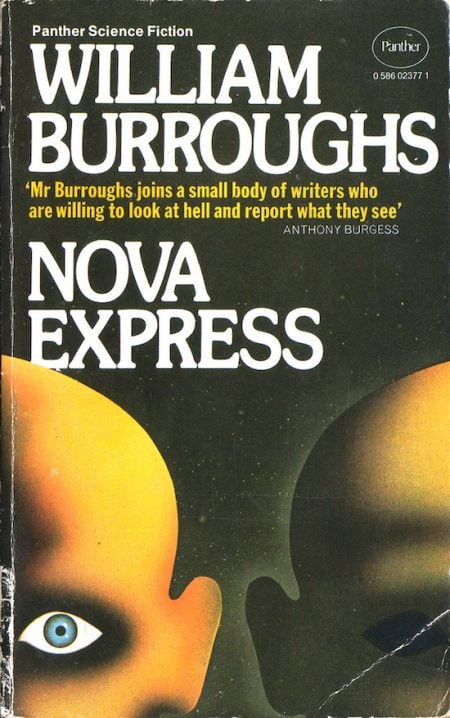 ***
NEW WAVE SCI-FI at HILOBROW: 75 Best New Wave (1964–1983) Sci-Fi Novels | Back to Utopia: Fredric Jameson's theorizing about New Wave sci-fi | Douglas Adams | Poul Anderson | J.G. Ballard | John Brunner | William Burroughs | Octavia E. Butler | Samuel R. Delany | Philip K. Dick | Frank Herbert | Ursula K. Le Guin | Barry N. Malzberg | Moebius (Jean Giraud) | Michael Moorcock | Alan Moore | Gary Panter | Walker Percy | Thomas Pynchon | Joanna Russ | James Tiptree Jr. (Alice Sheldon) | Kurt Vonnegut | PLUS: Jack Kirby's Golden Age and New Wave science fiction comics.
JOSH GLENN'S *BEST ADVENTURES* LISTS: BEST 250 ADVENTURES OF THE 20TH CENTURY | 100 BEST OUGHTS ADVENTURES | 100 BEST RADIUM AGE (PROTO-)SCI-FI ADVENTURES | 100 BEST TEENS ADVENTURES | 100 BEST TWENTIES ADVENTURES | 100 BEST THIRTIES ADVENTURES | 75 BEST GOLDEN AGE SCI-FI ADVENTURES | 100 BEST FORTIES ADVENTURES | 100 BEST FIFTIES ADVENTURES | 100 BEST SIXTIES ADVENTURES | 75 BEST NEW WAVE SCI FI ADVENTURES | 100 BEST SEVENTIES ADVENTURES | 100 BEST EIGHTIES ADVENTURES | 75 BEST DIAMOND AGE SCI-FI ADVENTURES | 100 BEST NINETIES ADVENTURES (in progress) | 1994 | 1995 | 1996 | 1997 | 1998 | 1999 | 2000 | 2001 | 2002 | 2003 | NOTES ON 21st-CENTURY ADVENTURES.