New Wave Sci-Fi 75 (2)
By: Joshua Glenn
October 8, 2017
One in a series of posts about the 75 best science fiction novels published during the genre's New Wave era (from 1964–1983, according to HILOBROW's periodization schema). For Josh Glenn's complete New Wave Sci-Fi 75 list, click here.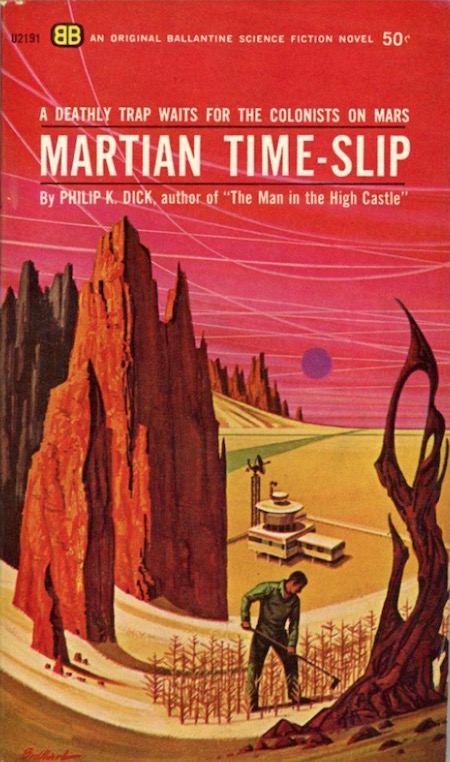 Philip K. Dick's Martian Time-Slip (1964).
One of my top favorite PKD novels, Martian Time-Slip is set in an arid Martian colony where Establishment-approved information is crammed into youthful heads by teaching machines. Forget the plot, which involves time travel… or a vision/hallucination of time travel, anyway. Dick presents the book's action through flash-forwards and from the perspectives of the three main characters. At the level of form, we're confronted with the question: What is reality? Ten-year-old Manfred Steiner, is labeled autistic because he doesn't properly respond to the machines; in fact, he has precognition abilities. Jack Bohlen, a repairman, is hired to develop a device for communicating with Manfred; Bohlen, too, is disturbed by the teaching machines — because his schizophrenia reveals to him the machine-like quality of normal, well-adjusted people; and because he, like Manfred, perceives the passage of time in an unconventional way. A third character, union leader Arnie Kott, wants to use Manfred's abilities to get the edge on a business deal. Meanwhile, the oppressed native Martians recognize the malleability of time — and therefore understand the value of Manfred's gifts.
Fun fact: The novel was first published under the title All We Marsmen, serialized in the August, October and December 1963 issues of Worlds of Tomorrow magazine.
***
NEW WAVE SCI-FI at HILOBROW: 75 Best New Wave (1964–1983) Sci-Fi Novels | Back to Utopia: Fredric Jameson's theorizing about New Wave sci-fi | Douglas Adams | Poul Anderson | J.G. Ballard | John Brunner | William Burroughs | Octavia E. Butler | Samuel R. Delany | Philip K. Dick | Frank Herbert | Ursula K. Le Guin | Barry N. Malzberg | Moebius (Jean Giraud) | Michael Moorcock | Alan Moore | Gary Panter | Walker Percy | Thomas Pynchon | Joanna Russ | James Tiptree Jr. (Alice Sheldon) | Kurt Vonnegut | PLUS: Jack Kirby's Golden Age and New Wave science fiction comics.
JOSH GLENN'S *BEST ADVENTURES* LISTS: BEST 250 ADVENTURES OF THE 20TH CENTURY | 100 BEST OUGHTS ADVENTURES | 100 BEST RADIUM AGE (PROTO-)SCI-FI ADVENTURES | 100 BEST TEENS ADVENTURES | 100 BEST TWENTIES ADVENTURES | 100 BEST THIRTIES ADVENTURES | 75 BEST GOLDEN AGE SCI-FI ADVENTURES | 100 BEST FORTIES ADVENTURES | 100 BEST FIFTIES ADVENTURES | 100 BEST SIXTIES ADVENTURES | 75 BEST NEW WAVE SCI FI ADVENTURES | 100 BEST SEVENTIES ADVENTURES | 100 BEST EIGHTIES ADVENTURES | 75 BEST DIAMOND AGE SCI-FI ADVENTURES | 100 BEST NINETIES ADVENTURES (in progress) | 1994 | 1995 | 1996 | 1997 | 1998 | 1999 | 2000 | 2001 | 2002 | 2003 | NOTES ON 21st-CENTURY ADVENTURES.