Golden Age Sci-Fi 75 (66)
By: Joshua Glenn
November 20, 2016
One in a series of 75 posts about the best science fiction novels published during the genre's so-called Golden Age (from 1934–63, according to HILOBROW's Josh Glenn's periodization schema). For the complete Golden Age Sci-Fi 75 list, click here.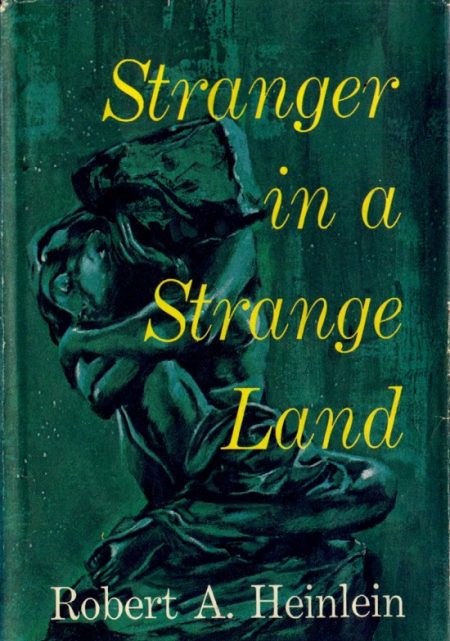 Robert Heinlein's Stranger in a Strange Land (1961).
One of the most famous, and most infuriating science fiction books ever. Its premise is a promising one: Valentine Michael Smith, a human raised by cosmically wise Martians and endowed with psychic and telekinetic powers, is brought back to Earth — whose social, cultural, economic, sexual, and psychological customs he finds bewildering and strange. With the aid of Jubal Harshaw, a Socrates-like philosopher, physician, lawyer, and sybarite, Smith becomes a controversial champion of free love, open-mindedness, and pacifism. He's a Martian Jesus, and the father of a new race of homo superior types; Jubal — a transparent stand-in for Heinlein himself — is his John the Baptist. The book became a cult hit later in the Sixties, for obvious reasons; however, it is firmly anchored in Fifties culture too. Despite its charms, Stranger in a Strange Land is often tedious (Jubal, taking his Socrates/JtB-like role seriously, pontificates endlessly); and — worse — it is shockingly, pointlessly, outrageously misogynistic and homophobic. That said, even critics tend to like the book's ending.
Fun fact: Stranger in a Strange Land, which in 1962 won science fiction's Hugo Award for Best Novel, and which was the first sci-fi novel to enter The New York Times Book Review's best-seller list, gave us the word grok — meaning, like, "comprehend thoroughly and have empathy with."
***
GOLDEN AGE SCIENCE FICTION at HILOBROW: Golden Age Sci-Fi: 75 Best Novels of 1934–1963 | Robert Heinlein | Karel Capek | William Burroughs | E.E. "Doc" Smith | Clifford D. Simak | H.P. Lovecraft | Olaf Stapledon | Philip K. Dick | Jack Williamson | George Orwell | Boris Vian | Bernard Wolfe | J.G. Ballard | Jorge Luis Borges |Poul Anderson | Walter M. Miller, Jr. | Murray Leinster | Kurt Vonnegut | Stanislaw Lem | Alfred Bester | Isaac Asimov | Ray Bradbury | Madeleine L'Engle | Arthur C. Clarke | PLUS: Jack Kirby's Golden Age and New Wave science fiction comics.
JOSH GLENN'S *BEST ADVENTURES* LISTS: BEST 250 ADVENTURES OF THE 20TH CENTURY | 100 BEST OUGHTS ADVENTURES | 100 BEST RADIUM AGE (PROTO-)SCI-FI ADVENTURES | 100 BEST TEENS ADVENTURES | 100 BEST TWENTIES ADVENTURES | 100 BEST THIRTIES ADVENTURES | 75 BEST GOLDEN AGE SCI-FI ADVENTURES | 100 BEST FORTIES ADVENTURES | 100 BEST FIFTIES ADVENTURES | 100 BEST SIXTIES ADVENTURES | 75 BEST NEW WAVE SCI FI ADVENTURES | 100 BEST SEVENTIES ADVENTURES | 100 BEST EIGHTIES ADVENTURES | 75 BEST DIAMOND AGE SCI-FI ADVENTURES | 100 BEST NINETIES ADVENTURES (in progress) | 1994 | 1995 | 1996 | 1997 | 1998 | 1999 | 2000 | 2001 | 2002 | 2003 | NOTES ON 21st-CENTURY ADVENTURES.