Golden Age Sci-Fi 75 (62)
By: Joshua Glenn
November 12, 2016
One in a series of 75 posts about the best science fiction novels published during the genre's so-called Golden Age (from 1934–63, according to HILOBROW's Josh Glenn's periodization schema). For the complete Golden Age Sci-Fi 75 list, click here.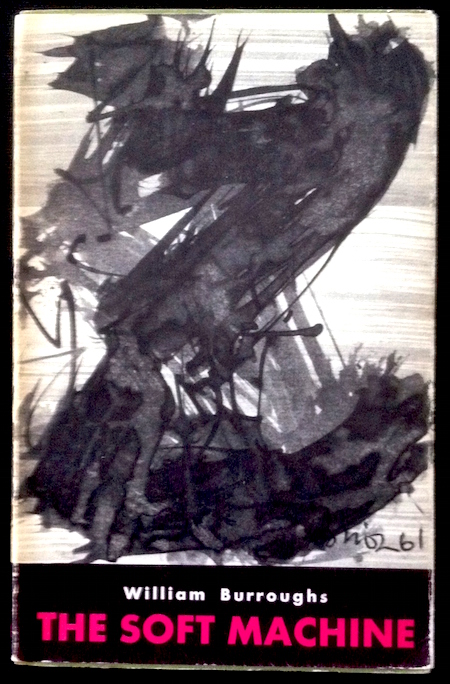 William Burroughs's The Soft Machine (1961; revised, 1966 and 1968).
To the extent that The Soft Machine — first installment in the author's Nova Trilogy — has a plot, it is something along these lines: Using a time travel device, an agent who is able to transform his body (using "U.T.," undifferentiated tissue) causes the downfall of the ancient Mayan empire. How? He infiltrates the Mayan slave laborers, who are mind-controlled by sounds recorded on magnetic tape — by the priestly caste — and embedded in books (the famous Mayan calendar). The agent replaces the tape with one broadcasting a revolutionary message, "Burn the books, kill the priests." The theme of Burroughs's experimentalist novel, which was composed using his notorious "cut-up" technique, is how fascist control mechanisms invade and regulate the body — the titular soft machine. In addition to time travel, The Soft Machine circles around themes of media bombardment, sexuality, and out-of-body travel. According to Burroughs: "I am attempting to create a new mythology for the space age."
Fun fact: The Soft Machine was first published by Olympia Press, in Paris, as part of their infamous, mostly pornographic Traveller's Companion Series.
***
GOLDEN AGE SCIENCE FICTION at HILOBROW: Golden Age Sci-Fi: 75 Best Novels of 1934–1963 | Robert Heinlein | Karel Capek | William Burroughs | E.E. "Doc" Smith | Clifford D. Simak | H.P. Lovecraft | Olaf Stapledon | Philip K. Dick | Jack Williamson | George Orwell | Boris Vian | Bernard Wolfe | J.G. Ballard | Jorge Luis Borges |Poul Anderson | Walter M. Miller, Jr. | Murray Leinster | Kurt Vonnegut | Stanislaw Lem | Alfred Bester | Isaac Asimov | Ray Bradbury | Madeleine L'Engle | Arthur C. Clarke | PLUS: Jack Kirby's Golden Age and New Wave science fiction comics.
JOSH GLENN'S *BEST ADVENTURES* LISTS: BEST 250 ADVENTURES OF THE 20TH CENTURY | 100 BEST OUGHTS ADVENTURES | 100 BEST RADIUM AGE (PROTO-)SCI-FI ADVENTURES | 100 BEST TEENS ADVENTURES | 100 BEST TWENTIES ADVENTURES | 100 BEST THIRTIES ADVENTURES | 75 BEST GOLDEN AGE SCI-FI ADVENTURES | 100 BEST FORTIES ADVENTURES | 100 BEST FIFTIES ADVENTURES | 100 BEST SIXTIES ADVENTURES | 75 BEST NEW WAVE SCI FI ADVENTURES | 100 BEST SEVENTIES ADVENTURES | 100 BEST EIGHTIES ADVENTURES | 75 BEST DIAMOND AGE SCI-FI ADVENTURES | 100 BEST NINETIES ADVENTURES (in progress) | 1994 | 1995 | 1996 | 1997 | 1998 | 1999 | 2000 | 2001 | 2002 | 2003 | NOTES ON 21st-CENTURY ADVENTURES.