Skip Williamson
By: Greg Rowland
August 19, 2011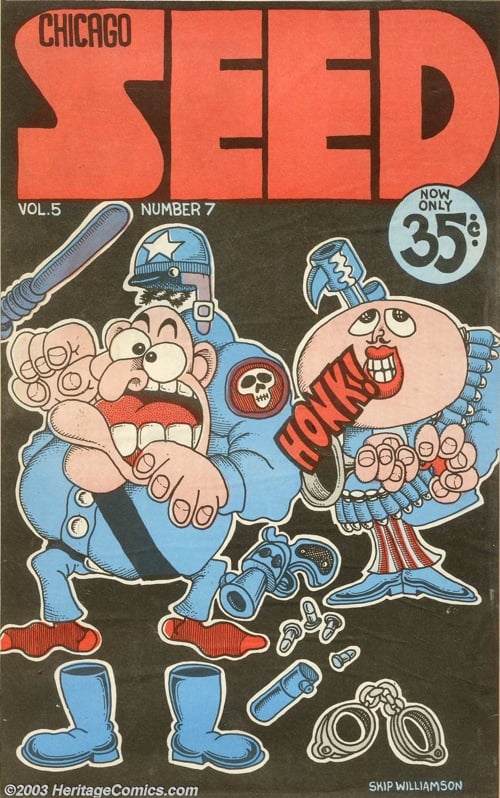 SKIP WILLIAMSON (born 1944) was a True Titan of Underground Commix. His Hatchery and Pornopean Precision was dangerous stuff. But his Chronal Chiaroscurism, Pig-Planking, ChristopherCrossHatching and Egg Hill Feather Zoning took things to another place; it was the Commix equivalent of Star Trek's Medusan Ambassador: a single glimpse would send you insane. Unsurprisingly, Skip's ink developed Sentience and hit Th' Scene. 'Steven', a charismatic and almost Rorchachian blotch, landed his own lysergic Game Show after going Top Ten with "My Inky Dinky Heart'. In 'Even Stevens', everybody always won and the cash prize was shared out equally. Nobody liked it. Other flecks and stains vlotched draft cards while Susan, the Small Zealot Blotch, attached herself to Richard Nixon's ear lobe. These were good times to be a speck of Adler Rowney Kandahar Black. Skip and the inks reunited for the Yippie flyer shown below. It's a radical "Boo!" to Th' Man, and its circuitry of radicalism, cartoon violence, lunacy, self-deprecation and satire makes it impossible to reduce or confront. Forty years later and we'd struggle with the impossible creation of such an image. The Grammar went away. Goodbye Grammar… but thank you, Skip.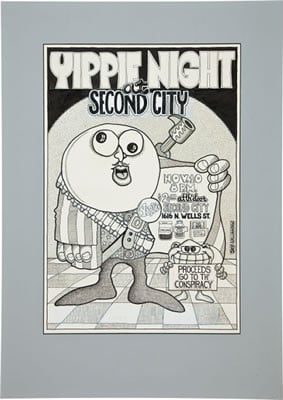 ***
On his or her birthday, HiLobrow irregularly pays tribute to one of our high-, low-, no-, or hilobrow heroes. Also born this date: Ogden Nash.
READ MORE about men and women born on the cusp between the Anti-Anti-Utopian Generation (1934-43) and the Blank Generation (1944-53).