Charlie Chaplin
By: Mark Kingwell
April 16, 2015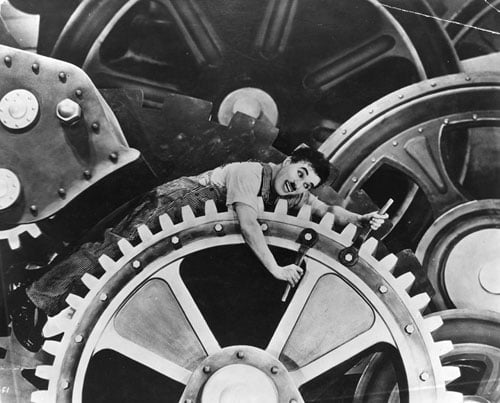 The single best thing CHARLIE CHAPLIN (Sir Charles Spencer Chaplin, KBE, 1889–1977) did was write the American Songbook classic "Smile" (1936, lyrics by John Turner and Geoffrey Parsons, 1954), which is known best in its Nat Cole version but which, as the theme song of the doom-shadowed Jerry Lewis Show (1967-69) reveals its dark heart. But Chaplin is revered more universally for his cinematic portrayals of The Little Tramp, the trademark character who shines brightest in City Lights (1931), Modern Times (1936), and The Gold Rush (1925) — the last containing the superlative isolated scene in all of Chaplin's oeuvre, the unforgettable fork-dance of dinner rolls. As a founder of the independent United Artists studio, Chaplin was a pioneer of artists' rights in Hollywood, even as his anti-Hitler political satire The Great Dictator (1940) remains a landmark of cinematic spoofing. Some people favour the late-style outing with luminous Claire Bloom, Limelight (1952); it is certainly a poignant one, a tale of never-were performers seeking the redemption of stage comeback. Chaplin knew the territory: he began life in London penury followed by desperate vaudeville japes, then endured Keystone studio vassalage, paternity-suit scandal, four troubled marriages, and humiliating late accusations of Communist sympathy. Five years before his death from stroke Chaplin received one of those "honorary" Academy Awards that are, in effect, admissions of error. His grave was, bizarrely, robbed a year later but to no lasting harm. Rest in peace, Sir Charles.
***
On his or her birthday, HiLobrow irregularly pays tribute to one of our high-, low-, no-, or hilobrow heroes. Also born this date: Kingsley Amis, Tristan Tzara, DJ Kool Herc, George Steele, Merce Cunningham.
READ MORE about members of the Modernist Generation (1884–93).