Emily Dickinson
By: Mark Kingwell
December 10, 2014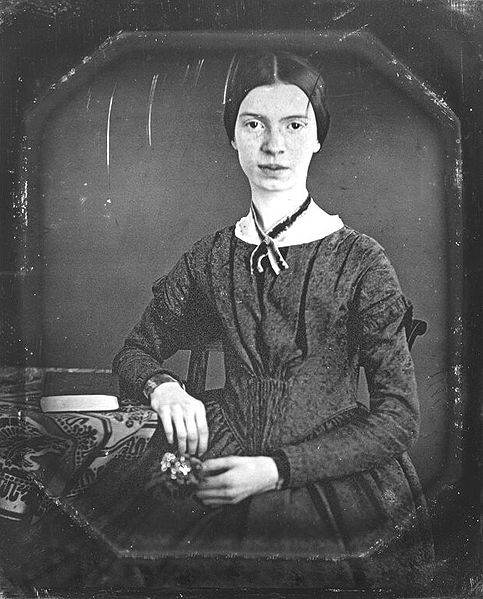 Poet EMILY DICKINSON (1830–86) has a name that, in common with next-gen literary kinswoman Edna St. Vincent Millay, is a poem all by itself. The Belle of Amherst sported a moniker that sounds a double dactyl, two helpings of the most lilting, high-stepping foot in the prosody universe, and the source for a light verse form invented by Anthony Hecht and Paul Pascal in 1951. Here is our Em featured in an example of same, from poet R. McHenry:
Higgledy-piggledy
Emily Dickinson
Amherst had nothing more
Noble than she.

'Sconced in her house with the
Curtains pulled back just so:
Monochromatically
Serving up tea.
And here she is again, irresistibly, in a double dactyl by Wendy Cope, from her matchless collection Making Cocoa for Kingsley Amis (1985):
Higgledy-piggledy
Emily Dickinson
Liked to use dashes
Instead of full stops.

Nowadays, faced with such
Idiosyncrasy,
Critics and editors
Send for the cops.
Together these two playful poems sketch the serious aspects of Dickinson's life: the mannerly seclusion in provincial Amherst, the radical proto-modernism of her slant rhymes and unconventional verse forms. Fewer than a dozen poems appeared in print during her lifetime, and the prolific output we now revere — more than 800 poems! — was produced in isolation. Dickinson offers the most intimate of poetic voices, a quiet but insistent rolling meditation on mortality, emotion, and our constant failures to connect. She loved gardening and writing letters, and the celebrated late stages of her life, when she communicated only through shut doors and went outside rarely and always dressed in white, only add mystery and lustre to her image. She never married and had few men in her life; but her family relations and her friendships, especially with women, were intense. She died too young, at just 55. In Sophie's Choice, the 1982 film version of William Styron's wrenching 1979 Holocaust-aftermath novel, a small Dickinson masterpiece is recited by Stingo as he observes the repose of joint suicides, tortured Sophie and her unbalanced lover Nathan. We offer it here with the same mournful power, suitable to its brilliant, odd, lovely composer:
Ample make this bed.
Make this bed with awe;
In it wait till judgment break
Excellent and fair.

Be its mattress straight,
Be its pillow round;
Let no sunrise' yellow noise
Interrupt its ground.
***
On his or her birthday, HiLobrow irregularly pays tribute to one of our high-, low-, no-, or hilobrow heroes. Also born this date: J Mascis, Ada Lovelace, Gertrud Kolmar, George MacDonald.
READ MORE about members of the Post-Romantic Generation (1825–33).