William Kentridge
By: Alix Lambert
April 28, 2014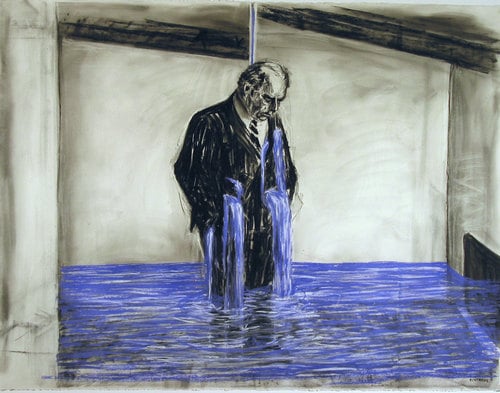 A South African artist who works in a dazzling variety of mediums but is most widely known for his labor-intensive animations, WILLIAM KENTRIDGE (born 1955) has a gift for marrying a heartbeat and a pulse with the cerebral and the intellectual; his work balances between hope and despair, lightness and darkness. As he puts it: "I am interested in a political art, that is to say an art of ambiguity, contradiction, uncompleted gestures and uncertain ending — an art (and a politics) in which optimism is kept in check, and nihilism at bay." In Occasional and Residual Hope: Ubu and the Procession, a series of works combining etchings and an animated film titled Ubu Tells the Truth, as well as related drawings and a live theater performance, Kentridge addresses the Truth and Reconciliation Commission hearings that were established in 1995 to examine the human rights violations in his country. Kentridge's parents were lawyers who defended victims of Apartheid; he brings themes of this fraught topic to life with patience, ingenuity, grace, and whimsy. In a less political vein, his Kentridge's 2003 film series 7 Fragments for Georges Méliès allows us to see the artist at work — books miraculously flying into his hands, works of art mended and erased into being. It's magical.
"Invisible Mending" (from 7 Fragments for Georges Méliès, 2003)
***
On his or her birthday, HiLobrow irregularly pays tribute to one of our high-, low-, no-, or hilobrow heroes. Also born this date: Karl Kraus, Kim Gordon, Kurt Godel.
READ MORE about members of the Original Generation X (1954–1963).