Karl Kraus
By: Jerrold Freitag
April 28, 2012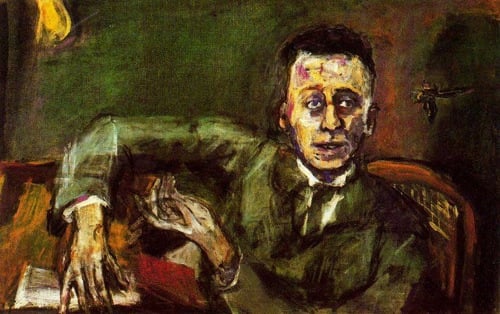 As German's fin de siècle language maven KARL KRAUS (1874-1936) didn't chide about broken rules: Journalists and politicians knew how to write and speak correctly, yet they slackened the rules in order to say and do how they wished. As violent, European timpani rolled, Kraus presaged barbarity by pointing out linguistic abuses. German had begun that great rehearsal for a vulgar, stricken, and base play with words.
To watch an abuse of language go by and do nothing is to watch another go by. Language is a seismograph. And Kraus was not playing at analogies. For in language is our divinity. To butcher it breeches ethics. When a poet of any medium arrives at that poetry something rings true; torture expression and the opposite is true. Language is the tuning fork, the square. Yelling and noise work for a while, but a kind of level harmony eventually returns. We come to our senses, to a synonym for meaning.
To believe language is just a vehicle for agendas is the purview of thinkers who rationalize, abstract, and twist & turn language to suit. Plenty of sloppy talk or text is benign, and the egghead on our backs about it borders on antisocial. Language, however, is a music. Harmony is built in. The act of playing and reproducing it will soon show whether the author is on track. We can all ask that our neighbors respect our ears. Laziness about language is a willingness to be lazy about our thoughts and thus our behavior. Everything we've done or will do is somewhere in the dictionary. Language is light and darkness and all the play we long for is lexical and combinatory. Sometimes truth can be liberating, sometimes it can be difficult. But in the end it comes out.
Kraus published a Viennese journal called The Torch from 1912 until his death in 1936. He was a bold and authoritative satirist. In the face of the darkness that was already starting to blanket Europe again, he pointed to enlightened language as a way out. It's what we all take part in. His enemies were foremost the writers and journalists who played along as folks demolished language and, as he warned, one another.
***
On his or her birthday, HiLobrow irregularly pays tribute to one of our high-, low-, no-, or hilobrow heroes. Also born this date: Kim Gordon and Kurt Gödel.
READ MORE about men and women born on the cusp between the Anarcho-Symbolist (1864-73) and Psychonaut (1874-83) Generations.