Theodore Savage (6)
By: Cicely Hamilton
April 15, 2013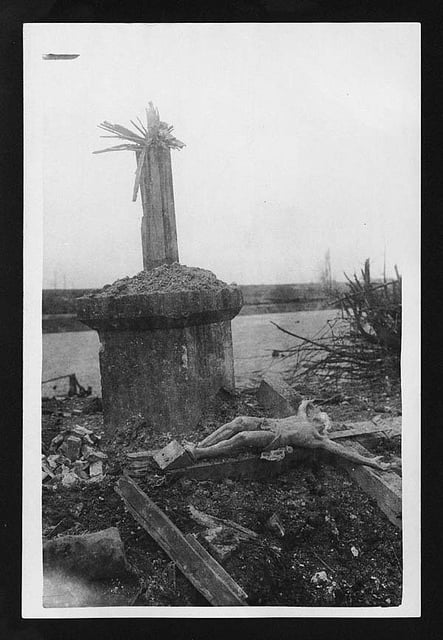 HILOBROW is pleased to present the sixth installment of our serialization of Cicely Hamilton's Theodore Savage (also known as Lest Ye Die). New installments will appear each Monday for 25 weeks.
When war breaks out in Europe — war which aims successfully to displace entire populations — British civilization collapses utterly and overnight. The ironically named Theodore Savage, an educated and dissatisfied idler, must learn to survive by his wits in the new England, where 20th-century science, technology, and culture are regarded with superstitious awe and terror.
The book — by a writer best known today for her suffragist plays, treatises, and activism — was published in 1922. In September 2013, HiLoBooks will publish it in a gorgeous paperback edition, with an Introduction by Gary Panter.
SUBSCRIBE to HILOBROW's serialized fiction via RSS.
ALL EXCERPTS: 1 | 2 | 3 | 4 | 5 | 6 | 7 | 8 | 9 | 10 | 11 | 12 | 13 | 14 | 15 | 16 | 17 | 18 | 19 | 20 | 21 | 22 | 23 | 24 | 25
***
As the minutes drew out the news spread through the town and the watchers on the wall increased in numbers; not only men but women, roused from bed, who greeted the flares with shrill, excited "Oh's" and put ceaseless questions to their men folk. Young Hewlett, at Theodore's elbow, gave himself up to frank interest in his first sight of war; justifying a cheerfulness that amounted to enthusiasm by explaining at intervals that he guessed our fellows were giving 'em what for and by this time they were sorry they'd come…. Once a shawled woman demanded tartly why they didn't leave off, then, if they'd had enough? Whereat Hewlett, unable to think of an answer, pretended not to hear and moved away.
Of his own sensations while he watched from the wall Theodore remembered little save the bodily sensation of chill; he saw himself standing with his back to the wind, his shoulders hunched and the collar of his coat turned up. The murmur of hushed voices remained with him and odd snatches of fragmentary talk; there was the woman who persisted uneasily, "But you can't 'ear 'em coming with these 'ere silent engines — why, they might be right over us naow!" And the man who answered her gruffly with "You'd jolly well know if they were!" … And perpetual conjecture as to distance and direction of the glow; disputes between those who asserted that over there was Leeds, and those who scoffed contemptuously at the idea — arguing that, if Leeds were the centre of disturbance, the guns would have sounded much nearer…. Petty talk, he remembered, and plainly enough — but not how much he feared or foresaw. He must have been anxious, uneasy, or he would not have stood for long hours in the chill of the wind; but his definite impressions were only of scattered, for the most part uneducated, talk, of silhouetted figures that shifted and grouped, of turning his eyes from the lurid skyline to the shadowy rock that in daylight was the mass of the cathedral…. In the end sheer craving for warmth drove him in; leaving Hewlett and Crashaw deaf to his reminder that the office expected them at nine.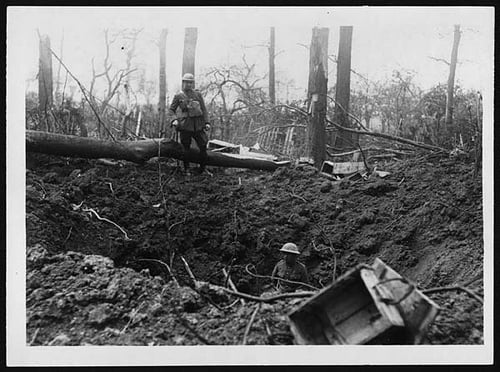 With the morning came news and — more plentifully — rumour; also, the wind having dropped, a persistent thunder from the south. Industrial Yorkshire, it was clear, was being subjected to that process of human displacement which, so far, it had looked on as an item in the daily communique; the attack, moreover, was an attack in force, since the invaders did not find it needful to desist with the passing of darkness. Rumour, in the absence of official intelligence, invented an enveloping air-fleet which should cut them off from their base; and meanwhile the thunder continued….
This much, at least, was shortly official and certain: nearly all rail, road and postal communication to the south was cut off — trains had ceased to run Londonwards and ordinary traffic on the highways was held up at barriers and turned back. Only military cars used the roads — and returned to add their reports to those brought in by air-scouts; but as a rule the information they furnished was for official enlightenment only, and it was not till the refugees arrived in numbers that the full meaning of displacement was made clear to the ordinary man.
It was after the second red night that the refugees appeared in their thousands — a horde of human rats driven out of their holes by terror, by fire and by gas. Whatever their status and possessions in the life of peace, they came with few exceptions on foot; as roads, like railways, were a target for the airman, the highway was avoided for the by-path or the open field, and the flight from every panic-stricken centre could be traced by long wastes of trampled crops. There were those who, terrified beyond bearing by the crash of masonry and long trembling underground, saw safety only in the roofless open, refused to enter houses and persisted in huddling in fields — unafraid, as yet, of the so-called poison-fire which had licked up the crops in Holderness and the corn-growing district round Pontefract…. Leeds, for a day or two, was hardly touched; but with the out-pouring of fugitives from Dewsbury, Wakefield, Halifax and Bradford, Leeds also began to vomit her terrified multitudes. A wave of vagrant destitution rushed suddenly and blindly northward — anywhere away from the ruin of explosive, the flames and death by suffocation; while authority strove vainly to control and direct the torrent of over-powering misery.
It was in the early morning that the torrent reached York and rolled through it; over-whelming the charity, private and public, that at first made efforts to cope with the rush of misery. Theodore's room for a time was given up to a man with bandaged eyes and puffed face whom his wife had led blindfold from Castleford. The man himself sat dumb and suffering, breathing heavily through blistered lips; the woman raged vulgarly against the Government which had neglected to supply them with gas-masks, to have the place properly defended, to warn people! "The bloody fools ought to have known what was coming and if her man was blinded for the rest of his life it was all the fault of this 'ere Government that never troubled its blasted 'ead as long as it drew its money." … That was in the beginning, before the flood of misery had swollen so high that even the kindliest shrank from its squalid menace; and Theodore, because it was the first he heard, remembered her story when he had forgotten others more piteous.
Before midday there was only one problem for local authority, civil and military — the disposal of displaced population; that is to say, the herding of vagrants that could not all be sheltered, that could not all be fed, that blackened fields, choked streets, drove onward and sank from exhaustion. The railway line to the north was still clear and, in obedience to wireless instructions from London, trains packed with refugees were sent off to the north, with the aim of relieving the pressure on local resources. Disorganization of transport increased the difficulty of food supply and even on the first day of panic and migration the agricultural community were raising a cry of alarm. Blind terror and hunger between them wrought havoc; fields were trampled and fugitives were plundering already — would plunder more recklessly tomorrow.
All day, all night, displaced humanity came stumbling in panic from the south and south-west; spreading news of the torment it had fled from, the dead it had left and the worse than dead who still crouched in an inferno whence they could not summon courage to fly. The railways could not deal with a tithe of the number who clamoured to be carried to the north, into safety; by the first evening the town was well-nigh eaten out, and house-holders, hardening their hearts against misery, were bolting themselves in, for fear of misery grown desperate. While out in the country farmers stabled their live-stock and kept ceaseless watch against the hungry.
All day the approaches to the station were besieged by those who hoped for a train; and, on the second night of the invasion, Theodore, sent by his chief with a message to the military transport officer, fought his way through a solid crowd on the platform — a crowd excluded from a train that was packed and struggling with humanity. A crowd that was squalid, unreasoning and blindly selfish; intent only on flight and safety — and some of it brutally intent. There were scuffles with porters and soldiers who refused to open locked doors, angry hootings and wild swayings backward and forward as the train moved out of the station; Theodore's efforts to make his way to the station-master's office were held to be indicative of a desire to travel by the next train and he was buffeted aside without mercy. There was something in the brute mass of terror that sickened him — suggestion already of the bestial, the instinctive, the un-human.
The transport officer looked up at him with tired, angry eyes and demanded what the hell he wanted? … Whereat Theodore handed him a typewritten note from a punctilious chief and explained that they had tried to get through on the telephone, either to him or the station-master, but —
"I should rather think not," said the transport officer rudely. "We've both of us got more important things to worry about than little Distribution people. The telephone clerk did bring me some idiotic message or other, but I told him I didn't want to hear it."
He glanced at the typewritten note — then glared at it — and went off into a cackle of laughter; which finally tailed into blasphemy coupled with obscene abuse.
"Seen this?" he asked when he had sworn himself out. "Well, at any rate you know what it's about. The — has sent for particulars of to-morrow's refugee train service — wants to know the number and capacity of trains to be dispatched to Newcastle-on-Tyne. Wants to enter it in duplicate, I suppose — and make lots and lots and lots of carbon copies. God in Heaven!" — and again he sputtered into blasphemy…. "Well, I needn't bother to write down the answer; even if you've no more sense than he has, you'll be able to remember it all right. It's nil to both questions; nil trains to Newcastle, nil capacity. So that's that! … What's more — if it's any satisfaction to your darned-fool boss to know it — we haven't been sending any trains to Newcastle all day."
"But I thought," began Theodore — wondering if the man were drunk? He was, more than slightly — having fought for two days with panic-stricken devils and helped himself through with much whisky; but, drunk or not, he was sure of his facts and rapped them out with authority.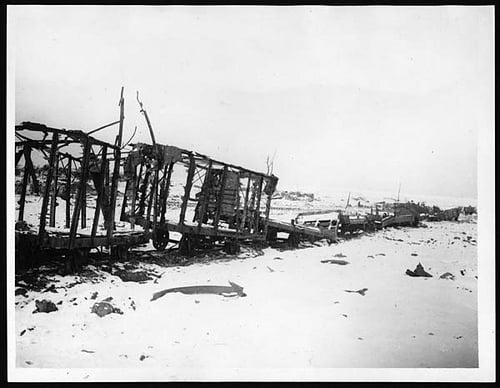 "Not to Newcastle. The first two or three got as far as Darlington — this morning. There they were pulled up. Then it was Northallerton — now we send 'em off to Thirsk and leave the people there to deal with 'em. You bet they'll send 'em further if they can — you don't suppose they want to be eaten out, any more than we do. But, for all I know, they're getting 'em in from the other side."
"The other side?" Theodore repeated. "What do you mean?" Whereat the transport officer, grown suddenly uncommunicative, leaned back in his chair and whistled.
"That's all I can tell you," he vouchsafed at length. "Trains haven't run beyond Darlington since yesterday. I conclude H.Q. knows the reason, but they haven't imparted it to me —I've only had my orders. It isn't our business if the trains get stopped so long as we send 'em off — and we're sending 'em and asking no questions."
"Do you mean," Theodore stammered, "that — this — is going on up north?"
"What do you think?" said the transport officer. "It's the usual trick, isn't it? … Start 'em running from two sides at once — — don't let 'em settle, send 'em backwards and forwards, keep 'em going! … We've played it often enough on them — now we're getting a bit of our own back…. However, I've no official information. You know just as much as I do."
"But," Theodore persisted, "the people coming through from the north. What do they say — they must know?"
"There aren't any people coming through," said the other grimly. "Military order since this morning — no passenger traffic from the north runs this side of Thirsk. We've got enough of our own, haven't we? … All I say is —God help Thirsk and especially God help the station-master!"
He straightened himself suddenly and grabbed at the papers on his table.
"Now, you've got what the damn fool sent you for — and I'm trying to make out my report."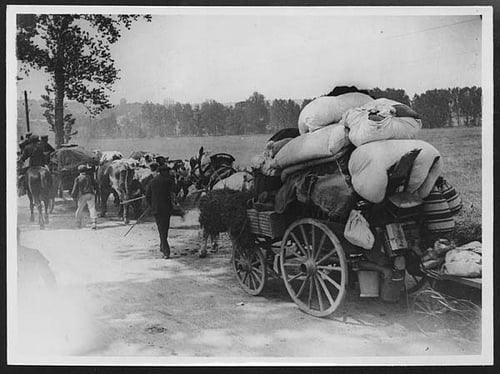 As Theodore fought his way out of the station and the crowd that seethed round it, he had an intolerable sense of being imprisoned between two fires. If he could see far enough to the north — to Durham and the Tyneside — there would be another hot, throbbing horizon and another stream of human destitution pouring lamentably into the night…. And, between the two fires, the two streams were meeting — turning back upon themselves, intermingling … in blind and agonized obedience to the order to "keep 'em going!" … What happened when a train was halted by signal and the thronged misery inside it learned that here, without forethought or provision made, its flight must come to an end? At Thirsk, Northallerton, by the wayside, anywhere, in darkness? … A thin sweep of rain was driving down the street, and he fancied wretched voices calling through darkness, through rain. Asking what, in God's name, was to become of them and where, in God's name, they were to go? … And the overworked officials who could give no answer, seeking only to be rid of the massed and dreadful helplessness that cumbered the ground on which it trod! … Displacement of population— the daily, stilted phrase — had become to him a raw and livid fact and he stood amazed at the limits of his own imagination. Day after day he had read the phrase, been familiar with it; yet, so far, the horror had been words to him. Now the daily, stilted phrase was translated, comprehensible: "Don't let 'em settle — keep 'em going."
Back at the office, he discovered that his errand to the station had been superfluous; his chief, the man of precedent, order and many carbon copies, was staring, haggard and bewildered, at a typewritten document signed by the military commandant…. And obtaining, incidentally, his first glimpse into a world till now unthinkable — where precedent was not, where reference was useless and order had ceased to exist.
***
RADIUM AGE SCIENCE FICTION: "Radium Age" is HILOBROW's name for the 1904–33 era, which saw the discovery of radioactivity, the revelation that matter itself is constantly in movement — a fitting metaphor for the first decades of the 20th century, during which old scientific, religious, political, and social certainties were shattered. This era also saw the publication of genre-shattering writing by Edgar Rice Burroughs, Sax Rohmer, E.E. "Doc" Smith, Jack London, Arthur Conan Doyle, Aldous Huxley, Olaf Stapledon, Karel Čapek, H.P. Lovecraft, Charlotte Perkins Gilman, Yevgeny Zamyatin, Philip Gordon Wylie, and other pioneers of post-Verne/Wells, pre-Golden Age "science fiction." More info here.
HILOBOOKS: The mission of HiLoBooks is to serialize novels on HiLobrow; and also, as of 2012, operating as an imprint of Richard Nash's Cursor, to reissue Radium Age science fiction in beautiful new print editions. So far, we have published Jack London's The Scarlet Plague, Rudyard Kipling's With the Night Mail (and "As Easy as A.B.C."), Arthur Conan Doyle's The Poison Belt, H. Rider Haggard's When the World Shook, Edward Shanks's The People of the Ruins, William Hope Hodgson's The Night Land, and J.D. Beresford's Goslings. Forthcoming: E.V. Odle's The Clockwork Man, Cicely Hamilton's Theodore Savage, and Muriel Jaeger's The Man with Six Senses. For more information, visit the HiLoBooks homepage.
SERIALIZED BY HILOBOOKS: Richard Connell's "The Most Dangerous Game" | Jack London's The Scarlet Plague | Rudyard Kipling's With the Night Mail (and "As Easy as A.B.C.") | Arthur Conan Doyle's The Poison Belt | H. Rider Haggard's When the World Shook | serialized between March and August 2012; Edward Shanks' The People of the Ruins, serialized between May and September 2012; William Hope Hodgson's The Night Land, serialized between June and December 2012; J.D. Beresford's Goslings, serialized between September 2012 and May 2013; and Cicely Hamilton's Theodore Savage, serialized between March and August 2013.