Significant Objects book!
By: Joshua Glenn
April 3, 2012
Since October of 2010, when we wrapped up the third and final "volume" of stories at our Significant Objects literary-anthropological-economic experiment, Rob Walker and I have been working with (the ultra-talented and super-smart) Fantagraphics designer Jacob Covey, and with (the super-smart and ultra-talented) Fantagraphics editor Eric Reynolds, on a gorgeous volume collecting 100 of the project's object-oriented stories.
This week, we sent the book to press! It will be on bookshelves before you know it. Hooray!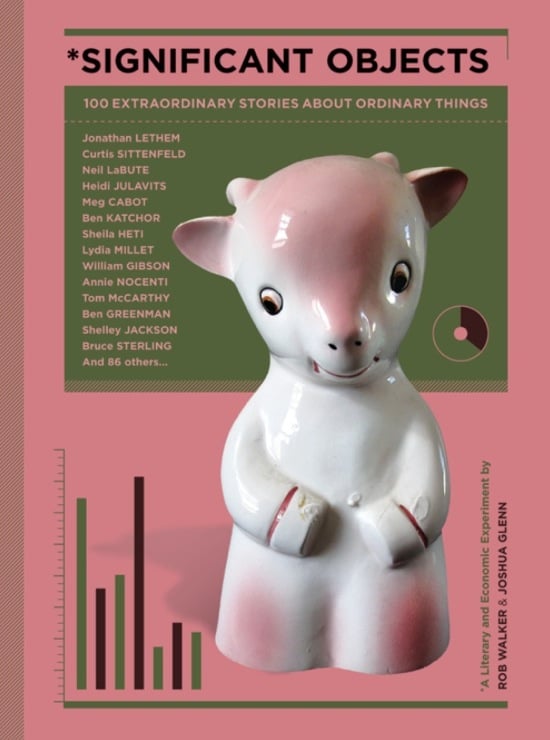 The book is, in a word, AWESOME. It boasts terrific stories in every possible genre, style, and register by 100 talents of our acquaintance, including Nicholson Baker, Jonathan Lethem, Sheila Heti, William Gibson, Matthew De Abaitua, Myla Goldberg, Ben Katchor, Mark Frauenfelder, Ben Greenman, Heidi Julavits, Neil LaBute, Lydia Millet, and Ed Park. (Regular HiLobrow contributors — e.g., Matthew Battles, Patrick Cates, Jason Grote, Mimi Lipson, Annie Nocenti, Gary Panter, James Parker, Greg Rowland, Luc Sante, and Douglas Wolk — make a strong showing.) Each story is ensconced within its own spread, along with huge photos of the novelty items, figurines, kitsch, et al., that Rob and I purchased for a couple of bucks apiece and which inspired the authors to dizzying heights of imagination.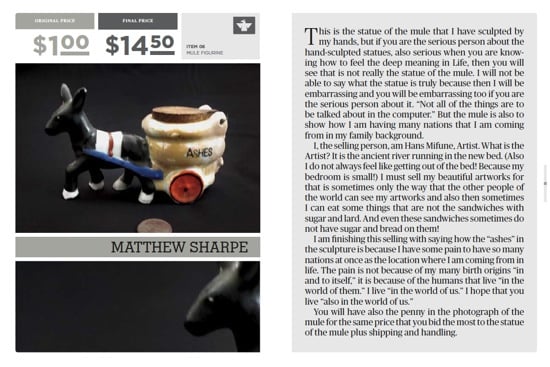 Readers able to tear their attention away from these stories and photos will discover that the book also features the editors' (semi-)scholarly analysis of the Significant Objects experiment's results. There are myriad fascinating charts exploring key aspects of the relationship between narrative form and content, on the one hand, and marketplace value, on the other, all of which we're sure will prove of tremendous interest to authors, publishers, designers, and brand strategists, among others.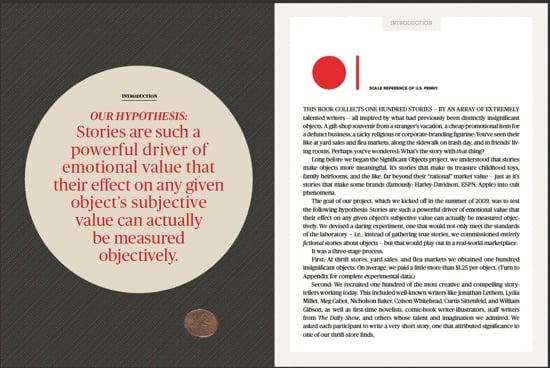 We will do some proper promotion close to the actual publication date — which is officially July 2 — but I wanted to share a sneak peek at these spreads because I'm so excited about the book. Copies can be pre-ordered now. PS: The same contents can be found wrapped in two different covers, one of which features a porcelain cow, the other a wax rabbit candle.