Roy Acuff
By: Mark Kingwell
September 15, 2011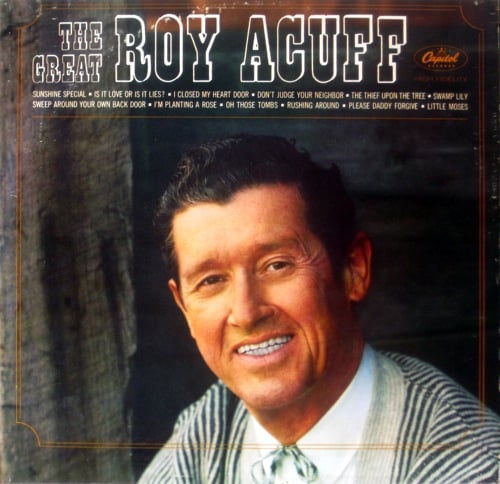 You can credit country-music pioneer ROY CLAXTON ACUFF (1903-92) for the following scene: I am standing in front of a hotel in Nashville, on my way to a philosophy conference at Vanderbilt University. I am sporting a nifty black suit. A young man stands next to me, also wearing black. We eye each other. "Are you in town looking for a deal?" he asks. (Not unless the deal involves logical validity!) Acuff, the King of Country Music, first living person inducted into the Country Music Hall of Fame, was a gifted songwriter, a good singer, and a better fiddler. His Smoky Mountain Boys and Crazy Tennesseans recordings of the 1930s and '40s offer lasting twangy deployment of traditional folk and gospel tunes such as "Wabash Cannonball" and "The Great Speckled Bird" — later the name of Ian Tyson's band. But Acuff's skill at promotion was far greater than his musical chops, and without him there would be no Nashville scene to draw black-clad wannabees year after year, looking to play the Opry or replicate Acuff's signings of Hank Williams, Roy Orbison, and the Everly Brothers. You can't really blame Acuff for the jingoistic excesses of a now-sprawling musical genre, which he helped move from hillbilly medicine show to international crossover monster. He kept it real, right up to his 1972 guest appearance with the Nitty Gritty Dirt Band — "a bunch of long-haired West Coast boys," in his words — on Will the Circle Be Unbroken. "Do you love the hymns they taught you, Or are songs of earth your choice?" Both, thank you.
***
On his or her birthday, HiLobrow irregularly pays tribute to one of our high-, low-, no-, or hilobrow heroes. Also born this date: Nipsey Russell.
READ MORE about men and women born on the cusp between the Hardboiled (1894-1903) and Partisan (1904-13) generations.