Victoria Spivey
By: Brian Berger
October 15, 2015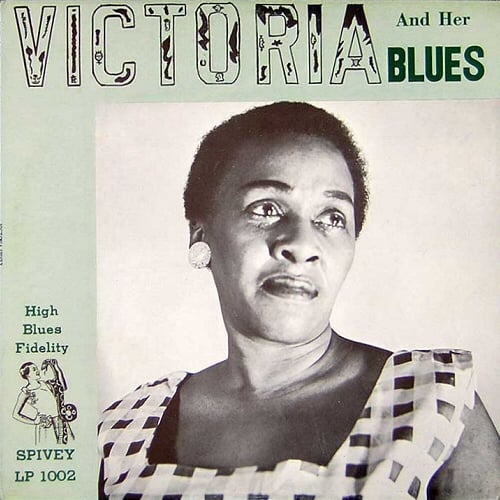 "Folks — here is mean, low-down music that is too bad," begins the genial ad copy for "Black Snake Blues," the 1926 Okeh Race Records debut of VICTORIA SPIVEY (1906–76). "Victoria puts in the rhythm that gets everybody. It will get you. You can't keep still. On the other side, Victoria sings 'No More Jelly Bean Blues' — two big hits for seventy-five cents. The line forms on the right." So was announced what would be one of the most extraordinary careers in black show business, spanning blues, jazz, hokum, vaudeville, briefly Hollywood (King Vidor's all-black 1929 musical Hallelujah!), Harlem nightclubs and the folk-blues revival of the 1960s. Spivey came from a musical family in Houston, Texas and — following the success of older "blues Queens" Bessie Smith and Ida Cox — was discovered in St. Louis, before moving to Chicago and then New York. Among the highlights of her early discography: "Dope Head Blues" and "Murder In The First Degree," with genius guitarist Lonnie Johnson; and the scarifying "Dirty T.B. Blues" accompanied by the Luis Russell Orchestra. Though her career had faded by the 1950s, Spivey continued to perform in her Brooklyn church, and was thus poised, with Jewish Brooklyn jazz researcher Leonard Kunstadt her partner and husband, to return — and to control the means of production with her own eponymous record label. An unlikley love story, perhaps. Interracial, intergenerational, interfaith — all Spivey!

"Dope Head Blues" 1927

"Murder In The First Degree" 1927

"Black Snake Blues" with Lonnie Johnson live 1963

"Dirty T.B. Blues" live 1976
***
On his or her birthday, HiLobrow irregularly pays tribute to one of our high-, low-, no-, or hilobrow heroes. Also born this date: Italo Calvino, John Kenneth Galbraith, P.G. Wodehouse, Isabella Lucy Bird, Mikhail Lermontov, Friedrich Nietzsche, Michel Foucault.
READ MORE about members of the Partisan Generation (1904-13).