Ida Cox
By: Brian Berger
February 25, 2013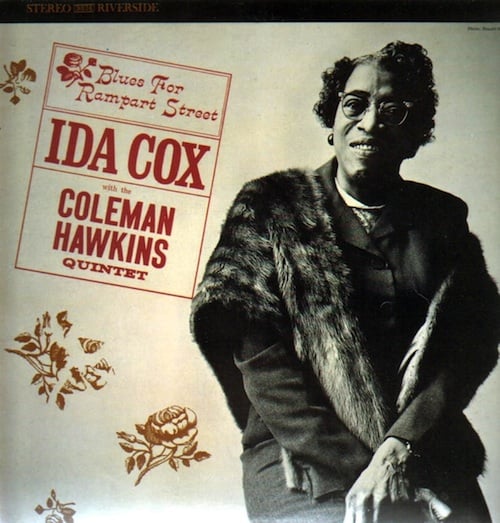 When pianist Sammy Price calls IDA COX (1896–1967) "the greatest blues singer that I ever knew," it's an opinion worth heeding. She was born Ida Prater to sharecroppers in Toccoa, Georgia and raised there and then Cedartown, Georgia, before joining White and Clark's Black & Tan Minstrels as a teenager. Engagements with the Florida Cotton Bottom Minstrels (where she likely met her first husband, cornetist Adler Cox), the Cracker Jack Comedy Company, and the Rabbit's Foot Minstrels (the South's premier black vaudeville troupe) followed. In 1923, while performing at the Monogram Theater in Chicago, Cox was discovered by pioneering black record producer, J. Mayo Williams, with dozens of magisterial, occult, often ribald Paramount sides following through 1929. A show woman foremost, Cox worked through the Depression, leading her own Darktown Scandals revue on the Theater Owners Booking Association (TOBA, also "tough on black asses") and other circuits. Though necessarily hard-driving herself, Cox was widely admired, as kid dancer Earl Palmer (later the greatest drummer of the rock'n'roll era) recalled: "I loved Miss Ida and she called me her baby… She'd grab me and hug me and put me on her lap. Many times I fell asleep on those boobs of hers, man. Like pillows!" In March 1938, Cox played the Hippodrome Theater in Richmond, Viriginia, with a cast including Jackie LaRue, "Peg Leg" Jefferson, Charles Gordon, the Four Tramps of Rhythm, Helen and Sonny Walker, White and Bryant, and Reggis Grant with a chorus of Creole maidens and John Brown's swing band.
IDA COX & pianist LOVIE AUSTIN "Graveyard Dream Blues," 1923
Two videos below: IDA COX & pianist JESSE CRUMP at the Rose Room c. 1940, LOUIS JORDAN emcee?
"Kentucky Blues"
"Four Day Creep"
***
On his or her birthday, HiLobrow irregularly pays tribute to one of our high-, low-, no-, or hilobrow heroes. Also born this date: Rudolf Steiner.
READ MORE about members of the Hardboiled Generation (1894-1903).