Revolution in the Head (9)
By: Joshua Glenn
September 16, 2015
One in a series of posts dedicated to New Wave-era (1964–1983) science fiction book covers depicting blown minds and deconstructed heads.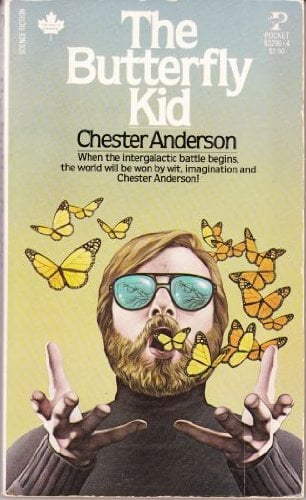 In a near-future Greenwich Village, Chester Anderson, the protagonist of Chester Anderson's light-hearted The Butterfly Kid (1968), experiments with an alien-introduced drug… which causes his LSD-like hallucinations to actually become manifested in physical reality!
***
NEW WAVE SCI-FI at HILOBROW: 75 Best New Wave (1964–1983) Sci-Fi Novels | Back to Utopia: Fredric Jameson's theorizing about New Wave sci-fi | Douglas Adams | Poul Anderson | J.G. Ballard | John Brunner | William Burroughs | Octavia E. Butler | Samuel R. Delany | Philip K. Dick | Frank Herbert | Ursula K. Le Guin | Barry N. Malzberg | Moebius (Jean Giraud) | Michael Moorcock | Alan Moore | Gary Panter | Walker Percy | Thomas Pynchon | Joanna Russ | James Tiptree Jr. (Alice Sheldon) | Kurt Vonnegut | PLUS: Jack Kirby's Golden Age and New Wave science fiction comics.
SIMILAR HILOBROW SERIES: BICYCLE KICK | CECI EST UNE PIPE — a gallery | CHESS MATCH — a gallery | EGGHEAD — a gallery | CIRCLE GAME | FILE X — a gallery | HILOBROW COVERS — a gallery | THE BOOK IS A WEAPON — a gallery | EGGHEAD — a gallery | LATF HIPSTER