Revolution in the Head (5)
By: Joshua Glenn
August 31, 2015
One in a series of posts dedicated to New Wave-era (1964–1983) science fiction book covers depicting blown minds and deconstructed heads.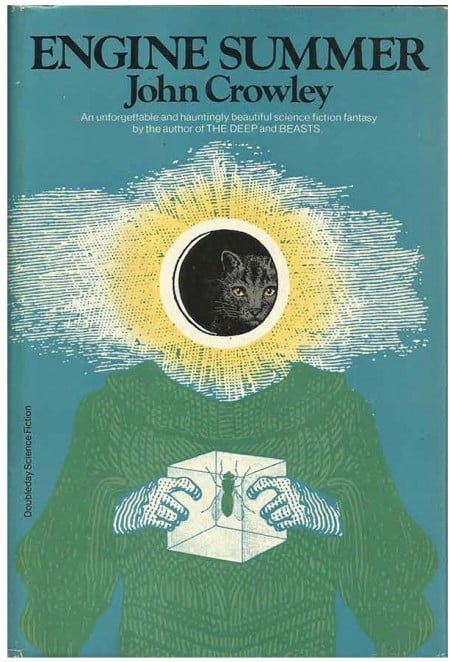 In the near future, according to John Crowley's Engine Summer (1979), we'll be divided into clans based on personality traits. What happens if someone you love switches clans?
***
NEW WAVE SCI-FI at HILOBROW: 75 Best New Wave (1964–1983) Sci-Fi Novels | Back to Utopia: Fredric Jameson's theorizing about New Wave sci-fi | Douglas Adams | Poul Anderson | J.G. Ballard | John Brunner | William Burroughs | Octavia E. Butler | Samuel R. Delany | Philip K. Dick | Frank Herbert | Ursula K. Le Guin | Barry N. Malzberg | Moebius (Jean Giraud) | Michael Moorcock | Alan Moore | Gary Panter | Walker Percy | Thomas Pynchon | Joanna Russ | James Tiptree Jr. (Alice Sheldon) | Kurt Vonnegut | PLUS: Jack Kirby's Golden Age and New Wave science fiction comics.
SIMILAR HILOBROW SERIES: BICYCLE KICK | CECI EST UNE PIPE — a gallery | CHESS MATCH — a gallery | EGGHEAD — a gallery | CIRCLE GAME | FILE X — a gallery | HILOBROW COVERS — a gallery | THE BOOK IS A WEAPON — a gallery | EGGHEAD — a gallery | LATF HIPSTER