Museum of Femoribilia (9)
By: Lynn Peril
June 18, 2015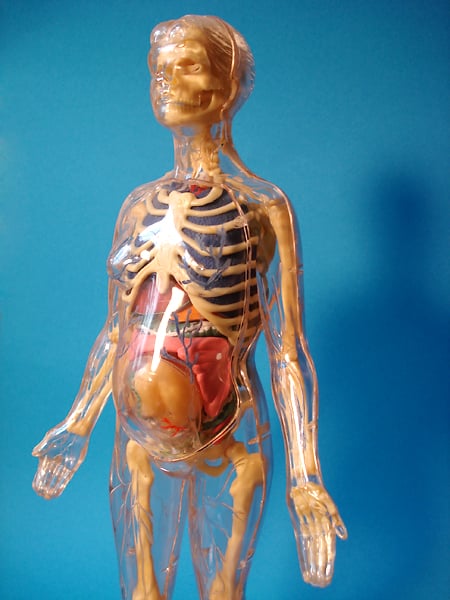 One in a series of 10 posts exhuming and interrogating forgotten curiosities and outmoded technologies of womanhood. Reprinted with permission from BUST Magazine.
*
THE VISIBLE WOMAN
Prior to the 20th century, anatomical models of wax or papier mâché were subjects of fascination for medical students and the general public. Models of women's bodies were especially prized, as scientific interest in the wonders of the feminine reproductive system vied with erotic delight in female nudity.
In the late 1920s, German technology produced the first life-sized transparent men. Made of a translucent material called cellhorn and packed with light-up organs, one was exhibited at Chicago's Century of Progress fair in 1933 and '34. Then, in 1936, a transparent woman arrived at Manhattan's Museum of Science and Industry. She was, the New York Times reported, "a universal Caucasian type of approximately 30 years of age" and was so popular that she soon required a larger viewing area. Three years later, the Golden Gate Exhibition in San Francisco included a seven foot tall transparent woman complete with a voice recording that detailed her physical and reproductive capabilities.
Females eventually overtook males as the transparent human of choice at most museums because, according to the website RoadsideAmerica.com, American educators were "reluctant to expose kids to… glowing male genitalia." Glowing breasts, however, were fine — as were gender stereotypes. "A 'transparent woman,' completely devoid of secrets, mystery, illusion or similar attributes most woman [sic] like to have, will go on public display at the American Museum of Natural History," announced the New York Times in 1954. The paper noted that the 5 feet 7-1/2 inch tall transparent woman had measurements of approximately 38-32-39.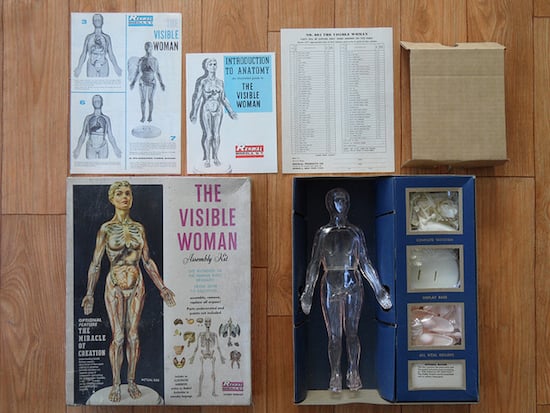 In 1960, toymaker Renwal introduced the Visible Woman, a foot-high plastic model kit clearly meant for serious-minded children under strict parental supervision, not seekers of prurient thrills. To that end, the Visible Woman had a uterus, ovaries and fallopian tubes, but lacked the more problematic vagina and clitoris, just as the otherwise anatomically correct Visible Man's groin resembled that of a Ken doll. Nevertheless, each Visible Woman was packaged with a special "adapter kit for 7-months pregnant female." This consisted of a special breast plate, enlarged uterus, and a wee fetus. The instructions "emphasized that assembly of this added feature is entirely discretionary," presumably to be undertaken only after Mr. and Mrs. Visible Man were legally wed.
Despite a high-profile appearance on a Nirvana album cover in the early '90s, recent decades have not been kind to the transparent women on display at the nation's museums. Many have been sent to storage, and the last American manufacturer of "Transparent Anatomical Manikins" ceased production in 1992. However, the Visible Woman model kit (now manufactured by Skilcraft) is readily available at toy stores everywhere.
Originally published in BUST #37, February/March 2006.
***
ALL POSTS IN THIS SERIES
CURATED SERIES at HILOBROW: UNBORED CANON by Josh Glenn | CARPE PHALLUM by Patrick Cates | MS. K by Heather Kasunick | HERE BE MONSTERS by Mister Reusch | DOWNTOWNE by Bradley Peterson | #FX by Michael Lewy | PINNED PANELS by Zack Smith | TANK UP by Tony Leone | OUTBOUND TO MONTEVIDEO by Mimi Lipson | TAKING LIBERTIES by Douglas Wolk | STERANKOISMS by Douglas Wolk | MARVEL vs. MUSEUM by Douglas Wolk | NEVER BEGIN TO SING by Damon Krukowski | WTC WTF by Douglas Wolk | COOLING OFF THE COMMOTION by Chenjerai Kumanyika | THAT'S GREAT MARVEL by Douglas Wolk | LAWS OF THE UNIVERSE by Chris Spurgeon | IMAGINARY FRIENDS by Alexandra Molotkow | UNFLOWN by Jacob Covey | ADEQUATED by Franklin Bruno | QUALITY JOE by Joe Alterio | CHICKEN LIT by Lisa Jane Persky | PINAKOTHEK by Luc Sante | ALL MY STARS by Joanne McNeil | BIGFOOT ISLAND by Michael Lewy | NOT OF THIS EARTH by Michael Lewy | ANIMAL MAGNETISM by Colin Dickey | KEEPERS by Steph Burt | AMERICA OBSCURA by Andrew Hultkrans | HEATHCLIFF, FOR WHY? by Brandi Brown | DAILY DRUMPF by Rick Pinchera | BEDROOM AIRPORT by "Parson Edwards" | INTO THE VOID by Charlie Jane Anders | WE REABSORB & ENLIVEN by Matthew Battles | BRAINIAC by Joshua Glenn | COMICALLY VINTAGE by Comically Vintage | BLDGBLOG by Geoff Manaugh | WINDS OF MAGIC by James Parker | MUSEUM OF FEMORIBILIA by Lynn Peril | ROBOTS + MONSTERS by Joe Alterio | MONSTOBER by Rick Pinchera | POP WITH A SHOTGUN by Devin McKinney | FEEDBACK by Joshua Glenn | 4CP FTW by John Hilgart | ANNOTATED GIF by Kerry Callen | FANCHILD by Adam McGovern | BOOKFUTURISM by James Bridle | NOMADBROW by Erik Davis | SCREEN TIME by Jacob Mikanowski | FALSE MACHINE by Patrick Stuart | 12 DAYS OF SIGNIFICANCE | 12 MORE DAYS OF SIGNIFICANCE | 12 DAYS OF SIGNIFICANCE (AGAIN) | ANOTHER 12 DAYS OF SIGNIFICANCE | UNBORED MANIFESTO by Joshua Glenn and Elizabeth Foy Larsen | H IS FOR HOBO by Joshua Glenn | 4CP FRIDAY by guest curators