Museum of Femoribilia (8)
By: Lynn Peril
June 15, 2015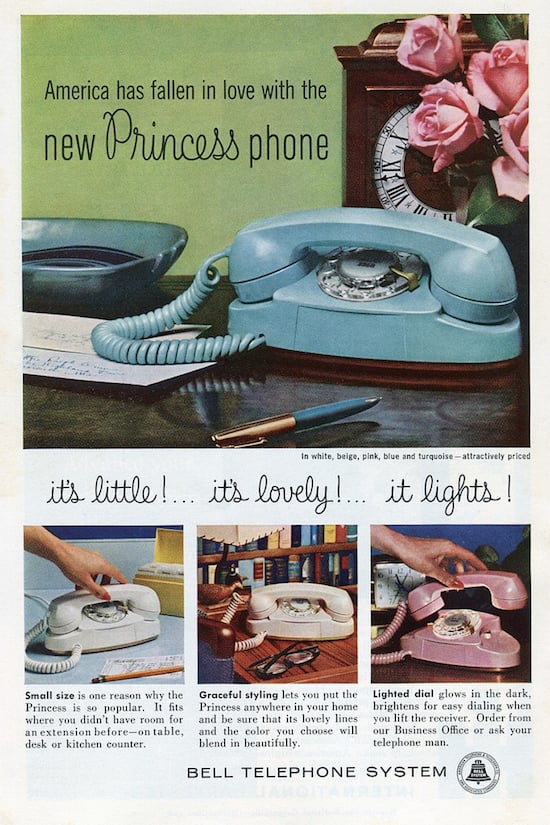 One in a series of 10 posts exhuming and interrogating forgotten curiosities and outmoded technologies of womanhood. Reprinted with permission from BUST Magazine.
*
THE PRINCESS PHONE
"Today's the day you can start living like a Princess," promised a newspaper ad in the fall of 1959. In the accompanying photo, a crowned woman clasped her hands as she gazed in admiration at a telephone proffered to her upon a silver tray. But this wasn't the stocky black plastic model that solidly sat on desks and tables throughout America. This was something new: a sleek, horizontal beauty whose pastel coloration and oval design reminded curator Ellen Lupton of nothing so much as "a reclining nude." This was the Princess phone, a telephone marketed almost exclusively to women during its 1960s heyday with the slogan, "It's little, it's lovely, it lights!"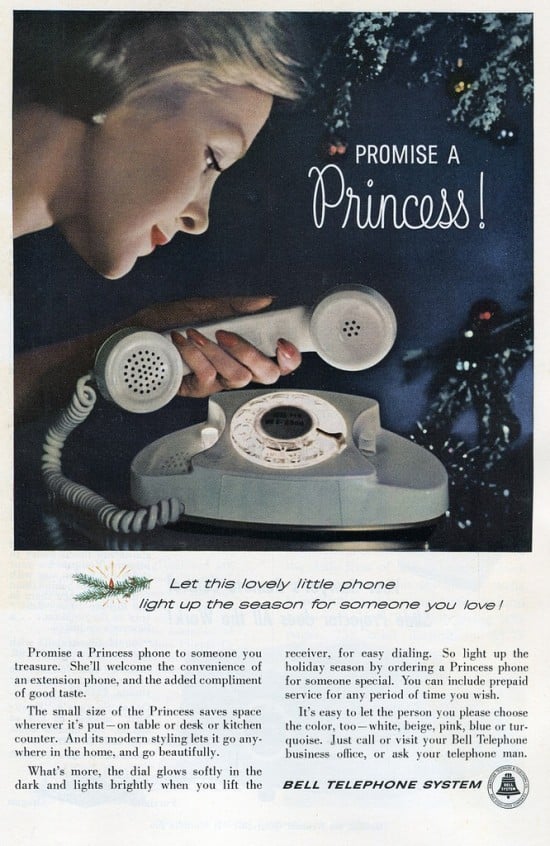 It was a brilliant yet diabolical manufacturers' ploy: take a genderless consumer item and create a new market for it by making it "feminine." The Princess phone was one-third smaller than regular phones — a better fit for boudoir tables and women's hands — and came in beige, white, pink, blue, and turquoise. In keeping with its suggested use as a bedside phone, the dial lit up when the receiver was lifted, and a special setting allowed it to glow throughout the night. Early ads pictured the Princess next to a long-stemmed rose and words like "glamorous" and "lovely." Other ads told parents that "girls especially like the Princess phone" and suggested it would make an ideal gift for "your teen-age princess."
Of course, glamour costs money. Feminized consumer items were usually priced higher than their gender-neutral counterparts. A woman who wanted a Princess phone paid an extra 85 cents a month on her phone bill (under the AT&T monopoly then in effect, no one owned her telephone outright). In 1964, the New York Times noted that a customer who installed a Princess phone four years previously would have by then paid $40.80 in extra charges — about $262.00 in 2006. By 1968, New Yorkers could obtain a Princess phone for a one-time charge of $35.00 ($200.00 in 2006).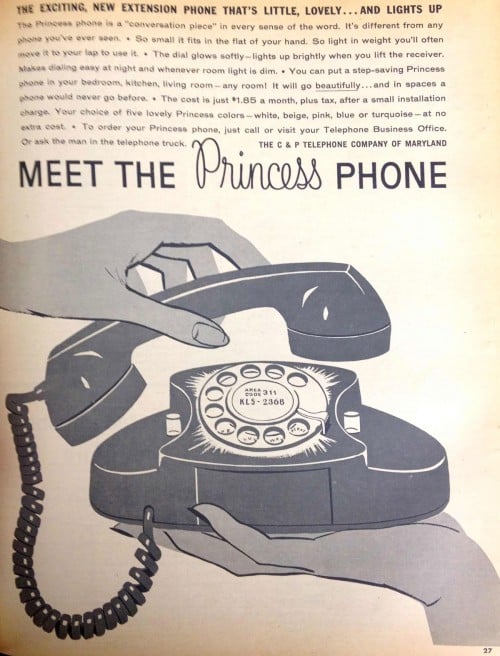 Despite their cost, they were enormously popular. The one millionth Princess phone was installed in 1960, an occasion marked by the placement of a white one in the dressing room of Chita Rivera, then starring in the hit Broadway musical Bye Bye Birdie. In 1965, the New York Times speculated that the already iconic Princess phone might one day even be considered "camp," along with Doris Day and foam-rubber chairs.
It was all over by 1986. A spokesman for AT&T told the New York Times that "'changing tastes' and a demand for special features" were two of the reasons behind that year's removal of the Princess phone from its product line. (In 1993 AT&T briefly offered a redesigned "Signature Princess" for lease only).
But perhaps the corporation gave up too soon. By the late 1990s, an online seller of vintage phones reported that he sold "a ton of pink Princess phones" to professional women "who never got them as little girls." Currently, Crosley Radio sells a reproduction Princess phone in pink, blue, or yellow. It is equipped with push-button technology, but alas no nightlight.
Originally published in BUST #41, October/November 2006.
***
ALL POSTS IN THIS SERIES
CURATED SERIES at HILOBROW: UNBORED CANON by Josh Glenn | CARPE PHALLUM by Patrick Cates | MS. K by Heather Kasunick | HERE BE MONSTERS by Mister Reusch | DOWNTOWNE by Bradley Peterson | #FX by Michael Lewy | PINNED PANELS by Zack Smith | TANK UP by Tony Leone | OUTBOUND TO MONTEVIDEO by Mimi Lipson | TAKING LIBERTIES by Douglas Wolk | STERANKOISMS by Douglas Wolk | MARVEL vs. MUSEUM by Douglas Wolk | NEVER BEGIN TO SING by Damon Krukowski | WTC WTF by Douglas Wolk | COOLING OFF THE COMMOTION by Chenjerai Kumanyika | THAT'S GREAT MARVEL by Douglas Wolk | LAWS OF THE UNIVERSE by Chris Spurgeon | IMAGINARY FRIENDS by Alexandra Molotkow | UNFLOWN by Jacob Covey | ADEQUATED by Franklin Bruno | QUALITY JOE by Joe Alterio | CHICKEN LIT by Lisa Jane Persky | PINAKOTHEK by Luc Sante | ALL MY STARS by Joanne McNeil | BIGFOOT ISLAND by Michael Lewy | NOT OF THIS EARTH by Michael Lewy | ANIMAL MAGNETISM by Colin Dickey | KEEPERS by Steph Burt | AMERICA OBSCURA by Andrew Hultkrans | HEATHCLIFF, FOR WHY? by Brandi Brown | DAILY DRUMPF by Rick Pinchera | BEDROOM AIRPORT by "Parson Edwards" | INTO THE VOID by Charlie Jane Anders | WE REABSORB & ENLIVEN by Matthew Battles | BRAINIAC by Joshua Glenn | COMICALLY VINTAGE by Comically Vintage | BLDGBLOG by Geoff Manaugh | WINDS OF MAGIC by James Parker | MUSEUM OF FEMORIBILIA by Lynn Peril | ROBOTS + MONSTERS by Joe Alterio | MONSTOBER by Rick Pinchera | POP WITH A SHOTGUN by Devin McKinney | FEEDBACK by Joshua Glenn | 4CP FTW by John Hilgart | ANNOTATED GIF by Kerry Callen | FANCHILD by Adam McGovern | BOOKFUTURISM by James Bridle | NOMADBROW by Erik Davis | SCREEN TIME by Jacob Mikanowski | FALSE MACHINE by Patrick Stuart | 12 DAYS OF SIGNIFICANCE | 12 MORE DAYS OF SIGNIFICANCE | 12 DAYS OF SIGNIFICANCE (AGAIN) | ANOTHER 12 DAYS OF SIGNIFICANCE | UNBORED MANIFESTO by Joshua Glenn and Elizabeth Foy Larsen | H IS FOR HOBO by Joshua Glenn | 4CP FRIDAY by guest curators