Museum of Femoribilia (7)
By: Lynn Peril
June 11, 2015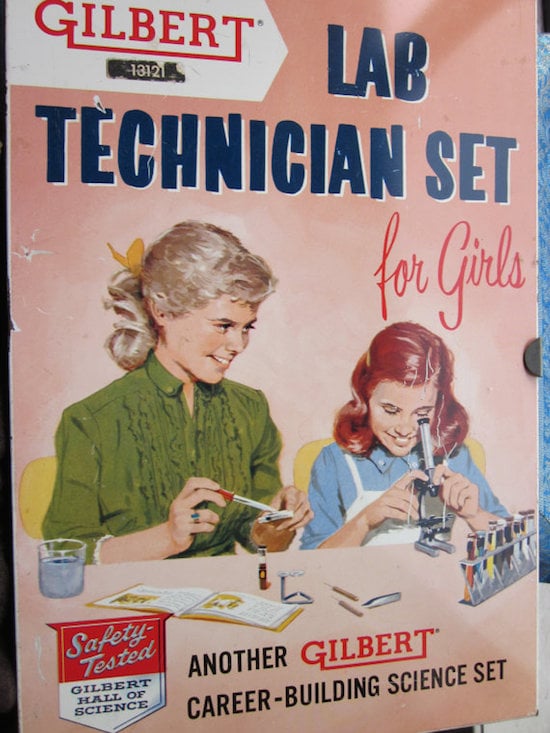 One in a series of 10 posts exhuming and interrogating forgotten curiosities and outmoded technologies of womanhood. Reprinted with permission from BUST Magazine.
*
THE GILBERT LAB TECHNICIAN SET FOR GIRLS
With its pastel hue and photograph of young girls in frilly blouses, the Gilbert Lab Technician Set for Girls didn't look like any of the other chemistry kits crowding the science toy aisle in 1958. The contents, too, were decidedly girly, though mercifully the microscope wasn't pink. As Helen Schwartz pointed out, in an essay about atomic-era toys, instead of seeing the "paths of alpha particles speeding at 12,500 miles per second!" as a junior scientist could with Gilbert's Atomic Energy Lab kit (boys featured prominently on the box), all she got to do with the Lab Technician Set was watch "real shrimps eggs" hatch into "miniature swimming shrimp… in just 24 hours!" Definitely fun, even educational, but hardly the kind of explosive experimentation promised by the chemistry sets aimed at boys.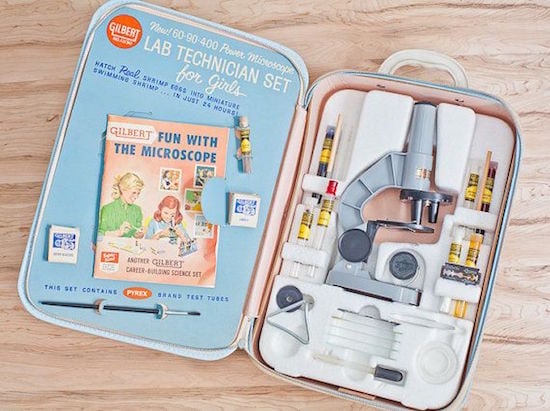 Despite its lack of pyrotechnics, a girl whose taste for science was ignited by the Lab Technician Set faced any number of hurdles if she decided to turn her interest into a career. First among them was what Betty Lou Raskin, a "lady chemist" writing in the New York Times in 1959, bemoaned as "the man-made theory that the scientific world" was "for men only." The A.C. Gilbert Company was also prey to this mindset. A 1949 article about the Lab Technician Set's manufacturer noted that girls did "not figure very largely" in their scheme of things: "A conspicuous few [girls] are reputed to hanker for the chemistry… sets," but they were "invaders" to "a boy's world."
There was also the frequently repeated charge that it was "somehow 'unfeminine' for a girl to try to find out how, why or what makes this world tick." Raskin recalled how, after she spoke a seventh-grade science class, a young woman who wanted to be a biologist asked if she was a "real scientist or an actress-scientist" because she wore a pretty suit and hat: "My mother told me that lady scientists don't care how they look. She said they're the kind boys won't date." Indeed, faced with a shortage of women scientists in the 1950s and '60s, newspapers and magazines bent over backwards to stress the opposite. "How do you make out in the kitchen?" Seventeen asked readers in a 1951 article about science careers. "A good chemist needs the kind of imagination, ingenuity and patience that makes a good cook." A 1965 New York Times article about a successful woman chemist noted that, "Despite her serious technical job, Dr. Thomas is anything but solemn. In fact, she bubbles with interest in matters feminine. 'I like high heels,' she said, 'and I wear them in the office, and I avoid white lab coats when I can.'" The article's subtitle noted that she had "7 Patents and 4 Children."
If none of this stopped a young woman cold, she then faced being shunted into the para-professional position of lab technician instead of the higher-paid and higher-status "man's job" of research chemist. Women were "employed in laboratories to do routine analysis," wrote a disgruntled woman chemist in a letter to the editor of the New York Times in 1944. "They are patient and painstaking, say the men, so they are best fitted for such work. What they mean is nobody likes routine analysis, so let's give it to the women." Women were also lauded for their manual dexterity and ability to "at all times be careful of delicate and valuable laboratory equipment." In her 1959 article, Raskin excoriated firms that excluded women from training programs, paid them smaller salaries, made them serve probationary periods not required of men, and refused to hire them "for executive positions or even for laboratory work, except, of course, as 'dishwashers'…"
At least they worked in the lab. In 1939, a group of "educators and employers, scientists and personnel directors" decided that the "average, undistinguished girl chemist" was better off learning "auxiliary skills" like typing and shorthand, the better to use secretarial work "as an entering wedge" to the profession.
Originally published in BUST #57, June/July 2009.
***
ALL POSTS IN THIS SERIES
CURATED SERIES at HILOBROW: UNBORED CANON by Josh Glenn | CARPE PHALLUM by Patrick Cates | MS. K by Heather Kasunick | HERE BE MONSTERS by Mister Reusch | DOWNTOWNE by Bradley Peterson | #FX by Michael Lewy | PINNED PANELS by Zack Smith | TANK UP by Tony Leone | OUTBOUND TO MONTEVIDEO by Mimi Lipson | TAKING LIBERTIES by Douglas Wolk | STERANKOISMS by Douglas Wolk | MARVEL vs. MUSEUM by Douglas Wolk | NEVER BEGIN TO SING by Damon Krukowski | WTC WTF by Douglas Wolk | COOLING OFF THE COMMOTION by Chenjerai Kumanyika | THAT'S GREAT MARVEL by Douglas Wolk | LAWS OF THE UNIVERSE by Chris Spurgeon | IMAGINARY FRIENDS by Alexandra Molotkow | UNFLOWN by Jacob Covey | ADEQUATED by Franklin Bruno | QUALITY JOE by Joe Alterio | CHICKEN LIT by Lisa Jane Persky | PINAKOTHEK by Luc Sante | ALL MY STARS by Joanne McNeil | BIGFOOT ISLAND by Michael Lewy | NOT OF THIS EARTH by Michael Lewy | ANIMAL MAGNETISM by Colin Dickey | KEEPERS by Steph Burt | AMERICA OBSCURA by Andrew Hultkrans | HEATHCLIFF, FOR WHY? by Brandi Brown | DAILY DRUMPF by Rick Pinchera | BEDROOM AIRPORT by "Parson Edwards" | INTO THE VOID by Charlie Jane Anders | WE REABSORB & ENLIVEN by Matthew Battles | BRAINIAC by Joshua Glenn | COMICALLY VINTAGE by Comically Vintage | BLDGBLOG by Geoff Manaugh | WINDS OF MAGIC by James Parker | MUSEUM OF FEMORIBILIA by Lynn Peril | ROBOTS + MONSTERS by Joe Alterio | MONSTOBER by Rick Pinchera | POP WITH A SHOTGUN by Devin McKinney | FEEDBACK by Joshua Glenn | 4CP FTW by John Hilgart | ANNOTATED GIF by Kerry Callen | FANCHILD by Adam McGovern | BOOKFUTURISM by James Bridle | NOMADBROW by Erik Davis | SCREEN TIME by Jacob Mikanowski | FALSE MACHINE by Patrick Stuart | 12 DAYS OF SIGNIFICANCE | 12 MORE DAYS OF SIGNIFICANCE | 12 DAYS OF SIGNIFICANCE (AGAIN) | ANOTHER 12 DAYS OF SIGNIFICANCE | UNBORED MANIFESTO by Joshua Glenn and Elizabeth Foy Larsen | H IS FOR HOBO by Joshua Glenn | 4CP FRIDAY by guest curators