Museum of Femoribilia (6)
By: Lynn Peril
June 8, 2015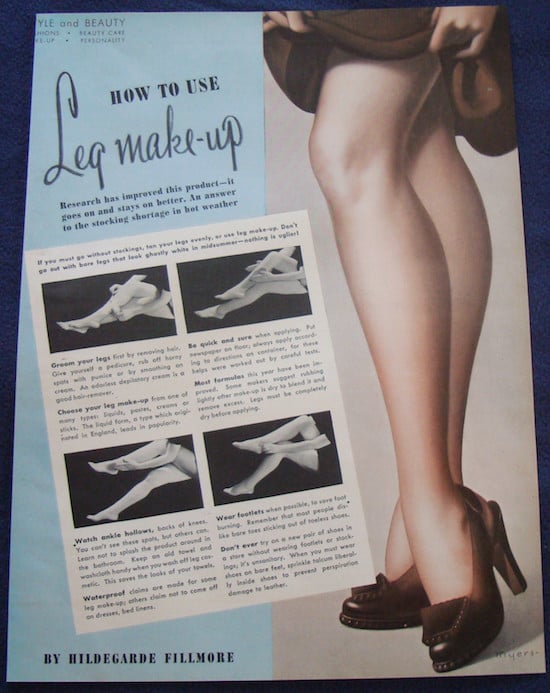 One in a series of 10 posts exhuming and interrogating forgotten curiosities and outmoded technologies of womanhood. Reprinted with permission from BUST Magazine.
*
LEG MAKEUP
A short, snappy headline got the point across in the New York Times of November 10, 1942: "Old Stockings Good for Socking Hitler." Eleven months into the Second World War, Americans were already busy gathering rubber, tin, fat, and rags in scrap drives across the country, and now women were asked to sacrifice their worn-out silk and nylon hosiery. Silk was needed to manufacture powder bags for the Navy's guns, and, to paraphrase another wartime Times headline, paratroops rode from the sky on parachutes made from nylon stockings. Women enthusiastically heeded the call. A nationwide salvage drive that took place in the three months prior to the first of June 1943 collected 1.5 million pounds of used silk and nylon stockings.
Finding a replacement for those stockings was another matter entirely. Manufacturers' supplies of silk and nylon were also diverted to war usage, and hosiery production halted for the duration. Today, bare legs are chic in almost every setting, but seventy years ago fashion etiquette demanded sheer hose. What was the well-dressed woman to do?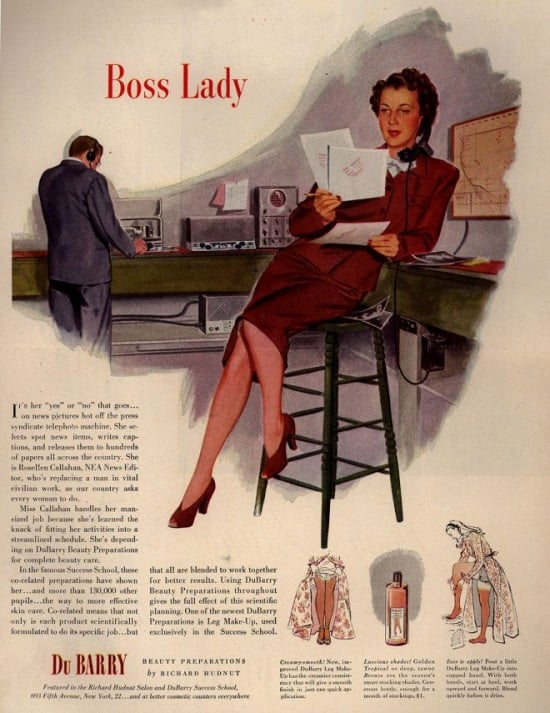 Women in war-torn England were the first to hit on the idea of using makeup to mimic stockings. Months before the U.S. entered the war in 1941, a London paper reported on a "bare-leg beauty bar" where women could "have their legs sprayed with sun-tan lotion" (this is certainly one of the earliest references to spray tanning). Seamless stockings were a decade in the future, so a line drawn down the back of the leg with eyebrow pencil completed the illusion (an assistant with a ruler was key for this tricky step). A Times stringer based in London reported that from "a distance of more than five feet the deception is fairly successful."
Similarly, Manhattan glamour gals learned "to paint on smooth, flattering stockings" at one of the "stocking schools" offered at a number of salons and department stores around the city. Lord & Taylor's "Golden Calf" room, for example, had "specially trained operators" who offered foot baths followed by a puff of "deodorant dusting powder," massage, waxing, and pedicures in addition to leg makeup application. The price tag: $5.00 (by contrast, a gallon of gas cost about 15 cents).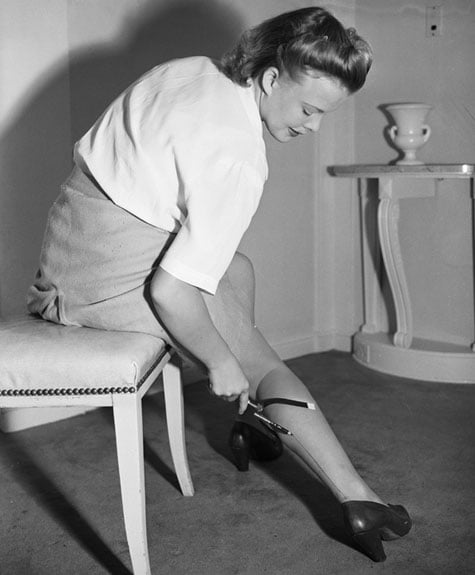 For most women, though, the application of leg makeup was strictly a DIY proposition. According to the beauty mavens, for best results, the legs first had to be shaved, waxed, or depilatoried. Then, working quickly to avoid splotching (if she was using a liquid; leg makeup also came in cream and solid forms) and not forgetting the spaces around her ankles, the backs of her knees, the center of the backs of her calves, the user spread the makeup over her legs. Once it dried, all that was needed to "achieve that nylon look" was "a little gentle polishing" with a buffer, or so said a Times beauty columnist in 1945. For women who were willing to go bare legged but balked at giving up their girdles, special knitted bands were available to keep unanchored garters from flapping uncomfortably on the thighs.
There were glitches, to be sure. Early brands dried too quickly, making them difficult to put on smoothly. Once the makeup was in place, it frequently rubbed off on skirts, dresses, and perhaps most embarrassingly, on a date's trousers (as the two of them spun around the dance floor, of course). A sudden shower on a spring day might leave one's "stockings" spotted with rain.
Even with its faults, leg makeup gave war-weary women a morale boost, but once the fighting was over, they gave it up with alacrity. On the morning that the first large shipment of postwar nylons went on sale at Manhattan's Gimbels store in January 1946, five thousand women along with a handful of men were waiting in line when the store opened. By the end of the day, the store's entire stock of 26,000 pairs had been sold — one to a customer.
Originally published in BUST #73, February/March 2012.
***
ALL POSTS IN THIS SERIES
CURATED SERIES at HILOBROW: UNBORED CANON by Josh Glenn | CARPE PHALLUM by Patrick Cates | MS. K by Heather Kasunick | HERE BE MONSTERS by Mister Reusch | DOWNTOWNE by Bradley Peterson | #FX by Michael Lewy | PINNED PANELS by Zack Smith | TANK UP by Tony Leone | OUTBOUND TO MONTEVIDEO by Mimi Lipson | TAKING LIBERTIES by Douglas Wolk | STERANKOISMS by Douglas Wolk | MARVEL vs. MUSEUM by Douglas Wolk | NEVER BEGIN TO SING by Damon Krukowski | WTC WTF by Douglas Wolk | COOLING OFF THE COMMOTION by Chenjerai Kumanyika | THAT'S GREAT MARVEL by Douglas Wolk | LAWS OF THE UNIVERSE by Chris Spurgeon | IMAGINARY FRIENDS by Alexandra Molotkow | UNFLOWN by Jacob Covey | ADEQUATED by Franklin Bruno | QUALITY JOE by Joe Alterio | CHICKEN LIT by Lisa Jane Persky | PINAKOTHEK by Luc Sante | ALL MY STARS by Joanne McNeil | BIGFOOT ISLAND by Michael Lewy | NOT OF THIS EARTH by Michael Lewy | ANIMAL MAGNETISM by Colin Dickey | KEEPERS by Steph Burt | AMERICA OBSCURA by Andrew Hultkrans | HEATHCLIFF, FOR WHY? by Brandi Brown | DAILY DRUMPF by Rick Pinchera | BEDROOM AIRPORT by "Parson Edwards" | INTO THE VOID by Charlie Jane Anders | WE REABSORB & ENLIVEN by Matthew Battles | BRAINIAC by Joshua Glenn | COMICALLY VINTAGE by Comically Vintage | BLDGBLOG by Geoff Manaugh | WINDS OF MAGIC by James Parker | MUSEUM OF FEMORIBILIA by Lynn Peril | ROBOTS + MONSTERS by Joe Alterio | MONSTOBER by Rick Pinchera | POP WITH A SHOTGUN by Devin McKinney | FEEDBACK by Joshua Glenn | 4CP FTW by John Hilgart | ANNOTATED GIF by Kerry Callen | FANCHILD by Adam McGovern | BOOKFUTURISM by James Bridle | NOMADBROW by Erik Davis | SCREEN TIME by Jacob Mikanowski | FALSE MACHINE by Patrick Stuart | 12 DAYS OF SIGNIFICANCE | 12 MORE DAYS OF SIGNIFICANCE | 12 DAYS OF SIGNIFICANCE (AGAIN) | ANOTHER 12 DAYS OF SIGNIFICANCE | UNBORED MANIFESTO by Joshua Glenn and Elizabeth Foy Larsen | H IS FOR HOBO by Joshua Glenn | 4CP FRIDAY by guest curators