Seth
By: Adam McGovern
September 16, 2013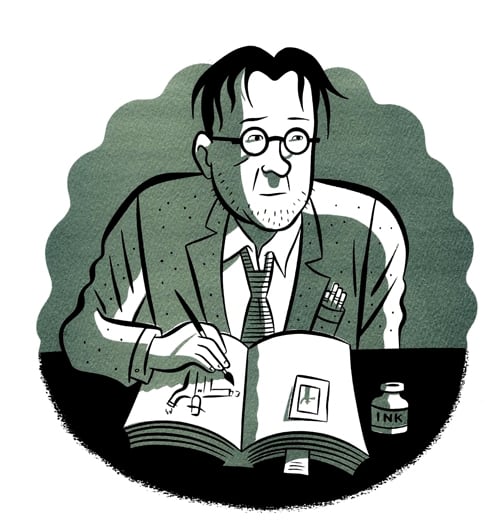 The deceptively childlike approach is a common sight in modern comics, but SETH (Gregory Gallant, born 1962) is not out to represent anything dishonestly. His shape-template faces and figures and settings are like the contents of an antique toybox, but the sadnesses and charged decisions of his characters are as new and relevant as your next mistake. It's also familiar in comics for strict structures to free up the expressiveness contained in them, and the straight boxes of Seth's panels and skylines and rooms, like the people whose lives fill them, are bigger on the inside than on the surface. Between the vintage vocabulary of economical package graphics and public address and the recurring future of streamlined design brevity and emoticon social shorthand, Seth's work role-plays the unselfconscious cheer we always want to keep hold of and the unexamined folly we always need to figure out. He embraces the cartoonist category in every one of its popular connotations and keeps all his toys for later usefulness.
***
On his or her birthday, HiLobrow irregularly pays tribute to one of our high-, low-, no-, or hilobrow heroes. Also born this date: Colin Newman, Mildred Harnack Fish, Korla Pandit, Louise Arner Boyd.
READ MORE about members of the Original Generation X (1954–1963).