El Lissitzky
By: Jacob Mikanowski
November 23, 2014
Born Lazar Markevich in a small Jewish town outside Smolensk, EL LISSITZKY's (1890–1941) career was dedicated to the idea that design could sweep away the old world, and that typography could be as powerful as a bayonet charge. Invited to teach at the People's Art School in Vitebsk in 1919, he could have chosen Marc Chagall (then a hard-working propagandist in a realist mode) as a mentor. Instead, he chose Kazimir Malevich, then a kind of endtime prophet given to statements like, "I have ripped through the blue lampshade of the constraints of color. I have come out into the white. Follow me comrade aviators. Swim into the abyss." The prosaic titles of El Lissitzky's Soviet propaganda posters and booklets — Communication Workers, Remember the Year 1905, The Workbenches of the Depots and Factories are Waiting for You, Booklet of the Vitebsk Committee for the Struggle against Unemployment — belie their radical form. Type flies along unsuspected vectors. Abstract shapes in black and red collide in empty space. The Red Army is a wedge; the Whites are a collapsing bubble surrounded by black. What would a peasant or a worker make of these canvases? It doesn't matter; for El Lissitzky, the medium was the message. His artworks announced that the Revolution had already happened — that, from now on, anything that could be thought could be said.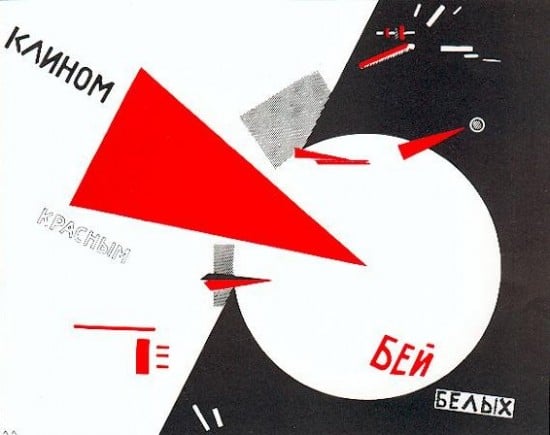 ***
On his or her birthday, HiLobrow irregularly pays tribute to one of our high-, low-, no-, or hilobrow heroes. Also born this date: Harpo Marx, Miley Cyrus, José Clemente Orozco.
READ MORE about members of the Modernist Generation (1884–93).