Fourth World (5)
By: Adam McGovern
July 25, 2014
Fifth post in a series of five, by Adam McGovern, revisiting four decades of Jack Kirby's "Fourth World" comic-book mythos.
Fourth World, Part 5
In Part 4, we met some of Kirby's apostles; in the concluding Part 5, we go to the edge of the possible universe with his successors and come full-circle to his source.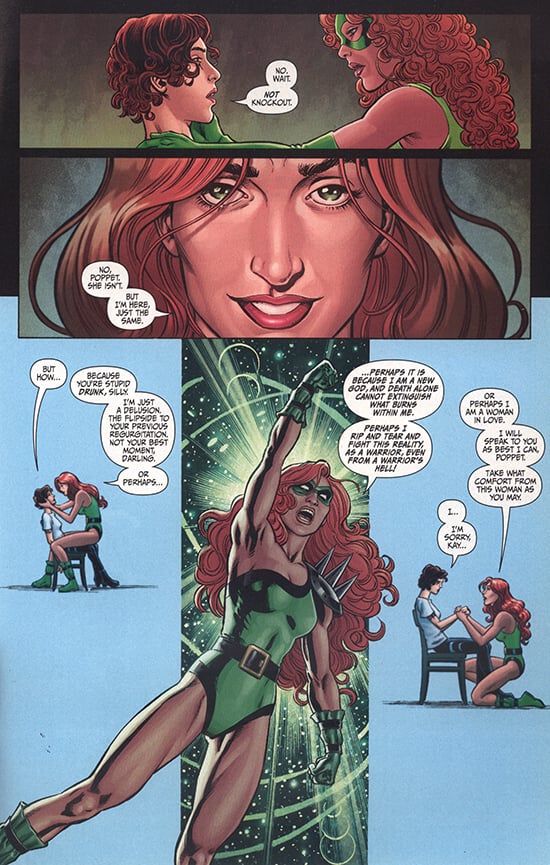 Aiming to the side of Kirby's established family tree, to convey not the overshadowing of DC's world by these modern divinities but the personal permeation of it that such a relationship might engender (as seen from Jimmy Olsen and its non-Kirby, un-canonical contemporary, Lois Lane, through to the current day of Fourth World characters drifting through the copyright cosmology of standard DC series), writer Gail Simone featured the new Apokolips warrior woman Knockout in Simone's phenomenal antihero saga Secret Six in the 2000s. We don't often see Kirby's worlds fleshed out by meeting the everyday citizens or rank-and-file soldiers from the crowd-scenes in them. But orphans and exiles of Apokolips had become an undercurrent category of DC characters, often handled with sensitivity by creators known as outliers themselves (like Gerber in his A. Bizarro miniseries and Simone here). Knockout is a renegade, amoral army-of-one travelling Earth with her more-or-less mortal girlfriend in this band of borderline villains, and her portrayal by Simone added valuably to the conception of Apokolips' Darwinian battlefield culture and the shaded, complex values that a free spirit on a closed world might develop — beyond the mere choices of right and wrong (as defined by mortals) that we'd seen in historical headliners like Orion or even Barda (the latter of whom Simone also sometimes featured, and whose steely, righteous tone she got just perfect too).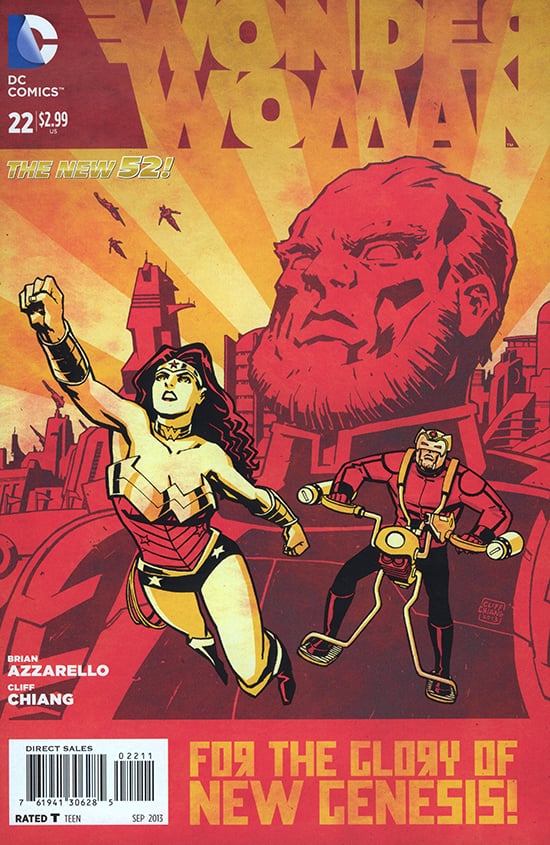 Reaching behind Kirby himself into his own influences, and in different directions for a fresh constellation of reference-points, is what has animated two remarkable versions in DC's "New 52" universe. Writer Brian Azzarello's brilliant, troubling Wonder Woman shows a conception of New Genesis not as an entirely peaceable kingdom but as a kind of arsenal of benevolence, a stronghold of peace led by a Highfather more like his warrior-king former self in the Kirby version, heading a society resembling the martial but infallible angels of Christian canon and an idealized conception of a holy Israel (while presented in the visual language of a utopian Soviet sci-fi film), all in keeping with passions of Kirby's and currents of thought he would have been exposed to. Writer Greg Pak's revision of the New Gods' origin in the Darkseid one-shot (aka "Justice League 23.1," an entry in the companywide "Villains Month" event, and loosely connected to Pak's intriguing Fourth World elements in the latest Batman/Superman series), drew on the very sources Kirby would have, and on their own precedents, for a comic not quite like any other ever made. Depicting not a war between the "Old Gods" which created two new worlds, it shows Darkseid and Highfather (in their former selves, Uxas and Izaya) as servant beings to fearsome alien deities whom Uxas murders, releasing energies that distort him and elevate Izaya, setting their conflict of unitary control and individual potential in motion down the millennia. The competition between pantheons in the pre-monotheistic period of our own world is vividly alluded to, and the intimate immensity of feverish evangelical revelation conveyed with an intensity that Kirby would have applauded.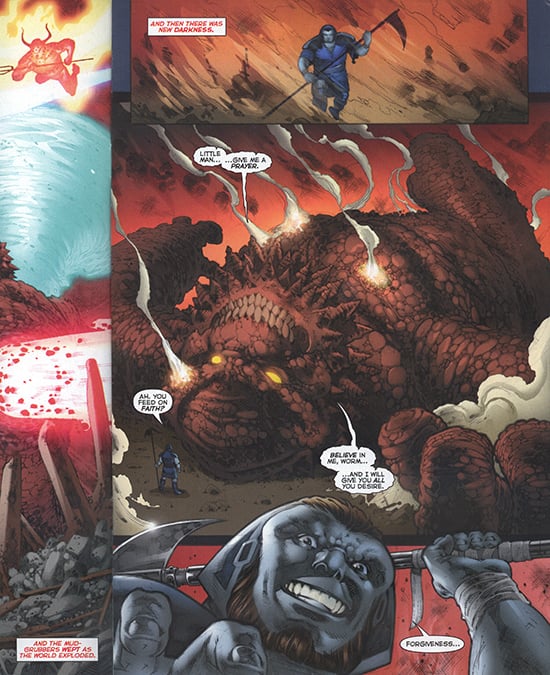 The list of Fourth World revisitations is actually much longer than this, but the worthwhile ones remain in relatively small proportion — the New 52 itself offers treatments in Justice League, Earth 2 and Superman that scarcely merit mentioning. This may change, or at least balance, as DC foretells a broader focus on the Fourth World throughout their titles in 2014.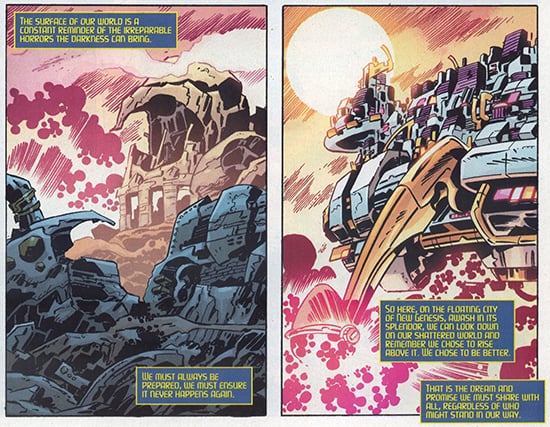 The flagship of this is a revived series for the cycle's least examined book (and thus perhaps its most fertile canvas), Infinity Man and the Forever People. At the very beginning of this feverishly imaginative and acutely witty book by Keith Giffen and Dan DiDio, a voiceover intones that "though we are older than time itself, we are still New Gods," and the creative team have found the way that these particular ones shape themselves to the contours of the society that might now call on them. DC overall (or at least this book and Wonder Woman) has smartly rethought the social structure of Kirby's vision from courtly to institutional; the "New 52" New Genesis is full of academies and spacefaring relief and rescue services. The Forever People (as of this writing, not yet united with — or into — their odd aggregate consciousness, the being called Infinity Man) are now a kind of interdimensional Peace Corps, groomed to cultivate civilized behavior and enlightened technology in backward cultures like, well, all of Earth. Of course, that is there and this is here — youth are no longer a fringe of culture, they're the core, and so the new Forever People don't take the totemic form of hippies or punks, they settle into the trappings of celebrity, using as their superhero-HQ a perennially abandoned reality-show house in Malibu. As the first issue concludes, they seem set to do battle (or maybe enter intricate negotiations with?) the veteran Fourth World villain Mantis, a humanoid-insect hybrid who in this incarnation is using his hordes to overrun an experimental refertilization station in Sudan, foiling ambitions for a new worldwide food supply — it's blockbuster development-aid action, like the global grandstand has been chanting for!
And even if it doesn't last, the inspirations to be extracted from Kirby's codex of cosmic (and comics) potential will recur. The concept's persistent presence is testament to its lasting appeal; experiments in personal vision and unorthodox formats like Kirby's are now commonplace; and comics creators regularly retain ownership of their ideas — all vindications that Kirby lived to see before his passing in 1994. The Fourth World characters are now almost as widely recognized, at least in comicdom, as the others that Kirby had a hand in, such as X-Men and the Hulk (though, unlike those others, they rightfully bear his credit), while affectionate homages such as Starlin's Darkseid-inspired Thanos and other Titan characters (which more faithfully capture Kirby's spirit than many official Fourth World replays) join their models among comics' most enduring personalities of the past 50 years. Kirby's influence on several generations of comics creators in all genres is axiomatic, and his imprint on some of the world's most successful filmmakers is clear (if not always acknowledged). In short, Kirby Lives, even if some still don't notice. Accidents of history left many of his personal dreams in the past, but for the admirers and heirs of the myriad pop-cultural milestones he helped make space for, his inner world will always be the place the future started.
***
ALL INSTALLMENTS IN THIS SERIES
ALSO CHECK OUT: Jack Kirby as HiLo Hero by David Smay | Douglas Rushkoff on THE ETERNALS | John Hilgart on BLACK MAGIC | Gary Panter on DEMON | Dan Nadel on OMAC | Deb Chachra on CAPTAIN AMERICA | Mark Frauenfelder on KAMANDI | Jason Grote on MACHINE MAN | Ben Greenman on SANDMAN | Annie Nocenti on THE X-MEN | Greg Rowland on THE FANTASTIC FOUR | Joshua Glenn on TALES TO ASTONISH | Lynn Peril on YOUNG LOVE | Jim Shepard on STRANGE TALES | David Smay on MISTER MIRACLE | Joe Alterio on BLACK PANTHER | Sean Howe on THOR | Mark Newgarden on JIMMY OLSEN | Dean Haspiel on DEVIL DINOSAUR | Matthew Specktor on THE AVENGERS | Terese Svoboda on TALES OF SUSPENSE | Matthew Wells on THE NEW GODS | Toni Schlesinger on REAL CLUE | Josh Kramer on THE FOREVER PEOPLE | Glen David Gold on JOURNEY INTO MYSTERY | Douglas Wolk on 2001: A SPACE ODYSSEY | Joshua Glenn on Kirby's Radium Age Sci-Fi Influences | Chris Lanier on Kirby vs. Kubrick | Scott Edelman recalls when the FF walked among us | Adam McGovern is haunted by a panel from THE NEW GODS | Matt Seneca studies the sensuality of Kirby's women | Btoom! Rob Steibel settles the Jack Kirby vs. Stan Lee question | Galactus Lives! Rob Steibel analyzes a single Kirby panel in six posts | Danny Fingeroth figgers out The Thing | Adam McGovern on four decades (so far) of Kirby's "Fourth World" mythos | Jack Kirby: Anti-Fascist Pipe Smoker
ALSO ON HILOBROW: HiLobrow posts about comics and cartoonists, and science fiction
MORE POSTS by ADAM McGOVERN: OFF-TOPIC (2019–2023 monthly) | textshow (2018 quarterly) | PANEL ZERO (comics-related Q&As, 2018 monthly) | THIS: (2016–2017 weekly) | PEOPLE YOU MEET IN HELL, a 5-part series about characters in McGovern's and Paolo Leandri's comic Nightworld | Two IDORU JONES comics by McGovern and Paolo Leandri | BOWIEOLOGY: Celebrating 50 years of Bowie | ODD ABSURDUM: How Felix invented the 21st century self | CROM YOUR ENTHUSIASM: C.L. Moore's JIREL OF JOIRY stories | KERN YOUR ENTHUSIASM: Data 70 | HERC YOUR ENTHUSIASM: "Freedom" | KIRK YOUR ENTHUSIASM: Captain Camelot | KIRB YOUR ENTHUSIASM: Full Fathom Five | A 5-part series on Jack Kirby's Fourth World mythos | Reviews of Annie Nocenti's comics Katana, Catwoman, Klarion, and Green Arrow | The curated series FANCHILD | To see all of Adam's posts, including HiLo Hero items on Lilli Carré, Judy Garland, Wally Wood, and others: CLICK HERE