HiLoBooks to publish Muriel Jaeger!
By: HILOBROW
February 22, 2013
HiLobrow and HiLoBooks are pleased to announce the 10th title in the HiLoBooks RADIUM AGE SCIENCE FICTION series! It's Muriel Jaeger's The Man with Six Senses, a pioneering effort to export the topic of extra-sensory perception out of folklore and occult romances and import it into science fiction.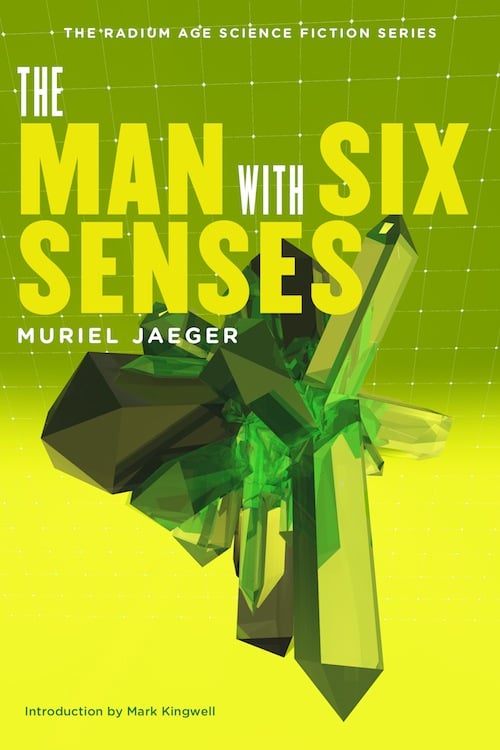 This fascinating book — by a British historian and social critic (Before Victoria) who became one of the very few female authors of science fiction's Radium Age — was first published in 1927, by Leonard and Virginia Woolf's Hogarth Press. It has been out of print for decades, and therefore all but impossible to read. Until now!
In December, HiLobooks will publish a beautiful paperback edition of The Man with Six Senses; and beginning in July, HiLobrow.com will serialize the book here in weekly installments. For information about this and other HiLoBooks titles click here.
NOTE: In collaboration with the digital and vintage pulp publisher (and Brooklyn bookshop) Singularity & Co., HILOBROW will make Jaeger's The Man with Six Senses available as an e-book for viewing on all of your electronic devices.
*
When Hilda, a beautiful young member of England's cynical postwar generation, meets Michael, a hapless mutant capable of perceiving the molecular composition of objects and the ever-shifting patterns of electromagnetic fields, she becomes his apostle. However, her efforts to convince others of the prodigy's unique importance end disastrously; and Michael himself is slowly destroyed — mentally and physically — by his uncanny gift. In the end, Hilda must decide whether she is willing and able to make a supreme sacrifice for the sake of humankind's future.
*
"A careful and sensitive novel about a youth who is attempting to develop and utilize a new mode of sensory perception." — Anatomy of Wonder, Neil Barron, ed. (1995)
"The first attempt to extrapolate the hypothesis [of ESP] carefully and painstakingly — and to conclude that it might better be reckoned a curse than a blessing." — The Encyclopedia of Science Fiction (3rd edition)
*
Muriel Jaeger (1892–1969) was a British historian, social critic, and novelist. Her long-unavailable science fiction books include The Question Mark (1926), an ambiguous utopia that likely influenced Aldous Huxley; Hermes Speaks (1933); and Retreat From Armageddon (1936), in which intellectuals hiding out from a second world war discuss humankind's long-term prospects.
The HiLoBooks paperback edition of The Man with Six Senses will feature a new Introduction, by Mark Kingwell, a professor of Philosophy at the University of Toronto. He is author or co-author of seventeen books of political, cultural and aesthetic theory, including Better Living (1998), The World We Want (2000), Concrete Reveries (2008), and Glenn Gould (2009). Kingwell's most recent book, Unruly Voices (2012), is a collection of essays on politics.
***
RADIUM AGE SCIENCE FICTION: "Radium Age" is HILOBROW's name for the 1904–33 era, which saw the discovery of radioactivity, the revelation that matter itself is constantly in movement — a fitting metaphor for the first decades of the 20th century, during which old scientific, religious, political, and social certainties were shattered. This era also saw the publication of genre-shattering writing by Edgar Rice Burroughs, Sax Rohmer, E.E. "Doc" Smith, Jack London, Arthur Conan Doyle, Aldous Huxley, Olaf Stapledon, Karel Čapek, H.P. Lovecraft, Charlotte Perkins Gilman, Yevgeny Zamyatin, Philip Gordon Wylie, and other pioneers of post-Verne/Wells, pre-Golden Age "science fiction."