Arthur Conan Doyle! Serialized!
By: HILOBROW
April 16, 2012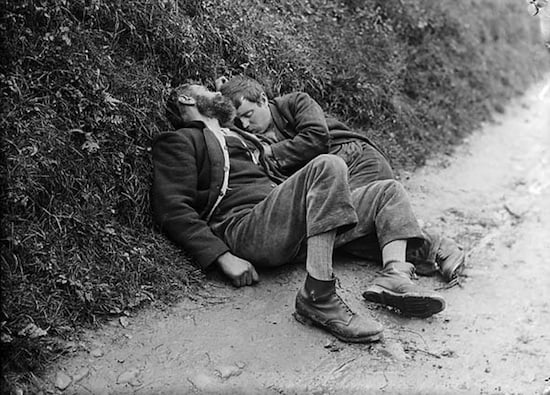 HILOBROW's serialization of Arthur Conan Doyle's science fiction novella The Poison Belt begins tomorrow!
How would you react if you alone had discovered that the Earth was about to be engulfed in a belt of poisonous "ether" from outer space? Professor Challenger, a controversial scientist whose intellectual sprezzatura may remind you of Arthur Conan Doyle's more famous fictional detective character, assembles the adventurers with whom (as recounted in The Lost World, published in 1912) he'd once romped through a South American jungle in search of dinosaurs. Less a thriller than a brainteaser set against a catastrophic backdrop, in this 1913 sequel Challenger & Co. inquire into the method of the mind, and the relationship of intuition to reason, even as the world ends.
The text follows the first edition, published by Hodder & Stoughton. New installments will appear each Tuesday for 12 weeks.
Operating as an imprint of Richard Nash's publishing platform Cursor, which uses Web 2.0 tools to assemble a community of readers around a book before it's published in print form, in 2012 HiLoBooks will serialize (via HiLobrow.com) and then republish six overlooked classics of Radium Age science fiction — including Doyle's science fiction novel.
2013 will mark the centennial of this apocalyptic novel's first publication. In July, HiLoBooks will publish a beautiful new edition of The Poison Belt, with an introduction by Radium Age science fiction scholar (and HiLobrow editor) Joshua Glenn. Afterword by science fiction author Gordon Dahlquist (The Glass Books of the Dream Eaters, The Dark Volume). NOW AVAILABLE FOR PRE-ORDERING.
***
RADIUM AGE SCIENCE FICTION: "Radium Age" is HILOBROW's name for the 1904–33 era, which saw the discovery of radioactivity, the revelation that matter itself is constantly in movement — a fitting metaphor for the first decades of the 20th century, during which old scientific, religious, political, and social certainties were shattered. This era also saw the publication of genre-shattering writing by Edgar Rice Burroughs, Sax Rohmer, E.E. "Doc" Smith, Jack London, Arthur Conan Doyle, Aldous Huxley, Olaf Stapledon, Karel Čapek, H.P. Lovecraft, Charlotte Perkins Gilman, Yevgeny Zamyatin, Philip Gordon Wylie, and other pioneers of post-Verne/Wells, pre-Golden Age "science fiction." More info here.