P-Afrofuturism (2)
By: Adrienne Crew
July 17, 2011
The African American imagination sees transportation — especially ships — as both a danger, and a vehicle for escape from danger. Which brings us to the role of spaceships in P-Funk iconography.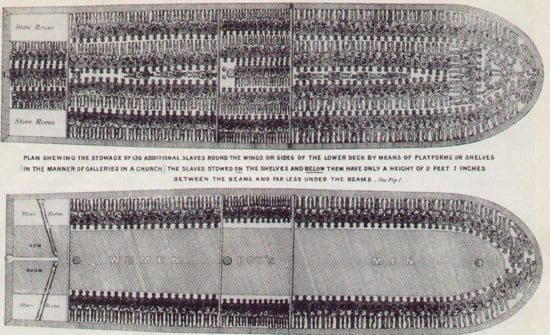 [This is the second in a series of posts about P-Funk's Afrofuturism.]
The Middle Passage crossing of the Atlantic Ocean continues to be one of the most traumatic episodes in many a slave narrative. Black culture hasn't gotten over it.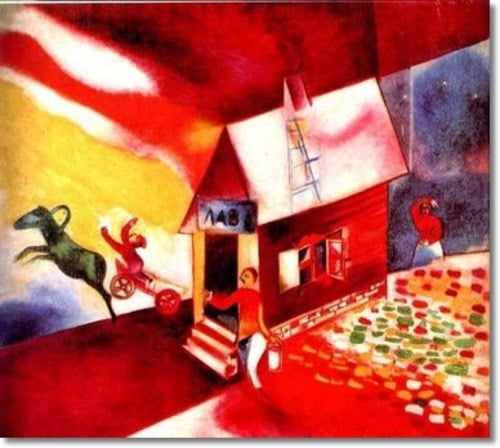 Negro spirituals often conjured sweet chariots to carry the weary home, wherever that may have been, and away from their current situation. In the chorus of the song "Mothership Connection," Star Child sings, "Swing down, sweet chariot, stop and let me ride."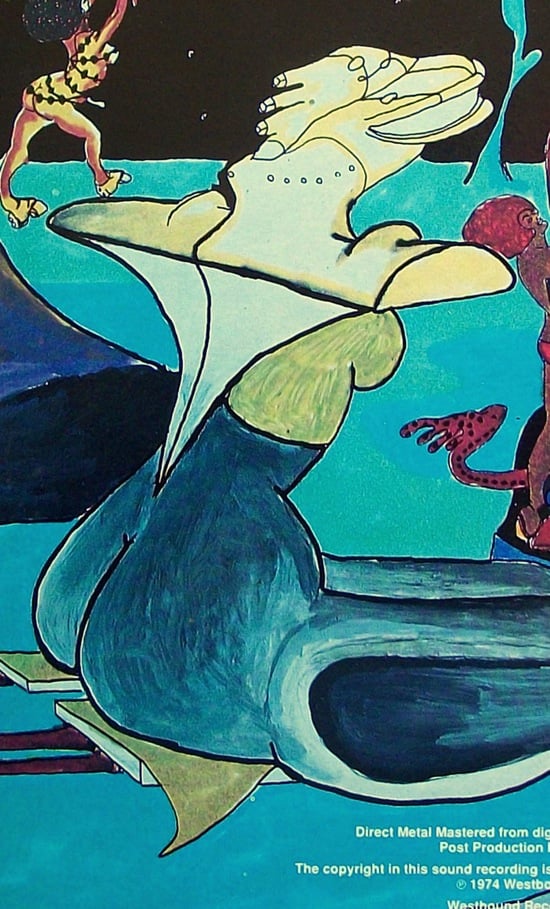 Pedro Bell and Overton Loyd were fond of drawing phallic-shaped ships.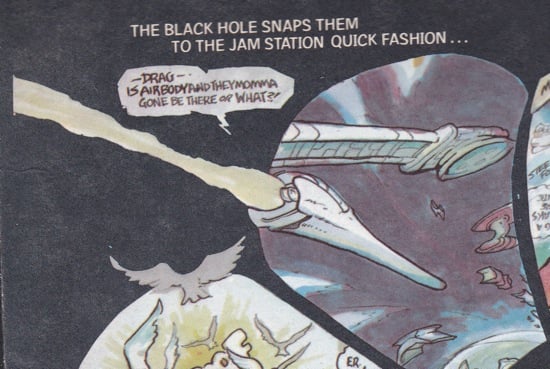 This is not surprising, given the sexual nature of the funk philosophy. Nor were Bell and Loyd the only sf artists to work phallic symbols into their paintings.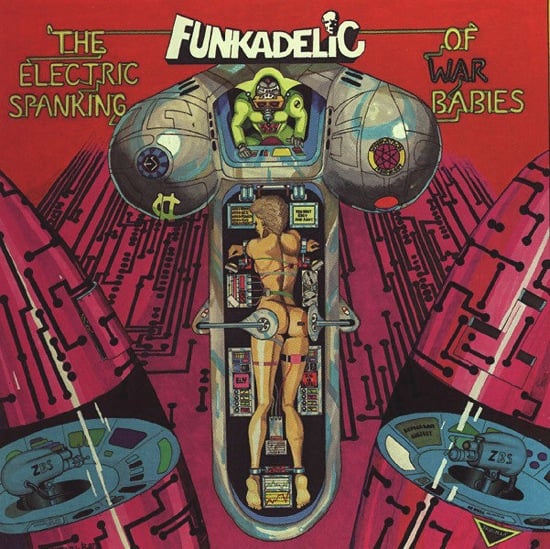 But Bell's intentions are most graphic on the censored cover for The Electric Spanking of War Babies, which features a penismobile that predates the favorite ride of Saturday Night Live's "Ambiguously Gay Duo" by decades.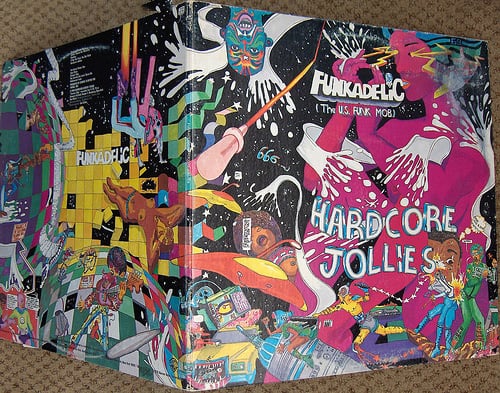 Bell could reference classic science fiction when he wanted to. He paid homage to the spacecrafts depicted in the 1953 film War of the Worlds on Hardcore Jollies.
(Parliament, 1975)"]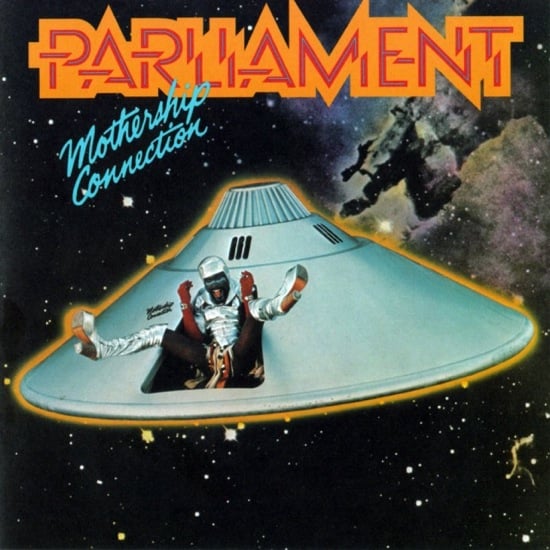 Bell acknowledges the ambivalent, hostile role of ships by featuring so many battles between alien forces and defenders. But the most famous spaceship is Starchild's Mothership, which debuted on the cover of The Mothership Connection.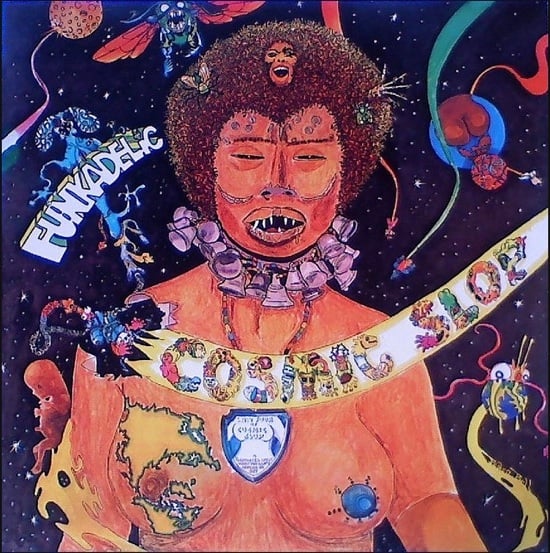 Although Bell did not design the album, the Mothership references Bell's earlier spaceships which were derived from dials found on electric guitars and amps. Bell's Cosmic Slop cover depicts the figure of the Galactic Goddess with a dial in place of a right nipple.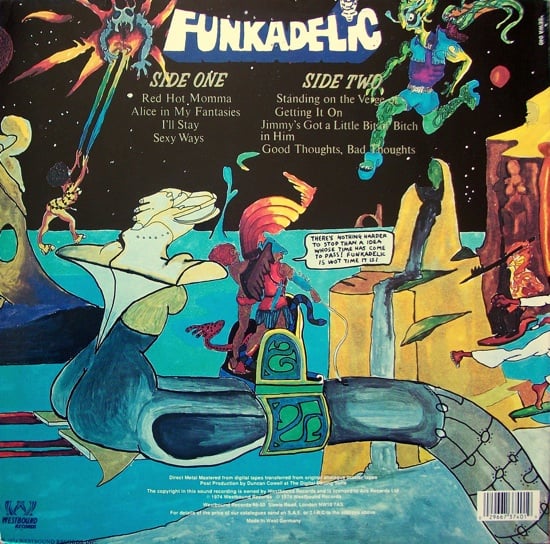 Bell could also design other types of craft. His Dali-esque cover for Standing on the Verge of Getting On features an actual chariot, manned by a Greek hero ready to fight space aliens. There's even a detailed rendering of a Space Needle on the cover of Tales of Kidd Funkedelic.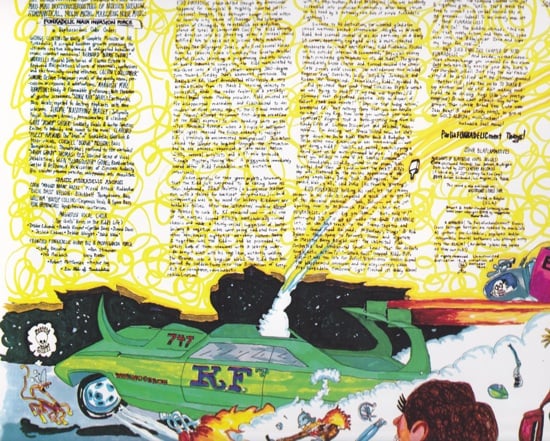 An aficionado of Big Daddy Roth, Bell loved incorporating cars into Funkadelic covers; check out the pimp rides on the back cover of Cosmic Slop. His masterpiece, which celebrates the lifestyle of a space pilot with the need for speed, is found on the cover of Tales of Kidd Funkadelic.
***
SIMILAR HILOBROW SERIES: ANGUSONICS — the solos of Angus Young | FILE X — a gallery | KIRB YOUR ENTHUSIASM — 25 Jack Kirby panels | MOULDIANA — the solos of Bob Mould | POP ARCANA — spelunking weird culture