Ed "Big Daddy" Roth
By: Lynn Peril
March 4, 2010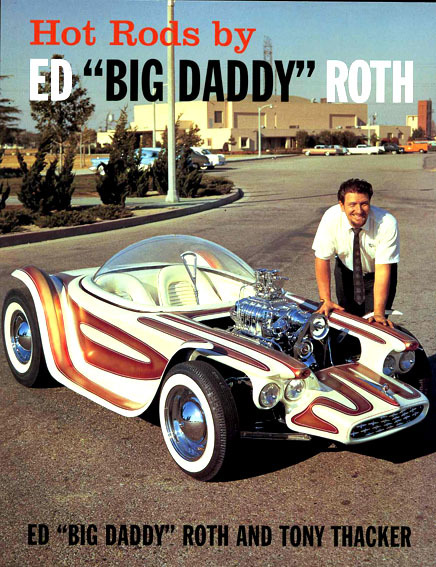 Tom Wolfe may have called car customizer and artist ED ROTH (1932-2001) "the Salvador Dali of the [Kustom Kar] movement," but in the mid-1960s if you were a teen, or a teen's kid brother or sister, you just knew that "Big Daddy" Roth was the coolest of the cool. Even if you didn't know his name, you knew Roth's "Kustom Monsters," either airbrushed on a t-shirt or one of a series of Revell model kits. Or maybe you saw the Beatnik Bandit, Orbitron, Druid Princess, or one of his other custom jobs at your local car show. Roth himself — dressed in top hat and tails after Revell complained about his personal style — was probably in the merchandise booth, airbrushing tees and selling decals and other merch to the adoring masses. Mostly though, you knew him as the creator of Rat Fink, a snaggle-toothed anti-Mickey that provided an acerbic counterpoint to Disney's wimpy mouse. Revell dropped Roth like a hot potato around 1970 when they found out he was riding with the Hell's Angels, but Big Daddy had the last laugh a couple of decades later — as major museums discovered Kustom Kulture, and Roth's unique contribution to it.
***
Each day, HILOBROW pays tribute to one of our favorite high-, low-, no-, or hilobrow heroes on that person's birthday.
READ MORE about the Postmodernist Generation (1924-33).
READ MORE HiLo Hero shout-outs.
SUBSCRIBE to HiLo Hero updates via Facebook.
SHARE this post, by clicking on the toolbar below.